A Trans Rights Opponent Has Been Hired To Lead Gender Equality Efforts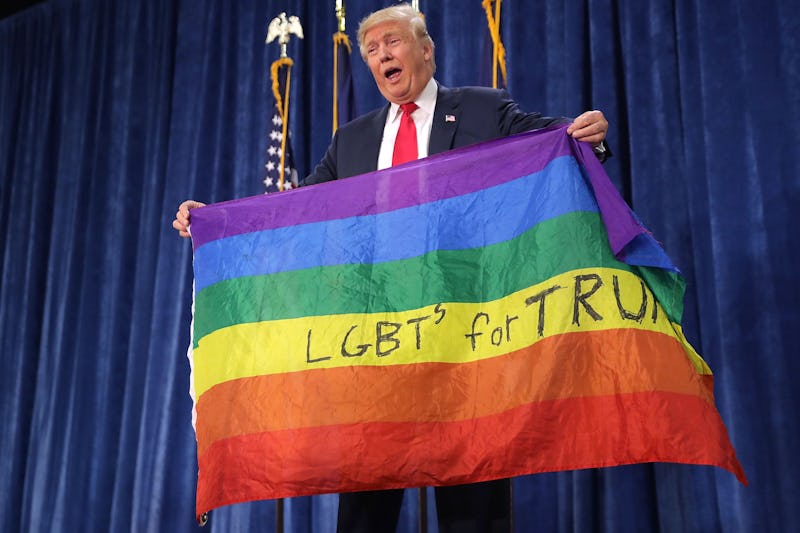 Chip Somodevilla/Getty Images News/Getty Images
On Friday, BuzzFeed News reported that the Trump administration announced Bethany Kozma as the new senior adviser for women's empowerment at the U.S. Agency for International Development. Having made a name for herself advocating for anti-transgender policies, Kozma's appointment to a gender equality post has been criticized by activists who say she could create policies disadvantageous to LGBTQ+ individuals around the world.
Kozma's new position will include coordinated strategy for global reductions in economic, educational, and health related gender disparities through projects in countries around the world. A LinkedIn account appearing to belong to Kozma lists her as a former employee at both the White House and the DHS during the Bush era.
Kozma has written several editorial pieces for the Daily Signal that center around her fight to keep transgender and cisgender children separated in some aspects of public schooling. In February, when the administration announced that it was rolling back President Barack Obama's protection for trans kids using public school bathrooms, Kozma wrote about her appreciation for the new rule.
"Trump's decisiveness on this issue shows that he cares more about people than political correctness — that all our children deserve a safe and respectful learning environment, not just a very small minority, and that privacy and free speech are rights that American parents hold dear," Kozma wrote. "We aren't asking to 'discriminate' against gender confused children, but to accommodate them with individual private facilities so that no one's privacy is put at risk."
USAID is the federal government's primary humanitarian agency, working on projects such as ending extreme poverty, improving global health, and supporting democratic elections. It's also supported programs in 14 different nations to promote the economic inclusion and advancement of LGBTQ+ people. BuzzFeed News reached out to USAID to determine if Kozma's appointment means any immediate changes in the agency's policies regarding transgender or LGBTQ+ individuals, but it seems that for now, things will remain unchanged.
"USAID has not taken any measures regarding the discrimination policy for contractors, as is the case with many other policies," an agency spokesperson said. "USAID is committed to promoting a work environment that is free from sexual-orientation and gender-identity discrimination, in accordance with existing federal law."
The announcement of Kozma's appointment contrasts with pro-gender equality news from the Trump administration on Friday. During a meeting with federal prosecutors on Friday, Attorney General Jeff Sessions reportedly promised to increase federal prosecution for hate crimes, specifically those against transgender women.
"We have and will continue to enforce hate crime laws aggressively and appropriately where transgendered individuals are victims," Sessions said at the meeting, according to Politico.
It's not clear yet if Kozma's new position will give her sway over USAID's LGBTQ+ policies to enforce changes, but advocates are bracing for possible new policies within the agency soon.