'Kimmy Schmidt' Roasts Trump Pretty Mercilessly In Season 4 & It's So Cathartic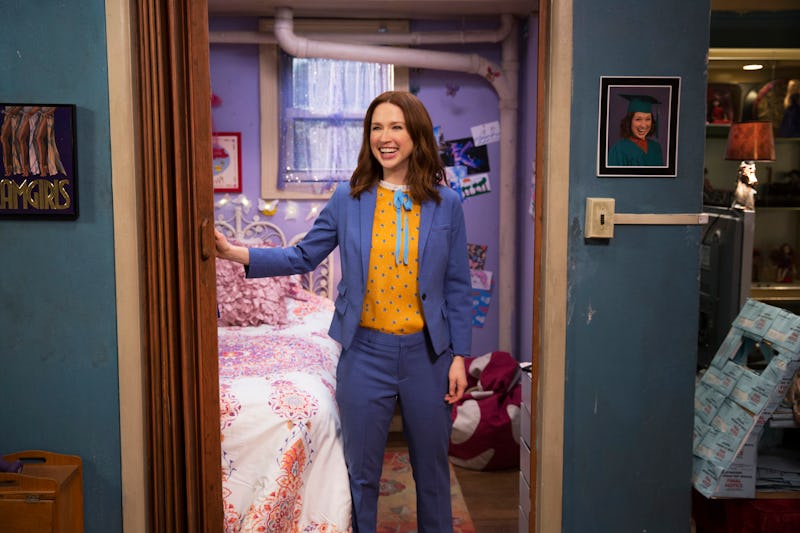 Eric Liebowitz/Netflix
Spoilers ahead for Unbreakable Kimmy Schmidt Season 4 Part 1. It's pretty impossible in this day and age to avoid mentioning President Trump in any comedy that regularly hits its viewers with pop culture references, and Unbreakable Kimmy Schmidt is no exception. The show has mentioned him before, but the Trump jokes in Season 4 of Kimmy Schmidt are even more biting. It makes sense — when Season 3 of the show premiered in May 2017, Trump had hardly been in office for any time at all, and there was still some solid material on him within that batch of episodes. And, now that Kimmy Schmidt is able to draw upon way more material than it initially had at its disposal, it's appropriate that the jokes hold more weight.
Star Jane Krakowski told Vanity Fair after Season 3 debuted that that she thinks the political jokes in Kimmy Schmidt function so well because they're anchored by characters — and she's right. The quips don't read like a Weekend Update line on Saturday Night Live — they read like something these goofy characters might actually say. "I think what works about it, and what will work over time if people go back and stream these shows over the years, is that the political jokes are all character-driven, and not the writers' assessment of what was the talk of that year, or that day, or that month," Krakowski said.
Below, check out the best Trump jokes scattered throughout the first half of Kimmy Schmidt's Season 4.