The Trump Organization Reportedly Wanted To Give Putin A Free Penthouse In Moscow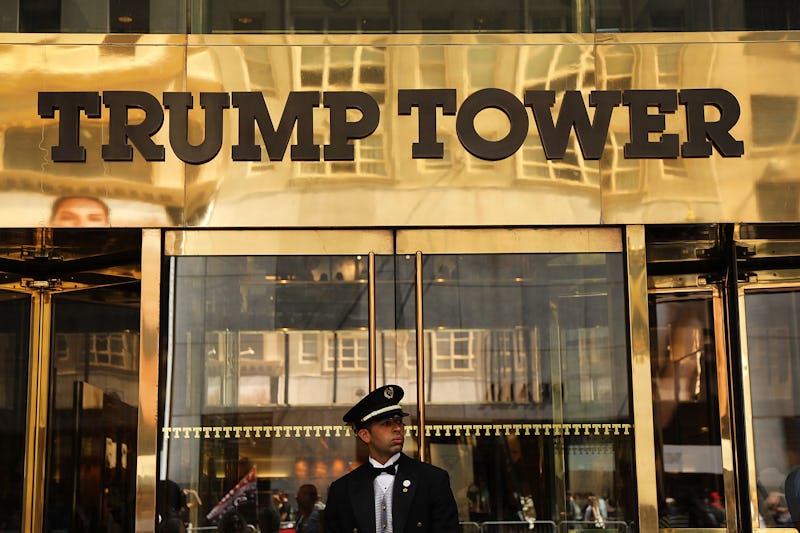 Spencer Platt/Getty Images News/Getty Images
According to an explosive new report in BuzzFeed News, the Trump Organization planned for Vladimir Putin to be given a free penthouse, valued at $50 million, in Trump Tower Moscow. The tower itself was never completed, but four sources told BuzzFeed News that Michael Cohen, Donald Trump's former lawyer and one of the lead planners for the project, discussed the idea with Putin's associates during the 2016 campaign. Bustle has reached out to the Trump Organization for comment.
It's unclear whether Trump himself knew about the plan to give Putin a penthouse in one of his properties. But if BuzzFeed News' report — which was later confirmed by CNN — is true, it would mean that the Trump Organization was seeking to forge a direct relationship with the president of Russia while Trump was running for president. Neither Cohen nor the Kremlin responded to BuzzFeed News' request for comment.
BuzzFeed News published its report on Thursday, the same day Cohen pleaded guilty to lying to Congress about the Trump Tower Moscow project. Cohen falsely told lawmakers that negotiations to build a Trump property in Moscow ended in January 2016, before the first votes were cast in the Republican presidential primary; however, he admitted in court Tuesday that talks on the project lasted at least another five months, after Trump had won the Republican nomination.
Additionally, Cohen acknowledged in court that, despite telling lawmakers otherwise, he did discuss the possibility of both himself and Trump traveling to Russia to carry out the negotiations for the Trump Tower project. Neither trip ever happened.
Cohen's guilty pleas on Thursday came as the result of the investigation into Russian election meddling by Special Counsel Robert Mueller. They are separate from Cohen's earlier guilty pleas to campaign finance fraud, which he made in August after being charged by the U.S. Attorneys Office for the Southern District of New York.
BuzzFeed News reports that Cohen and Felix Sater, a Russian-born criminal and FBI informant with mob ties, led negotiations on the Trump Tower deal. Sater told BuzzFeed News that the idea of giving Putin a penthouse was his idea, the hope being that it would help draw other rich Russians to the property. Sater, like Cohen, has a long history of business dealings with Trump, though Trump has recently downplayed the extent of their relationship.
Two law enforcement sources tell BuzzFeed News that Cohen talked with a representative of Dmitry Peskov, Putin's press secretary, about giving Putin the penthouse. Although it's unclear whether Trump knew of the plan, he was well aware of the Trump Tower Moscow project in general, having personally signed a letter of intent to move forward with it. According to BuzzFeed News, he signed that letter on Oct. 28, 2015, the same day Republican candidates for president met for their third debate.
Trump, who claimed repeatedly during the campaign that he had no business interests in Russia, defended his pursuit of the Trump Tower Moscow deal while speaking to reporters on the White House lawn Thursday.
"When I run for president, that doesn't mean that I'm not allowed to do business," Trump said. "There was a good chance that I wouldn't have won, in which case I would have gotten back into the business, and why should I lose lots of opportunities?" He added that Cohen is "a weak person."