The U.N. Is "Disturbed" By America's Failure To Condemn Racism & Has Issued An Official Warning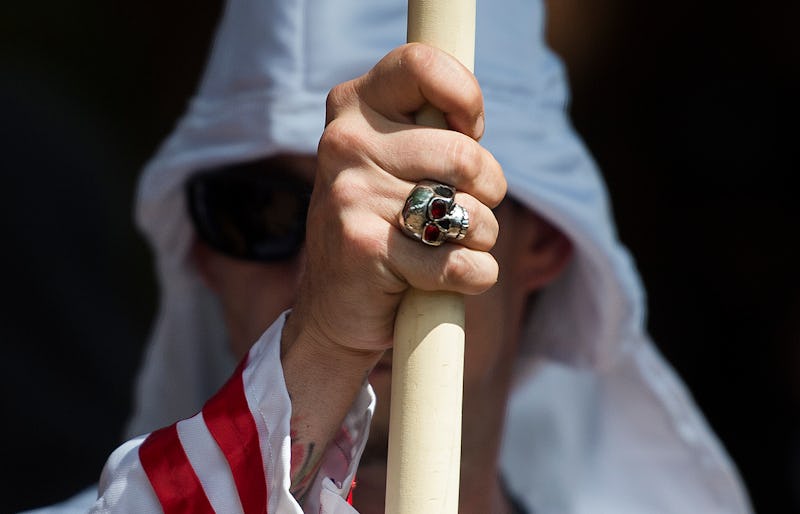 ANDREW CABALLERO-REYNOLDS/AFP/Getty Images
President Donald Trump's response to a white nationalist rally that ended in deadly violence earlier this month in Charlottesville, Virginia, has continued to draw criticism from abroad. In the latest incident of international denunciation, the United Nations warned America to reject the racism behind violence in Charlottesville.
In a warning reportedly issued the prior week (but only made public Wednesday), the United Nations Committee on the Elimination of Racial Discrimination (CERD) said it was "disturbed" by the United States' failure "at the highest political level" to reject and condemn the racist violent events that unfolded in Charlottesville. Although they did not mention President Trump by name, the committee's warning may as well have been addressed directly to him.
In a televised statement made shortly after a white nationalist rally ended in the death of Heather Heyer on Aug. 12, Trump initially emphasized that blame for violence in Charlottesville belonged "on many sides." The following Monday, the president clarified that "racism is evil — and those who cause violence in its name are criminals and thugs, including KKK, neo-Nazis, white supremacists, and other hate groups." However, at a news conference held in Trump Tower the following day, Trump appeared to defend white nationalists, saying there were "some very fine people" at the Charlottesville rally. He went on to say counter-protesters deserved a share of the blame for the violence that occurred.
In their warning, CERD went on to express concern for the example the United States' tepid response to racist white supremacist ideas was setting for the rest of the world. It then urged all high-level U.S. politicians and public officials "to unequivocally and unconditionally reject and condemn racist hate speech and crimes in Charlottesville and throughout the country."
"We are alarmed by the racist demonstrations, with overtly racist slogans, chants and salutes by white nationalists, neo-Nazis, and the Ku Klux Klan, promoting white supremacy and inciting racial discrimination and hatred," CERD Chairperson Anastasia Crickley said in a statement released alongside the warning. "We call on the U.S. Government to investigate thoroughly the phenomenon of racial discrimination targeting, in particular, people of African descent, ethnic or ethno-religious minorities, and migrants."
Past warnings issued by the committee, which are meant to call attention to issues of racism in order to prevent them from worsening, include one to Burundi in 2016 for "reports of killings, summary executions, disappearances, and torture" that "appear to have an ethnic character." In 2014, the committee called for urgent action against the Islamic State in light of "the massacres, atrocities and other human rights abuses" the group had committed against civilians reportedly "on ethnic and ethno-religious grounds."
This isn't the first time CERD has issued what it calls an "early warning and urgent action" letter to the United States. In 2006, the country was warned about its treatment of the Western Shoshone, a group of several Shoshone tribes indigenous to the Great Basin, in a long-running dispute over land rights. Now, the country will have to see whether or not Trump rethinks the gravity of his words after such horrific events.