The United Nations Has A Serious Problem With Sexual Harassment & Assault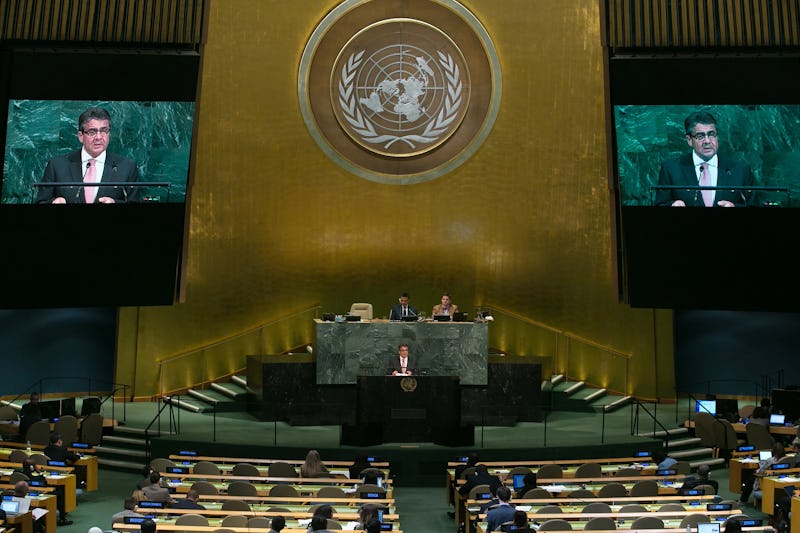 Kevin Hagen/Getty Images News/Getty Images
In a scathing investigative report by The Guardian on Thursday, current and former United Nations staffers say sexual harassment remains a disturbing constant at the organization. The publication spoke to current and former female employees, and 15 of them alleged they were sexually harassed or assaulted within the past five years.
From verbal harassment to intimidation to rape, the women accused UN officials of distressing sexual misconduct and violence. The women worked in 10 different countries; seven had gone forward to issue complaints, but remained skeptical about the outcome, saying that justice was rarely served as there was a "a culture of silence." Three had been forced out of their positions, according to The Guardian.
All of the women remained anonymous out of fear of retaliation, according to The Guardian, and partly also because of the UN's rule of not publicly discussing internal affairs. But the running sentiment was clear: the staffers said that the organization had let them down. One of the women said:
It's atrocious, because this is an organisation that's supposed to stand up for everyone's rights. … We're such hypocrites.
In response to the allegations, the United Nations said that while the under-reporting of sexual harassment was an issue, it "prioritised addressing sexual harassment and upholding the zero tolerance policy." The organization also said that it would "look at strengthening our capacities to investigate reports and to support victims" and create a "systemwide task force, inter‑agency task force, that will examine the issue of sexual harassment in how we respond and how we can better respond."
One of the women who said she used to work for the UN World Food Programme (WFP) told the publication, "If you report it, your career is pretty much over, especially if you're a consultant. It's like an unsaid thing." She said she had been harassed by a supervisor at the agency.
Another woman claimed that she had been raped by a senior United Nations staffer but found no justice. "There are no other options to get justice, and I have lost my job too," she said. She also noted that an internal investigation ultimately said that there was little evidence to help her case against the United Nations employee. After losing her employment, she said she no longer had a visa to stay and suffered trauma for "months in hospital."
One of the interviewees said that a United Nations official told her that he couldn't help her pursue a case against her attacker as he was facing threats from senior officials. Seven other women said they were told not to speak out. The survivors also told The Guardian that the organization failed to provide them with proper rape counseling and medical care after traumatic events. In one particularly disturbing case, a former staffer said that she was sent to three different gynecologists as the organization's medical team "lacked the expertise to deal with such cases."
The former staffer said, "I was in a manic state. I was fluctuating between being very precise and knowing exactly what to do and severe traumatic episodes while crying loudly."
One of the current staffers said that no matter how diligently and systematically she tried to report the sexual misconduct, she found no help. "There's nothing for you," she said, adding, "They mobilize friends, colleagues against you. I had threats, sent through friends, that 'She will never set foot in this office again.'"
Going forward, the United Nations said that it aims to improve its internal system for victims of sexual assault and harassment. In addition to the aforementioned task force, the United Nations vowed to carry out a survey to get an understanding of just how pervasive sexual violence is at the organization.