The U.S. Is Facing A Looming OB/GYN Shortage — Here's What That Means For Your Health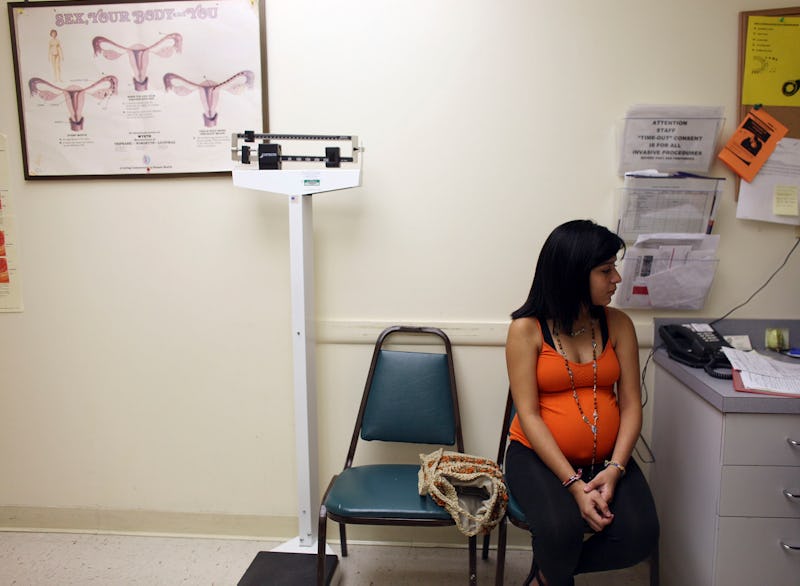 Joe Raedle/Getty Images News/Getty Images
On a typical day, Dr. Lakeisha Richardson might see between 30 and 40 patients, and in a typical year, she might deliver an estimated 300 to 350 babies. A board-certified obstetrician and gynecologist with a private practice in Greenville, Mississippi — located in the state's medically underserved Washington County — Richardson understands all too well the strain a provider shortage places on obstetricians. One of three OBs operating in her town, Richardson rarely takes time off: Two vacations a year, plus Thanksgiving and Christmas. Otherwise, she's on call 24 hours a day, seven days a week, a job requirement she says makes obstetrics a difficult career to pursue long-term.
"Out of all the medicine subspecialties, not many of them have to get up one or two, three or four times during the middle of the night to go out and treat patients," Dr. Richardson tells Bustle, clarifying that treating patients often means delivering babies.
"Keep doing that for a week or two weeks, and you easily burn out," she says. "People want to be physicians, but they want a pretty physician lifestyle: They want to work 8 to 5, they don't want to be disturbed in the middle of the night, and they definitely don't want to be out delivering babies 24/7."
Greenville, Dr. Richardson says, has a hard time competing with bigger cities and bigger hospitals that retain a more robust staff; it has a hard time attracting the younger generation of obstetricians the town needs to replace its current OBs. At age 40, Dr. Richardson has worked as a private practice OB/GYN for 10 years — and after 10 more, she's considering a move to gynecology, exclusively. That's not uncommon for OB/GYNs, she says; indeed, the demanding nature of obstetrics means fewer and fewer doctors select the specialty.
As doctors move toward retirement age nationwide, the United States is looking at a looming OB/GYN shortage that would effectively turn the majority of the country into a medically underserved area. The problems present in a rural Mississippi delta town are, in some cases, the same ones felt in America's bigger cities — and soon, they might be the national norm.
For the second year running, that was the conclusion reached by Doximity, the country's largest medical social network. In its 2018 OB/GYN Workforce Study, published Wednesday, researchers drew data from 43,000 OB/GYNs operating across the 50 largest metropolitan areas in the United States. In just two years, the study notes, we could be looking at an 8,000-person gap in coverage, and by 2050, a shortage of 22,000 providers.
In each metro area it examined, Doximity compared the number of practicing OBs to the local birthrate. The average OB/GYN workload, across the country, was 100 births per doctor per year, and in some areas, OB/GYNs perform a fraction of that figure. In rural areas like Greenville, however, the workload may be substantially higher, but even in major metropolises, OBs are often strained. According to the report, the 10 metropolitan areas with the heaviest workloads are, in descending order: St. Louis, Missouri; Riverside, California; Las Vegas, Nevada; Phoenix, Arizona; Houston, Texas; San Antonio, Texas; Los Angeles, California; Dallas, Texas; Orlando, Florida; and Miami, Florida.
In these areas, a growing population of patients may see a shrinking provider pool as overextended doctors drop into early retirement. The median age at which physicians stop working is 64, but OB/GYNs tend to retire much earlier, at 51. A reported 36 percent of the nation's OB/GYNs are already over the age of 55, while less than 16 percent are younger than 40. OBs are aging out, without a younger wave rushing in to replace them.
What An OB/GYN Shortage Actually Means
"It's difficult, frankly, to even surmise what the actual entirety of the [shortage's] implications could be," Amit Phull, M.D., Vice President of Strategy and Insights at Doximity, tells Bustle. "If you have an aging population of providers that are being further stretched by an expanding workload being placed upon them, ... that could influence compensation for ... tests, procedures, etc. that might be entailed in more thorough approaches to prenatal care. The overall takeaway is that it has a whole host of potential implications for the quality of care being impacted negatively."
Having lived and worked in a small provider pool for years, Dr. Richardson knows where the fault lines lie. In Greenville, she says, family medicine physicians and nurse practitioners help fill the OB gap, but those providers aren't necessarily equipped to take on high-risk pregnancies. Those patients, she says, may see delays in care if they're waiting to be referred to an OB like Richardson (or, as available, a maternal-fetal medicine specialist). But she also anticipates that a worsening OB shortage might mean more pre-term births, because a non-specialized physician might not be aware of updated treatment protocol for patients at risk of premature delivery.
A high-risk pregnancy is one that threatens the life or health of the mother — or fetus, for that matter — whether because of a pre-existing condition or a complication that develops along the way. These patients require more frequent specialist care to improve their health outcomes, but they're not the only ones who might see a sharp decline in OB access.
According to the report, areas with the most Medicaid patients also had the most strenuous OB/GYN workloads: Medicaid reimbursement rates tend to be lower than those of private insurance companies, the study notes, meaning OBs with a lot of Medicaid-reliant (or uninsured) patients might see lower compensation. And according to Richardson, they might also end up doing a lot more work: Medicaid, she says "doesn't change how we manage patients, but it definitely increases the number of patients that we see, which in turn increases the rate for physician burnout because it increases your patient load."
In the current political climate, people working in reproductive and sexual health already have a number of hurdles to jump: A tax plan that makes it harder for many Americans to afford insurance; cuts to federal funding for providers who offer abortion as part of their service menu. Policy changes in the women's health arena also affect doctors, Richardson says, potentially increasing OB liability to the point where interested candidates opt for other specialties.
"When you look at the risk of taking care of high-risk patients and the financial burden of taking care of high-risk patients, sometimes it's in our financial interests just to stop doing obstetrics all together and move toward a GYN practice," she says. "Which is sad, because that's one of the reasons why we went into obstetrics, because we love the OB part: We love to operate, but we definitely love taking care of women and delivering babies. But sometimes, policies and procedures make that very difficult."
Of course, we didn't get here overnight, and reversing the current course will take time. The most obvious solution to the OB/GYN shortage problem is training more specialists, with the hope that a broader provider blanket nationwide will take some of the stress out of the job. The report can't suggest methods of enticing doctors into a challenging profession, but Phull hopes that simply talking about this impending reality helps, telling Bustle: "Just surfacing this information to be fodder for other conversations can ideally bring more intelligence to these types of discussions." And maybe proactive conversations can also bring answers.