Here's The Pink Boiler Suit You *Need* In Your Life & 6 More Absolute Style Bangers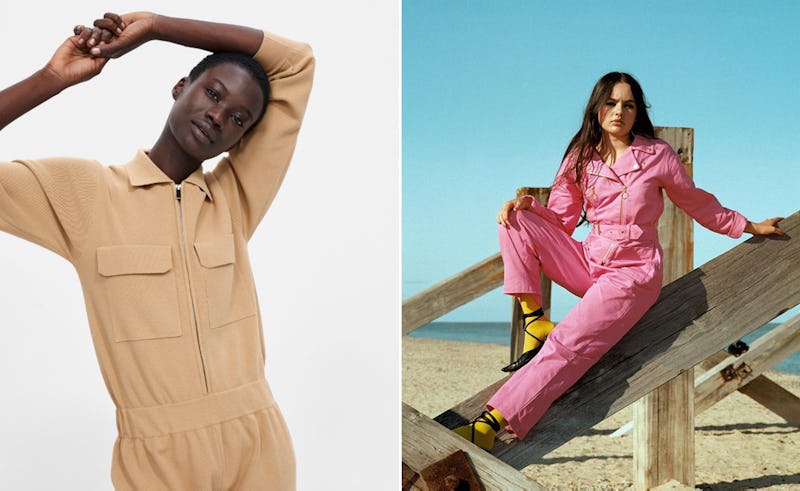 Left: Mango / Right: Lazy Oaf
I have too many jumpsuits in my closet, but this winter I've found room for just one more. Literally everywhere I've looked, every brand seems to be doing their own take on the utility jumpsuit winter 2018 trend in every shade, texture, and colour. Needless to say, I'm here for it. From the big luxury designer names through to the high street, it's a great all in one piece that should definitely find a way into your closet this winter. (Plus, it's a great way to look chic on those days your brain just isn't up to a big styling session.)
The pink jumpsuit seems to be all the rage this season and in fact, fashion search engine Lyst revealed that the Ganni pink boiler suit was one of the ten "most wanted cult items of Instagram" this year. Unsurprisingly, a number of places decided to bring their own spin with Urban Outfitters' pastel pink option actually drawing its own wait list and Lazy Oaf's motorcycle chic version scattering heart eyes left and right. Ganni also gave their classic piece a new look, opting for different shades with their signature side slits.
Others brought winter trends into the fray with Monki capitalising on corduroys and the likes of Cami NYC choosing a silky satin fabric.
Although styling a utility jumpsuit may seem initially like a daunting task, it's actually not as hard as you think it might be. The boiler suit basically speaks for itself and doesn't need too much accessorising, though I personally love seeing a turtleneck peeking out from underneath an unbuttoned collar and a nice pair of ankle boots. If your jumpsuit's in a monochrome, neutral colour like Zara's, a statement houndstooth coat would look a total dream over it while a uniform faux fur would be perfect on top of Lazy Oaf's.
With so many to fall in love with, I found seven that are the absolute cream of the crop: a.k.a. one for every day of the week. As with all things fashion however, the most important thing is to have fun with it. Seriously, it's a boiler suit - you can afford to push yourself out of your comfort zone a little bit.
Monday
Tuesday
Wednesday
Thursday
Friday
Saturday
Sunday