'Vampire Diaries' Stars Are Ready To Say Goodbye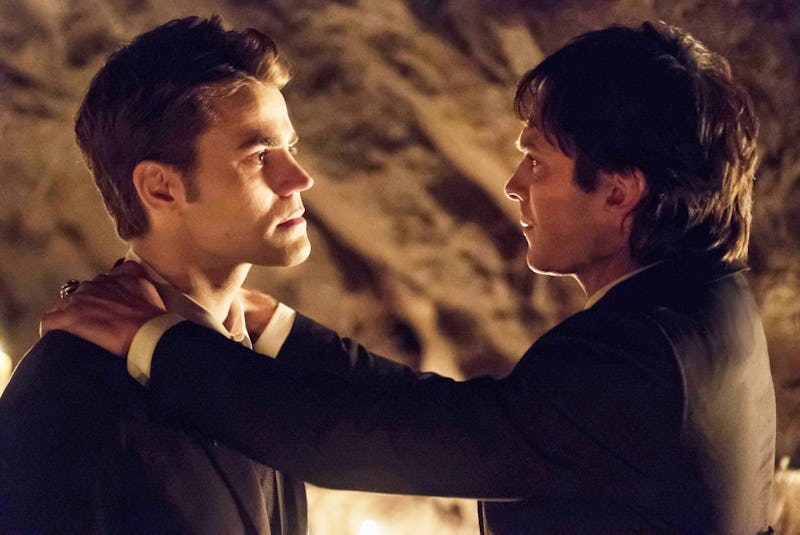 The CW
Start preparing for all the emotions now, because when The Vampire Diaries concludes its long run this Friday with the series finale, it will truly be the end of an era. The CW's hugely successful supernatural series has surprised fans with heartbreaking, crazy and romantic twists and turns for eight seasons and 170 episodes, but when the 171st and final episode bows, it's going to be the last we see of the Salvatore brothers for a very long time ... and possibly forever.
Paul Wesley and Ian Somerhalder have portrayed vampire brothers Stefan and Damon Salvatore for eight years now, and the actors are ready to put these characters to bed and move forward.
"I never knew walking into that room that it was going to be eight years of my life, and that I'd start the job as a certain kind of person and I'd leave as a completely different person," Wesley says of when he first auditioned for the pilot. "It's shaped my entire existence in a lot of my formative years in my twenties. This show is forever going to be ingrained in my personality, which is a major deal. I didn't sign up for that when I walked into the audition, but I'm very grateful for it."
Because he's played this role for so long, Wesley isn't planning on revisiting his character in the future for any potential reboots or reunions. "Look, all good things must come to an end, and let's end it on a good note, on a positive note, and not get cancelled," he says. "You know what I mean? We're like going out with some pride, some dignity — to a degree. Do we have any dignity left, Ian?"
"No, there's no dignity, but at least we got to call this one shot," Somerhalder responds with his telltale smirk.
Wesley adds, "I think I'm closing the chapter."
"In 10 years, I'm going to be living probably on a ranch in Wyoming and you'll never hear from me again," Somerhalder says. "I think it's good to close this chapter. I just think that there's something beautiful about closure. Now in this digital age, television never dies. It's called Netflix."
And Wesley jokes, "It'd be funny if we did a reboot, [and] we're all old as s-t. Grey hair. 'Ah, Stefan!' No, that wouldn't work. [We're] stretching it as it is."
The Vampire Diaries stars got honest and candid along with their cast mates Zach Roerig, who plays Mystic Falls' most durable human Matt Donovan, and Michael Malarkey, who plays recently deceased vampire Enzo, for the final TVD Q&A ever with Bustle and other reporters after screening last week's penultimate episode, "We're Planning a June Wedding." The episode was emotional and shocking, and set up the series finale with returning fan-favorite character Vicki Donovan (Kayla Ewell) back from hell to help Katherine (Nina Dobrev) get her final revenge by destroying Mystic Falls for good with hellfire. There's no predicting what is going to happen in the final episode (airing Friday at 9 p.m. on The CW following a one-hour retrospective episode looking back on eight seasons), but one thing is for sure: someone is going to die.
"It's definitely a main character," Wesley teases. "I was really relieved that someone died because I've always, I think that death is a, you know, once you dangle that, you have to pay it off. Someone needed to die. If someone had not died, I would have been disappointed."
"If you don't do it, after a while, yeah, your audience stops trusting [you]," Somerhalder agrees. "Yeah, you have to pay that."
Along with a major death, the finale also promises the long-awaited return of Dobrev, who left the series in Season 6, as she plays not only Elena Gilbert but also Katherine Pierce.
"I think it would be very strange to not have Nina come back for the finale," Wesley says. "It's like the whole story is about two brothers essentially. I mean the crux of it is two brothers fighting over a girl. There's a zillion other storylines, but I felt like it would have been a real shame for the fans and for the show to not wrap that up to a degree."
When Wesley first read the series finale script, he was on a plane and actually started to cry.
"It's just a culmination of so many emotions," he says. "You're like, 'OK, this is the last script I'm ever going to read for this show.' I got a bit teary-eyed, and I'm kind of a cold-hearted bastard, so I took a selfie with just a bit of red eyes, and I sent it to [showrunners] Julie [Plec] and Kevin [Williamson]. I was like, 'Good work, guys.'"
While series finales are always a tricky beast, as showrunners have to balance giving longtime fans satisfaction while also ending the show on their terms, Somerhalder believes the TVD fans will be happy with the final episode.
"As you were going down it, you're sort of ticking boxes," Somerhalder says. "You're looking at how all of this was going to sum up into one 44-minute episode of television. From a story standpoint, I was blown away. I thought, 'Wow, they actually summed it all up into one 44-minute piece.'"
Wesley agrees, adding, "Yeah, I think it's satisfying. I really do think so."
"I think people will be pretty satisfied," Somerhalder adds. "It's hard. You're never going to be able to satisfy everyone. I think there's a very beautiful orchestration to how this was sort of laid out."
Malarkey then gets philosophical in trying to explain why series finales are always so hard to get right. "The thing with a long-running show is it interweaves itself into every watcher's life in a certain way," he says. "It means so much to them for different reasons. Hence why it can never fully satisfy everybody, because your own perception of your reality of that show, it's become greater than the show itself, you know? But I think we do it justice."
Over the course of eight, 22-episode seasons, there are bound to be some creative highs and lows, but the cast is in agreement that the first few seasons of TVD were the all-time best.
"I just always loved Season 1 because I think that's when the show really solidified itself," Somerhalder says. "All of these characters were still innocent enough to the viewer and to ourselves. We didn't judge them."
"Season 1 and 2, there was so much mystery, which is why everyone watched the show," Wesley adds. "Those stories eventually ran their course and then Season 3 selfishly, for me, was exciting because it was the first time in two years I got to play a villain. For me the introduction of Ripper Stefan, the genesis of that, was the most exciting. But I think as far as the show is concerned, Seasons 1 and 2 as a whole were probably the most interesting just because it was so new."
When it came time to film everyone's last scenes, creator and showrunner Plec made a special speech for each cast member as a final send off, making the shooting of the finale extra special.
"She gave a great eulogy for everybody about our place in the show and everything," Malarkey says. "I remember being deeply moved by that, so I was sputtering through it, through tears."
Roerig's final scene was hard for him to get through because it was so emotional.
"I was trying to keep myself well-calibrated, and make sure that my emotions were based in the scene and not because it was my last scene of the show," he says. "At the end Julie, like, knew. She'd seen my lip quivering and the snot bubbling, and she's like, 'Zach, this is a free one. Just let it rip,' and I really let it out."
After pretending to cry, he continues, "She gave us all a really nice speech. It was very tender. It was very fitting to end with her."
But Wesley's experience filming his final scene played out a bit differently than everyone else's.
"My final scene, I finished my scene, I had my eyes closed, and someone sprayed funfetti in my face," Wesley deadpans. "Literally, direct shot in my face, and I was like, 'blahhh.' I was doing this, like, emotional scene, crying or whatever, and then all of a sudden I have s-t in my eyes. I was like, 'Wait, what?' It was really funny."
Whether the cast's TVD experience ended with tears or a prank, it did eventually come to an end. And now, ready or not, it's our turn.