'TVD' Fans Should Watch These Shows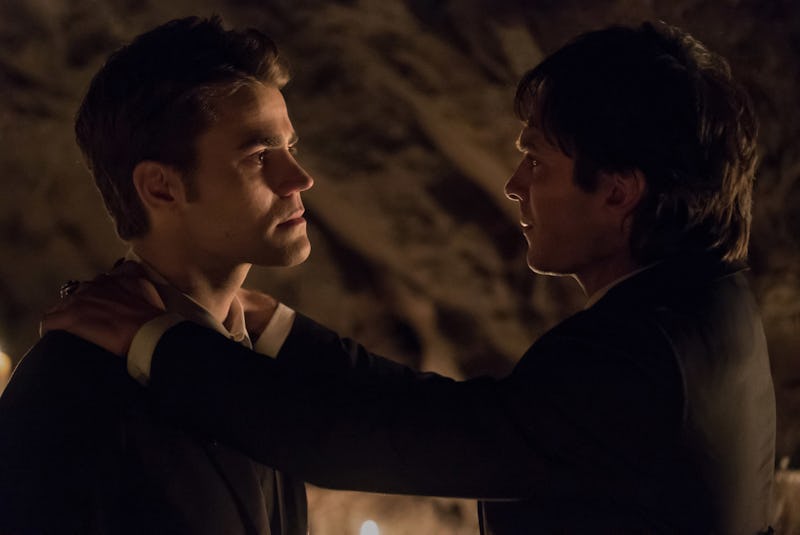 Annette Brown/The CW
The final season of The Vampire Diaries is coming to an end, and, with it, the show's long and fascinating history. TWD went from a teen-aimed soap opera to one of TV's most addictive and enjoyable supernatural dramas. While the major cast departures have changed the series significantly since its heyday, you can't discount that even though The Vampire Diaries won't return after Season 8, it helped usher in an era of more widely accepted genre shows on TV. The Vampire Diaries premiered in 2009, before The Walking Dead, before The Strain, before Game of Thrones. Even though it was "just" a soapy show on the CW, it was actually a very important trailblazer.
And the Vampire Diaries series finale is going to reward the show's fans, according to creator and executive producer Julie Plec. She told Variety, "It felt right, you know? The reason that we decided to actually end it in the first place was that the themes in the season were so specific to an ending." That's right, while other shows on the network have continued far past their eighth seasons, the team behind TVD decided to wrap things up. Writing in Stefan's wedding, bringing Nina Dobrev back for the finale, and making an episode that she promised will make even the most casual fan tear up, "it's a show that ends with a sense of what peace means, and that was on purpose. So I hope people enjoy that," Plec said.
The Vampire Diaries will be missed now that it's ending, but there are plenty of shows that have followed its lead, blending supernatural elements with a character-based drama. Fans can watch these in TVD's stead.
The Originals
This spinoff of TVD is the natural jumping off point for fans looking for another series to watch.
Supernatural
It's been more than a decade and the Winchester brothers are still somehow finding new adventures and new monsters to destroy. Over the years, the show's creative inspiration has resulted in some outstanding seasons, and some where it's just fun to hang out with the characters. But no show has fans as passionate as this one, and therefore it's a stalwart, self-aware addition to the network.
iZombie
This CW series has a real sense of humor about its premise that a normal young woman is trying to hide that she's a zombie. Sounds not unlike the idea of a bunch of vampires' age old blood feuds swarming the local high school.
Midnight, Texas
And, a new series for you — Midnight, Texas is planned as a midseason series from NBC that's set in the True Blood universe.
Let The Right One In
The adaptation of the film of the same name (in the original Swedish) received a pilot order from TNT in fall 2016. Hopefully, the adaptation stands up to the haunting, original vampire tale about a young, inhuman girl who falls in love with a lonely outsider.
Hemlock Grove
And, finally, this supernatural series got the go-ahead for more from Netflix. The first season was a little spotty, but Netflix makes some great shows, and maybe Hemlock Grove will have an uptick that will take it from guilty pleasure to no guilt necessary at all.
So while The Vampire Diaries is over, there's plenty of other shows you can watch that will more than make up for its absence.