The 'Vanderpump Rules' 2018 Reunion Date Is Later Than It's Been For Past Seasons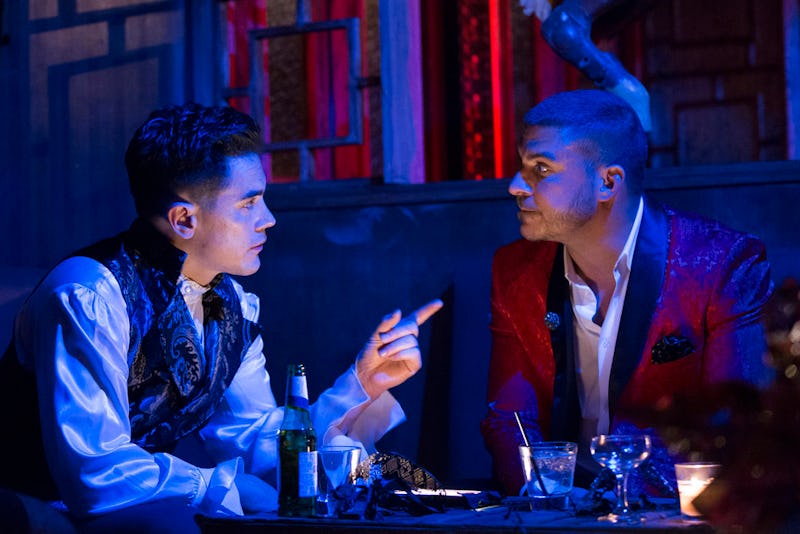 Isabella Vosmikova/Bravo
Fans who follow the cast of Vanderpump Rules on social media saw a lot of behind-the-scenes photos and videos from the Season 6 reunion taping. This season has been beyond amazing and no one actually wants it to end, but it's tough for a superfan not to be curious about the date of the 2018 Vanderpump Rules reunion. There is just so much that went down this season that needs to be discussed... and screamed about, of course.
UPDATE: Bravo has confirmed to Bustle that the Vanderpump Rules Season 6 reunion will begin airing on May 7.
EARLIER: The date that an episode is set to air seems like it would be an open and shut case, but it is not in this instance. As of now, there hasn't been an official announcement about when the reunion episodes will begin airing. (Bustle reached out to Bravo, but did not receive a response.) But, there are definitely still episodes at least up until April 23, when episode 20 will air, as already confirmed by Bravo.
Thankfully, the show has been going strong for years and there is some past precedent to rely on for insight. According to the show's IMDb page, Season 4 of Vanderpump Rules premiered on November 2, 2015 and the first reunion episode (out of three) aired on March 21, 2016. Vanderpump Rules Season 5 premiered on November 7, 2016 and the three-part reunion started airing on April 3, 2017.
For Season 6, the show started airing on December 7, 2017, which is a whole month later than it has for the past four seasons, so it would be logical to assume that the fandom will be blessed with yet another reunion episode trilogy, but just a month later this time around. This could mean that the first episode of the Vanderpump Rules reunion might air on Monday, April 30 or Monday, May 7.
The sit-down was already filmed on March 18. Hopefully, that footage is all edited into episodes that will be airing no later than a month from now with a reunion trailer that will hopefully hit the internet ASAP.
Even though there haven't been any previews, the cast has hinted at what to expect from the discussion. During the April 2 episode, Jax Taylor, Tom Schwartz, Tom Sandoval, Peter Madrigal were convinced that James Kennedy said he "hooked up" with ex-girlfriend Kristen Doute. Watching it back, it is very clear that he said that he "hung out" with Kristen, but no one believed him. It had to be tough for the cast to watch that episode back.
In an interview with Us Weekly, Kristen shared, "It doesn't get really spoken about ... until the reunion because I didn't know about it … until a couple of weeks ago, I had no idea that that's what went down." Wow. That had to be so awkward.
A viewer tweeted Jax about the "hang out" vs. "hook up" mishap and he responded with this tease: "Yeah then it must be true....wait till reunion please..." So at least fans know one topic that will definitely be discussed.
What else will they talk about? It's safe to assume that Jax cheating on Brittany Cartwright with Faith Stowers will be a a major topic of conversation since Jax is the "number one guy in the group" and this story line affected almost every episode this season.
Lala Kent transformed from being the outcast in the group last year to being friends with most of the people in the cast in the present day. After taping the reunion this year she posted a bathroom selfie with Stassi Schroeder and Katie Maloney. This is not something that anyone would have imagined happening at this time last year.
Tom Schwartz shared a photo of his wife, Katie, their favorite third wheel, Stassi, and Ariana Madix all sitting together. So, does this mean that Katie and Stassi are getting along with Ariana? Or is it just a photo of three cast members at a cast event?
Just like everyone else in the cast (minus Brittany and Schwartz), Scheana is no stranger to up and down relationships, but this reunion photo that Brittany posted could indicate that she sat with Brittany and Ariana at the reunion and that she did not make up with the the Witches of WeHo.
At this point, it's just a waiting game. There's a lot of speculation about when the reunion will air, what will be discussed, and who's on which side, but there are currently more questions than answers.