21 Glorious Pics From The 'Vanderpump Rules' Mexico Trip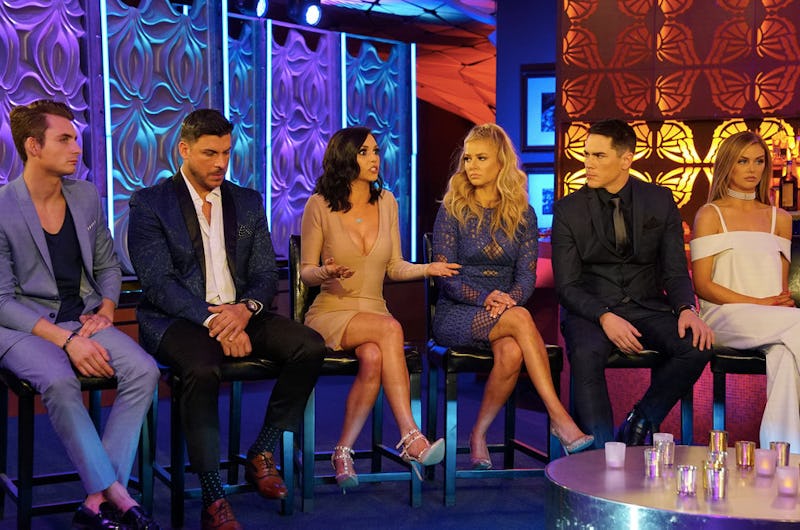 Nicole Weingart/Bravo
When Vanderpump Rules started out, the cast vacations (usually for Stassi Schroeder's birthday) were nothing short of iconic. But in the more recent seasons, there has been way too much divisive clique drama, so the cast has taken separate trips instead. (Aside from Katie Maloney and Tom Schwartz's wedding events, but even then not everyone was invited.) Sure, the episodes with the split trips were entertaining, but it just wasn't the same as the good old days. It actually seems like there is hope for the next season, though, since the entire Vanderpump Rules cast went on vacation in Mexico together.
Yes, that's right. All of the enemies, frenemies, exes, and everyone in between went on one trip together. This will most likely be a multi-part episode with a lot of drunken drama, because how could it not be? Unfortunately for fans, it's going to be at least a few more months until the new Pump Rules season airs, so no one will know exactly what went down until then.
Thankfully, the Pump Rules cast is all about social media and they've blessed the fandom with a sneak peek at the vacation antics by posting a bunch of photos from the trip.
1. The Original Cast Members Posing For A Photo
So much has changed since Vanderpump Rules first started, but it's nice to see all of the originals in one photo.
2. Hanging Out As A Cast
Yes, Kristen and Ariana are sitting next to each other and smiling.
3. Forming A Truce Thanks To Tequila
Well, there's probably a lot more that went into these three posing for a photo together than taking tequila shots, but I'm sure the tequila only helped.
4. Joking About NDAs
Props to Stassi, Kristen, and LaLa for turning such a controversial topic into a joke.
5. Jax & Brittany Looking Good
These two look amazing.
6. The Witches Of WeHo Sticking Together
Of course the self-proclaimed "Witches of WeHo" took pics together in Mexico. They've been on pretty solid ground ever since Stassi came back into the fold two seasons ago, but then again, you never know what happened before or after this photo.
7. Brittany, Scheana, & Kristen Hanging
Everyone loves Brittany, so it's never surprising to her hanging out with anyone from the cast.
8. Snorkeling
The mask is hiding whatever facial expression Kristen is making, but it seems like she is having a good time.
9. Scheana & LaLa Rocking Buns & Pouts
LaLa and Scheana are definitely on the same page with their coordinating buns and pouty lips.
10. Brittany & Stassi
This friendship will always be intriguing. Jax's ex-girlfriend hanging with his current girlfriend is just the epitome of this show.
11. Scheana Channeling Her Inner Katie Or Kim Kardashian
Doesn't Scheana's dress look very Katie at the last reunion/Kim Kardashian at the Video Music Awards last year?
12. LaLa & Katie Working At Friendship
Never saw this one coming, but it will be interesting to see how it all plays out.
13. Sipping On A Daiquiri
Almost anyone would love to switch places with Katie in this photo.
14. Katie & LaLa Playing With Photo Filters
If pretending to be cats in a photo isn't a sign of peace, then what is?
15. Brittany Turning Into A Bird Whisperer
How does Brittany get even cuter? Just give her two parrots to hang out with.
16. LaLa, James, & Scheana Enjoying A Night Out
Even James was included for this cast trip! Times really are changing.
17. LaLa Doing A Classic Beach Pose
If only we all could have gone on this vacation.
18. James & LaLa Taking A Beach Selfie
These two were probably pumped to be included in the group trip this time around.
19. LaLa Modeling On The Beach
I see you, girl.
20. James, LaLa, & Scheana Being Shady
These three rocked their shades and some silly faces by the water.
21. Sandoval & Taking A Break In Between Golf Rounds
After all they've been through, it's nice to see that James and Sandoval are still boys.
As great as the cast antics are in West Hollywood, every person going to Mexico is bound to amp up the intensity of the drama. I cannot wait for these episodes to air.