Everything You Need To Know Going Into 'Vanderpump Rules' Season 6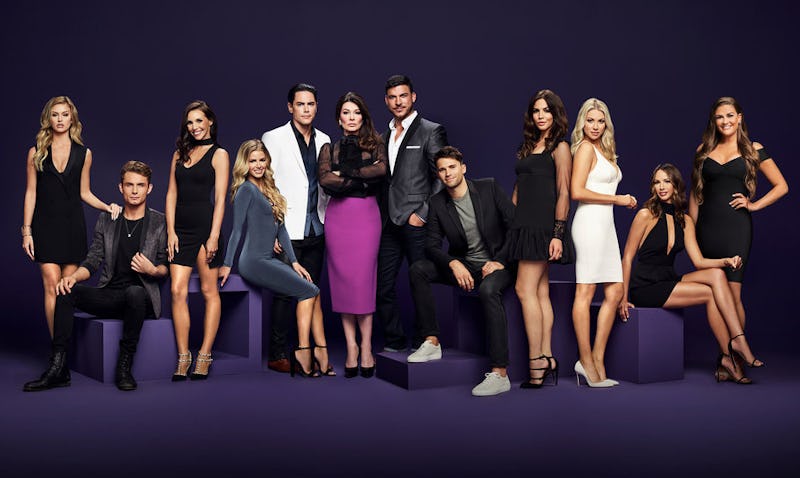 Tommy Garcia/Paul Drinkwater/Bravo
The wait is almost over. Vanderpump Rules is back for Season 6 on Monday, December 4 and there's a lot that viewers need to know. The dynamics of this group shift throughout every season and there are just as many changes in between each season. It's almost too much to keep up with, but it's good to be prepared going into the premiere, even though everything is bound to change as the episodes go on.
Speaking to Bustle as part of Purina's #DogThanking campaign, Andy Cohen said that when it comes to this season's premiere, "You will not believe the first five minutes of the first episode." If the first five minutes are that shocking, then that is very promising for the rest of the season.
These cast members have done some terrible things to each other only to forgive each other, become best friends again, and eventually do something even worse to continue that same cycle again. From cheating on significant others, to getting with a best friend's former (or current) love interest, to sending curse word-ridden rage texts, the drama never stops with this crew. And, weirdly enough, they still have a lot of love for each other. It's so tough to understand the dynamics of this group, but it's impossible to resist being enthralled by their antics.
Who went from best friends to worst enemies? Who went from being bitter rivals to close friends? There is just so much to catch up on that even long time Pump Rules fans won't believe it all.
Lala Will Be Back At SUR
This news is both surprising and not-at-all surprising. Lala Kent just disappeared last season, both professionally and socially. She skipped out on Ariana Madix's NASCAR themed birthday trip without even telling her, burning bridges with both Ariana and her man Tom Sandoval. She also just didn't show up for any of her shifts as a hostess at SUR, something that did not sit well with Lisa Vanderpump.
It would make sense for Lala not to come back to the show after all that, but she did return for the Season 5 reunion and she became close with Scheana Marie and Ariana again. No matter who doesn't want Lala back on the show, she couldn't be boring if she tried, so of course she is back as shown in the trailer for the upcoming season.
LaLa Is Cool With Katie, Stassi, & Kristen
Anyone who follows Lala, Stassi Schroeder, Katie Maloney, Kristen Doute, and Brittany Cartwright on Instagram has to notice that they have all posted photos with Lala. They're commenting compliments on each other's photos. There is a love that has never been there before. There's no word on how this plays into Lala also being tight with Scheana and Ariana, but it is bound to be interesting.
Scheana Is At Odds With Katie & Stassi (Again)
In a preview that E! posted for the new season, the tension between Scheana and Katie continues from last season and the two of them get into a text message fight over a comment Scheana said off-camera. Katie sent her classic rage texts and Scheana uninvited Katie from her birthday party before remarking, "Now I think I'm like going to have this conversation with Stassi."
In April 2017, Scheana told TV Guide that she hadn't really been in touch with Katie and Stassi since the reunion and said that she couldn't trust them. Scheana said, "Real friends don't threaten to tell a secret about someone, something I confided in you." In the same interview Scheana said she's still good with Kristen, but as of the publication of this story she isn't following Stassi, Katie, and Kristen on Instagram.
James' Girlfriend Raquel Helps Out At Vanderpump Dogs
It was inevitable that James Kennedy's girlfriend, Raquel Leviss, would become a bigger part of the show since the two are still together. Helping out at Vanderpump Dogs allows Raquel to be a part of the action beyond dating James. It will be interesting to see how Raquel meshes with the rest of the cast considering that she is dating someone who is pretty polarizing among the Pump Rules crew
The Old Kristen Will Return
In an interview with Us Weekly on November 10, Kristen teased, "I wouldn't say Kamikaze Kristen, but a little crazy Kristen comes back." Kristen specified her target in another interview with Entertainment Tonight. "Crazy Kristen likes to tap in once in awhile. Mostly Jax gets to feel the wrath."
Scheana Started A New Relationship
Season 5 of Vanderpump Rules ended with Scheana breaking up with Shay on their living room couch, but she got into a new relationship in the off season with Robert Valletta, who agreed to appear on Season 6. In October, E! revealed that Rob confirmed a breakup with Scheana in Instagram comments writing, "Sadly we broke up, we are still amazing friends and we adore each other. We will see what happens." But, on Nov. 30, Scheana posted an Instagram of herself and Rob at the premiere party for Season 6. Will this play out on the show? Are they still (or back) together? Will Shay still be mentioned? That is all unclear, but Rob and Scheana's relationship is definitely a part of Season 6.
All Of The Relationships Will Be Tested
In her interview with Us Weekly, Kristen admitted, "Literally, every single relationship has their ups and downs this season. Some don't come back up." Jax Taylor added, "There are a lot of ups and downs. Every relationship's tested I think every year, but I think this year, ours was definitely tested a little bit." Oh no, drama for Brittany? Say it isn't so!
Stassi's On-Again-Off-Again Man Is On The Show
After years of dating Stassi on and off, Patrick Meagher is going to be on the show. In the trailer for Season 6, Stassi is shown at dinner with Patrick saying, "If you do decide to break up with me, can it not be over tonight? Please?"
Jax & James Are Getting Along
After years of hating each other for essentially being the same person, Jax and James sat next to each other at the Season 5 reunion, which ended up going way better than anyone expected. Instead of arguing with each other, Jax and James had each other cracking up with laughter. Andy Cohen confirmed to Bustle that these two are actually friends this time around, saying, "Yes, kind of happened at the reunion last year."
Tom & Tom Are (Maybe) Opening A Restaurant With Lisa
When asked about the possibility of a Tom Tom restaurant spin-off show, Andy told Bustle, "That could be good. I don't know. I feel like I'd like to see that in Vanderpump Rules." And that is exactly what's going to happen. The trailer shows Lisa swinging a sledgehammer with the Toms at a building that's clearly under construction. And a new clip for the first episode showed them all discussing the business venture while at the potential location.
Once again, Vanderpump Rules looks absolutely insane. There is a lot of information out there about Season 6 and there is also a lot that has remained a secret for the sake of the show. There is no way to truly prepare for Season 6, other than to just be pumped for the drama.