So, Apparently, Jax & James Are Friends Now, Judging By The New 'Vanderpump Rules' Trailer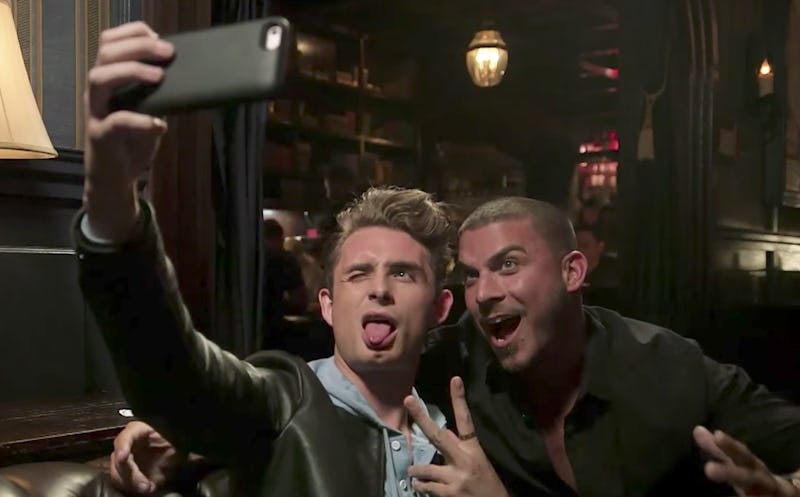 Bravo
It's time for another round of SUR drama. The Vanderpump Rules Season 6 trailer is finally here and it's full of all kinds of excitement, but what appears to be the most shocking event of the season is James Kennedy and Jax Taylor's friendship. "It's crazy how much can happen in a year, honestly," James says in the video, before footage of he and Jax taking a selfie is shown.
For the past few seasons, Jax has been very open about his disdain for the British DJ and they have had many fights, but now that's obviously changed. In August, Jax opened up to Us Weekly about his relationship with James and admitted he no longer hates him. Per Jax, he "tolerates" James. "He's not my best friend by any means. But I mean, he's fine. I'm kind of closer with him in passing," the bartender dished. "I don't really have such a hatred towards him anymore."
The trailer seems to tease a closer friendship between the two than what Jax previously described. Plus, in June, James shared a photo of himself with Jax on Instagram. They sure looked like buddies, but all will be revealed when Pump Rules officially returns on Dec. 4 at 9 p.m. ET on Bravo. Until then, fans can just enjoy watching the two try to take a perfect selfie and their discussion about hate sex in the trailer below.
As for another shocking duo who apparently has found some common ground, Katie Maloney and Lala Kent appear to be on good terms. "Cheers to being homies, right?" Lala says to Katie over mimosas. Fans probably recall that they, along with Stassi Schroeder and Kristen Doute, did not get along in Season 5 — at all.
Speaking of Lala, it looks like she might also once again be working at SUR, despite quitting last season. Another familiar face shows up at SUR, as well — Stassi. She has a chat with Lisa Vanderpump and then Tom Sandoval says to Stassi, "Oh, my gosh, this is just like old times. I love it." Wait, does this mean she is now working at SUR? Now that would be totally unexpected.
In no surprise whatsoever, Katie and Tom Schwartz are arguing (again), and Ariana Madix and Sandoval have a massive fight. Ariana is even heard saying, "I think we should just break the f*ck up." Whoa. Brittany Cartwright and Jax are also facing major relationship troubles, because, of course they are. At one point in the trailer, Brittany takes a swing at Jax, who is also seen working on his anger issues. Scheana Marie's divorce was a major focus last season, but this time around, her romance with Robert Valletta is front and center. FYI, they reportedly are no longer together. Oh, and Stassi's breakup with Patrick Meagher seems to be featured. It doesn't look like love is really in the air this season, but when is it?
On the lighter side, there's a good chance LVP's business partnership, aka "Tom Tom", with Sandoval and Schwartz is becoming a reality. All three are seen standing inside a construction site that could very well be their potential new bar. Also, Vanderpump says quite seriously to the Toms, "I want 100 percent commitment." Let's keep those fingers crossed that Tom Tom is actually happening.
The best part of the trailer is the end where Jax gets angry and then accidentally throws poor Schwartz's phone. "Is that my phone? Hey, I need that," Schwartz declares. It's good to know that Schwartzy hasn't changed at all and is still the true star of the show.
Based on the trailer, the new season of Pump Rules isn't going to disappoint in the drama department, that's for sure.