The 'Veronica Mars' Revival Cast Just Added Another Familiar Name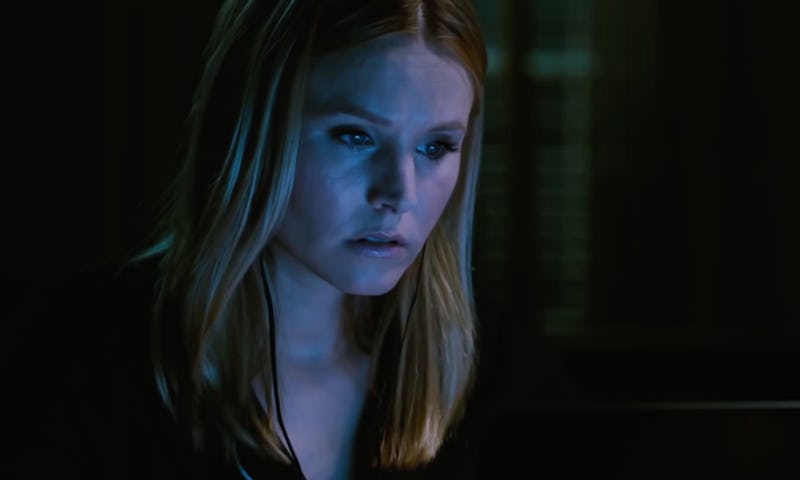 Warner Bros Pictures
Dust off your detective gear and start scrounging for evidence, because the Veronica Mars crew is headed back to Neptune. And, thankfully, everyone's favorite father-daughter duo will be there for the crime-solving, butt-kicking reunion. That's right, Enrico Colantoni — aka Keith Mars — has joined the Veronica Mars revival cast will see the return of yet another actor from the original mid-2000s mystery series. According to a Monday, Oct. 15, report from Deadline, Colantoni, who played Veronica's dad on the beloved series, will join his fictional daughter in the upcoming revival series. Kristen Bell, who played the show's titular character back in the day, has already confirmed her own involvement in the upcoming reboot.
OK, so everyone remembers Mr. Mars, right? Perhaps better known as the chief detective at Mars Investigations and former disgraced sheriff of Neptune, Veronica's dad played a pretty integral role in the original series' plot. As the primary link (at least, at the beginning) between Veronica and the investigative duties that fans came to know and love her for, Keith was around quite a bit. As Deadline noted in its report, Colanti starred as a series regular on the show for the duration of its three seasons, as well as 2014's Veronica Mars movie.
Since Hulu's upcoming mini-revival series touts an eight-episode arc whose foundational premise — crimes in Neptune that threaten the city — sounds a lot like the original, it seems like it was only a matter of time before the reboot announced Colanti's involvement. After all, it'd be pretty bizarre to watch the remains of Mars Investigations come to life in the revival without the OG Mars investigator himself. As to the plot of Veronica Mars' forthcoming victory lap? According to a handful of reports that have been floating around these last few weeks, it looks like Hulu's revival will see the crew fighting new crimes and solving new mysteries — of course, with the help of some old friends.
"Spring breakers are getting murdered in Neptune, thereby decimating the seaside town's lifeblood tourist industry," reads Hulu's description of the upcoming revamp, as reported by Entertainment Weekly. Seasoned Marshmallows currently thinking something along the lines of, "well, that sounds familiar," will probably be duly pleased to learn that grown-up Veronica spends most of the new season trying to crack the case. Here's to hoping she actually ends up doing it, too, since "crack the case," in this particular context, actually means tracking down the killer on behalf of one of the victim's parents.
Fortunately, knowing Veronica and her prodigal investigative skills, audiences can probably rest assured that — just as they watched her do in high school — she'll almost definitely figure this one out, too. And, lucky for Veronica, she won't have to do it alone. In addition to her TV dad's upcoming return, the Veronica Mars reboot will feature a few more familiar faces from the original, including but not limited to Jason Dohring, David Starzyk, and Percy Dags III, who played Logan Echolls, Richard Casablancas, and Wallace Fennel in the original series.
And, per a tweet from Veronica Mars creator Rob Thomas back in September, there might be more V Mars veterans returning Neptune whose names haven't been announced yet. But, with Veronica, her detective dad, sometimes boyfriend, and high school BFF (any guesses as to how Mr. Casablancas is going to tie into this throwback crew?) running the show, it looks like this particular high school reunion will be one for the books.