Marshmallows, You Need To Know What Kristen Bell Just Said About The 'Veronica Mars' Revival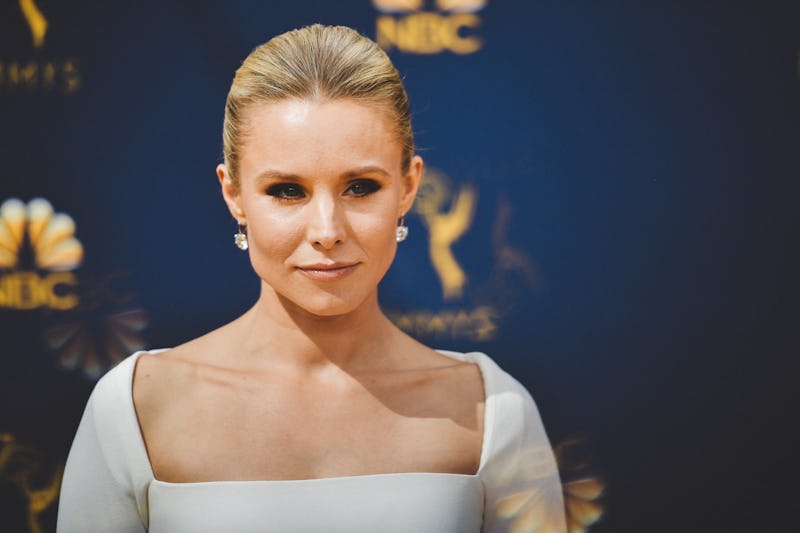 Matt Winkelmeyer/Getty Images Entertainment/Getty Images
Now that the return of Veronica Mars is officially a thing, fans can't seem to get enough of the details surrounding the show's revival. While there have been some minor tidbits shared in terms of the reboot's narrative, Kristen Bell's recent revelation that the new Veronica Mars storyline will be much darker than ever before is something fans of the original can all get excited about.
In a recent interview with SiriusXM's Entertainment Weekly Radio on Thursday, Sept. 27, Bell opened up about what fans can expect from the new Veronica Mars miniseries on Hulu. "It's gonna be a much darker world," she said, suggesting that fans "brace" themselves for what's to come of the revamped series. She continued:
"It's going to be a bigger world. It's definitely not going to be what we did on UPN or The CW. So I want to brace fans for that, that it's going to be darker and bigger and more cinematic and definitely a little bit different."
Placed in totally different and more complex world, with the current social and political climate, Veronica Mars sounds as if it will be more important than ever. While there are endless possibilities, the reboot will most likely appeal to its now-adult fanbase by touching on topics that reflect real world concerns.
While speaking with SiriusXM Bell touched on how the character will fit into the country's current landscape, explaining:
"Particularly now, I feel like you wanna see a girl who's fighting for good. You wanna see a superhero without a cape who has nothing at her fingertips but her wit and her intellect and you want to see her better the world around her. I think people want to see a hero again. We had years of loving antiheroes and I think the world is too scary now. We loved Walter White when everything felt safer. It would scare me to watch a show about an antihero now. I want to see the good guys winning."
A brief synopsis of the new show, which will now be headlined by Bell as a grown-up Veronica, was shared by Variety, revealing:
"Spring breakers are getting murdered in Neptune, thereby decimating the seaside town's lifeblood tourist industry. After Mars Investigations is hired by the parents of one of the victims to find their son's killer, Veronica is drawn into an epic eight-episode mystery that pits the enclave's wealthy elites, who would rather put an end to the month-long bacchanalia, against a working class that relies on the cash influx that comes with being the West Coast's answer to Daytona Beach."
The series, on which Bell will also serve as executive producer, reportedly consists of 8 episodes and is slated to debut on Hulu in 2019.
The Good Place actor first announced the Veronica Mars revival via Instagram, revealing that all past episodes of the show will also become available for streaming on the platform beginning Summer 2019.
Days after the huge announcement, Veronica Mars creator Rob Thomas took to Twitter to reveal the names of other actors from the beloved show who would be reprising their roles in the forthcoming mini-series. Along with throwback photos of some of the characters, he wrote, "Here's who we have booked for the #VeronicaMars series, so far. (More are on the way, I swear.)" In the post he went on to share that Bell would be joined by Jason Dohring, who played Veronica's on-again off-again boyfriend Logan Echolls, and David Starzyk, who played Richard Casablancas, Cassidy and Dick's father, who fled the country after Veronica discovered he had committed real estate fraud. It was also revealed that Fancis Capra will also return to Neptune as Veronica's friend Eli "Weevil" Navarro, as will Percy Dags III, who portrayed her best friend Wallace Fennel.
Things are certainly starting to get exciting for Marshmallows who have been waiting for what feels like forever to get news about the show's revamp. And, from the sounds of it, they won't be disappointed.