An Oxford Vice-Chancellor's Homophobic Comments Prove Why Safe Spaces Are So Necessary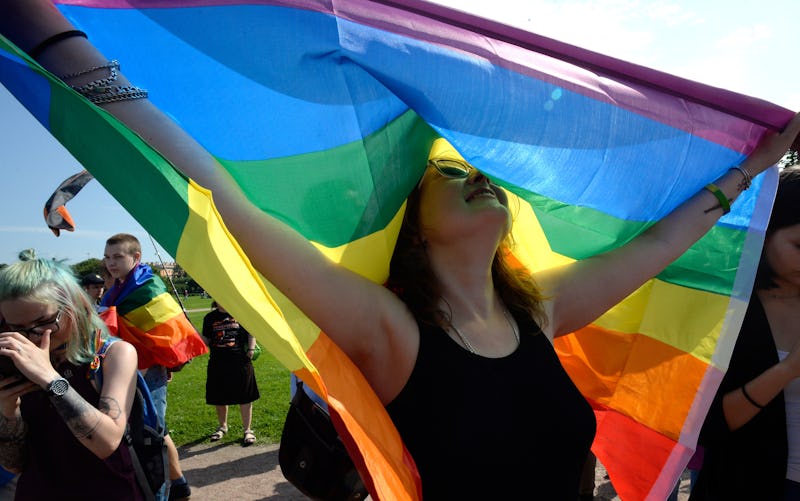 OLGA MALTSEVA/AFP/Getty Images
Earlier this month, Louise Richardson, the vice-chancellor of Oxford University, spoke at the Times Higher Education World Academic Summit about a variety of hot topics in education — but one comment she made about students' responses to homophobia has gotten the LGBTQ community in the UK up in arms. The comments have raised big questions about the importance of safe and inclusive learning environments, the real nature of privilege, and what it really takes to make a university a place for all.
According to the BBC, Richardson said the following about LGBTQ students at Oxford:
"I've had many conversations with students who say they don't feel comfortable because their professor has expressed views against homosexuality. They don't feel comfortable being in class with someone with those views. And I say, 'I'm sorry, but my job isn't to make you feel comfortable. Education is not about being comfortable. I'm interested in making you uncomfortable'. If you don't like his views, you challenge them, engage with them, and figure how a smart person can have views like that. Work out how you can persuade him to change his mind. It is difficult, but it is absolutely what we have to do."
Understandably, there was backlash. Over 2,600 Oxford staff, students, and alumni signed a petition condemning the remarks. (Full disclosure: my husband, myself and many of our friends are members of the Oxford community, and signed the petition.) The university released a statement explaining that, "Whilst the University of Oxford is proud to protect academic freedom to discuss and debate issues, the University does not tolerate any form of unlawful discrimination, harassment or victimisation" [sic]. But it didn't apologize for anything the vice-chancellor herself said, or walk back the most problematic aspect of her remarks: that minority students are somehow responsible for educating their teachers about bigotry, and that anybody who rejects this idea is just 'uncomfortable'. It's a point of view that has implications for a lot of big issues in our colleges, from safe spaces to trigger warnings, and it needs to be talked about.