This Is Why You Might Recognize Adora's Voice From The New 'She-Ra'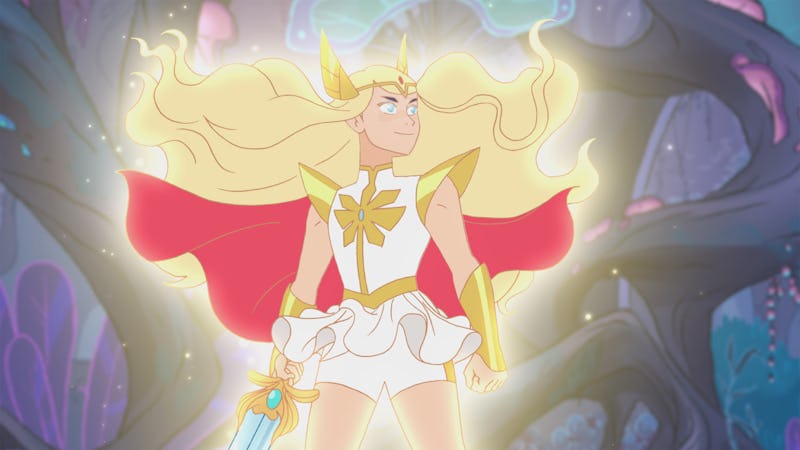 Netflix
When viewers meet the titular character of Netflix's newest animated series She-Ra And The Princesses Of Power, she does not yet know that she will become the Princess of Power, She-Ra. The young orphan Adora simply finds a magical sword in the woods and is transformed into She-Ra, joining the Princess Alliance. Princess Adora may not be used to being a Princess at first, but the voice of Adora on Netflix's She-Ra has plenty of experience playing female heroes in the past decade.
She-Ra is voiced by Aimee Carrero. And while you might not know her name, her voice will be familiar to anyone whose watched, well, literally any children's television since the early aughts. Carrero's had a slew of television roles, playing Mia on Hannah Montana to the rare live-action Cartoon Network fare Level Up! She's perhaps most recognizable from her five season run on the Freeform sitcom Young & Hungry, in which she played the role of Sofia Rodriguez. The show was even almost given a spinoff series called Young & Sofia before it was eventually scrapped. While she's already become a fairly prolific live-action performer, the role that best indicates what sort of performance Carrero will be bringing to She-Ra is her role as Disney's first Latina Princess, Elena of Avalor.
Even the most die-hard Disney fans would be forgiven for having missed that Disney has had a Latina princess for a few years now —mainly because Princess Elena hasn't been featured in any major Disney films. Instead, she's the lead on the Disney Channel original series Elena of Avalor. It's a huge step when it comes to representation, but bringing Elena of Avalor to the big screen is would still be pretty major. Carrero told Popsugar that part of what drew her to play Princess Elena was that "She's not afraid to fail, and if she fails, she tries again. She will always try again, which I think is one of the best qualities any person can have."
Elena and Adora may not seem to have much in common, with one being royalty from a beautiful kingdom and the other an orphan being raised by a space tyrant, but Carrero's said at New York City Comic Con 2018 that she was drawn to She-Ra for similar reasons. Carrero said that Adora is "so imperfect," and that believes that She-Ra is, at its heart, a redemption story.
Executive producer Noelle Stevenson told Entertainment Weekly that She-Ra has to find her footing as a superhero. She said, "As She-Ra, she doesn't know how to act. This is all new to her, and it's a little clumsy at first. It's like an uncomfortable suit. She's like, 'Okay, here I am. I'm very glamorous, I'm very strong, people are looking up to me — because I'm very tall.'"
Carrero is joined by blackish's Marcus Scribner, who voices Bow, and the teleporter Glimmer is voiced by Karen Fukuhara. Shadow Weaver is voiced by Lorraine Toussaint, along with Horde leader Hordak, voiced by Keston John. Together, they all make the reboot a worthy departure from the original version.