Disney's First Latina Princess Is Finally Here!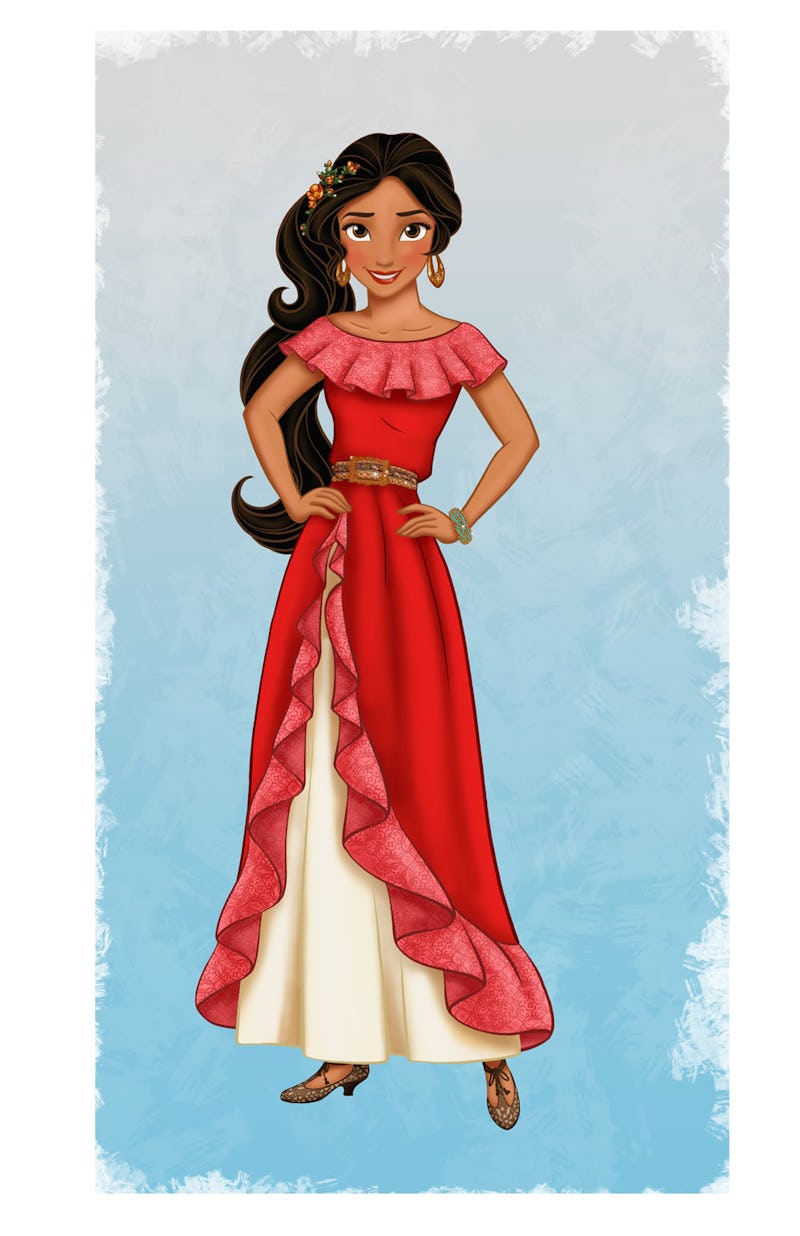 Could Disney be learning from past faltered attempts at creating a culturally diverse princess? If the description of Disney's first Latina princess, Elena of Avalor is any indication, then it looks like they're definitely headed in a positive direction: Last year, the company made a stride towards expanding its acknowledgement of cultural diversity and feminism with the introduction of Moana, Disney's first Polynesian princess, but that project doesn't hit the big screen until 2018. Since Elena is slated to make her debut in 2016, audiences will finally get an earlier glimpse at some of the important changes that Disney is, thankfully, making in terms of diversifying their princess characters.
Elena will make her official debut on an episode of Disney Junior's Sofia the First, which is set to be marketing to children of pre-school age. Then, she'll be the star of her own series Elena of Avalor, which also premieres in 2016. While she hasn't quite landed a leading film role yet — and let's hope that it happens in the near future because judging by her initial description, she already seems to be a pretty dynamic character — it's still a move in the right direction for Disney, and that deserves recognition.
Voiced by actress Aimee Carrero, Disney describes 16-year-old Elena as a teen "inspired by diverse Latin cultures and folklore." In an attempt to rescue her little sister, grandfather and grandmother from the clutches of the evil sorceress Shuriki, Elena becomes trapped inside her own amulet, but is eventually freed by Princess Sofia.
Aside from sounding completely adorable, Elena is absolutely a huge deal because the current roster of Disney princesses is astoundingly devoid of color: For instance, at the time of Moana's announcement, of the 14 current Disney princesses (Elsa and Anna included), she was only the fifth. That in mind, there's an obvious need for continuing to highlight the company's ongoing inclusion of all cultures in order to ensure that they stay on par with the task at hand.
Obviously, the princess fandom is massive (Frozen, anyone?) — so it's certainly not too much to ask that Disney use their platform not only to entertain, but to educate, enlighten and accurately reflect the various cultures of those who continue to support and fall in love with the characters Disney creates. Luckily, Elena sounds like a great start.
Image: Disney