Rick Perry's Argument About "Diversity" Is Really Confusing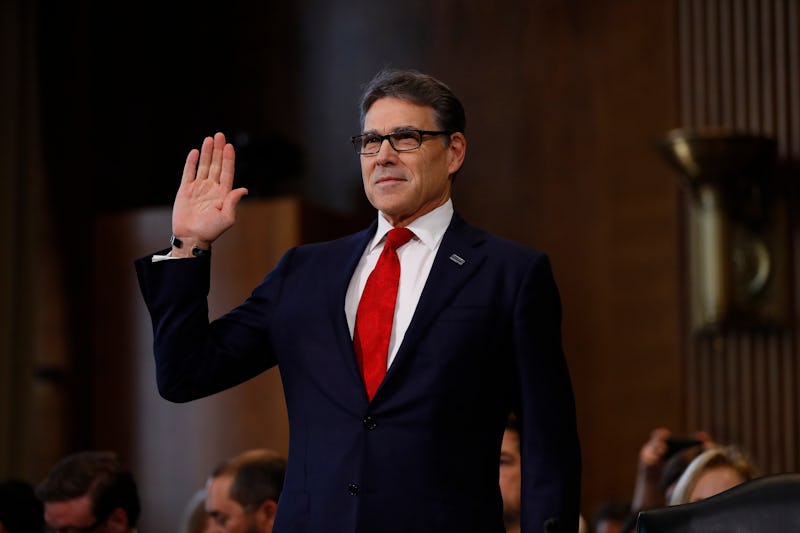 Aaron P. Bernstein/Getty Images News/Getty Images
Rick Perry should maybe consider not leading such a public life. His actions and statements just have a way of embarrassing him. His latest foray into the world outside of the Department of Energy took him all the way to his alma mater, where Perry blamed "diversity" for a gay student body president winning the election.
And now comes the collective "Wait, what? He did... what? He said... what?"
Put differently, Perry noticed that an openly gay student had won the election for student body president at Texas A&M University for the first time. Then, instead of just accepting the information, Perry decided that he needed to dig a little deeper. He found what in his mind amounted to a scandal, and then claimed that the gay student, Bobby Brooks, had somehow stolen the election, and that the process had "made a mockery of due process and transparency."
If he hadn't written an editorial on this issue and had it published in the Houston Chronicle, no one might be talking about his latest embarrassment. Apparently Brooks' opponent, Robert McIntosh, won the popular vote but then faced a challenge to his victory because of alleged voter intimidation. McIntosh denies doing anything that would have disqualified him from claiming a fair win.
Though the charge was not upheld, the school soon claimed that McIntosh had allegedly not disclosed some financial information — specifically, he supposedly hadn't provided receipts for glow sticks he used in a campaign video. That, the university's student court unanimously agreed, disqualified McIntosh — so the victory went to Brooks. McIntosh told the Battalion that he agrees with Perry that he should have won:
Our campaign team won the election and was subsequently disqualified unfairly. Diversity, at its heart, is equal treatment of all, and we hope this situation is resolved in a way that ensures a fair and more transparent process now and in future elections.
And in Perry's mind, the outcome of the challenge would have been different if McIntosh hadn't been a straight white male. "It is difficult to escape the perception that this quest for 'diversity' is the real reason the election outcome was overturned," Perry wrote in the editorial. "Does the principle of 'diversity' override and supersede all other values of our Aggie Honor Code?"
The students who made the decision as well the university, however, don't seem to share Perry's views. In a quote to the Texas Tribune, Texas A&M's senior vice president of marketing and communications sums it up nicely. "Honestly, we were just surprised to see that the secretary of energy would take the time to weigh in in detail," said Amy Smith, "and we respectfully disagree with his assessment of what happened."