The Weird Reason Figure Skater Costumes Always Include Flesh-Colored Panels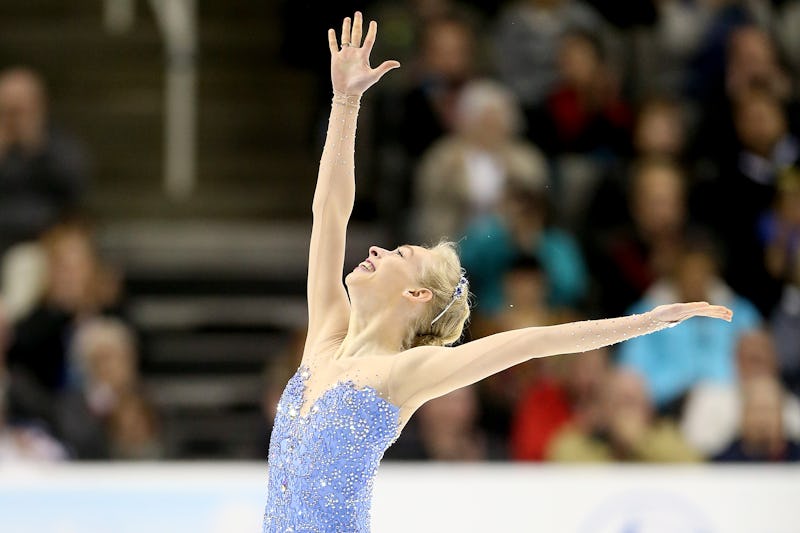 Matthew Stockman/Getty Images Sport/Getty Images
Olympic figure skating is a combination of athletic skill and artistic expression. As a result of the artistic nature and lack of cohesive uniforms for the event, however, there are some rules for the competitor clothing. And one of those rules may answer an age-old question: Why are there those strange flesh-colored panels on Olympic figure skater costumes? Well, The International Skating Union Handbook may have some answers.
Unlike other sports like bob sledding or speed skating, figure skaters don't have uniforms. This seems to be because skaters aren't only tasked with landing jumps and spins, but also to creatively expressing the emotion behind a piece of music. As such, skaters have customs that often seem to be another visual expression of their music. Just look at Olympic team member Bradie Tennell who's qualifying routine featured music from Cinderella while her costume was clearly based on the iconic Disney princess's gown.
With no standard issue uniform, is there a figure skating dress code? Well, yes. As it turns out, it impacts Olympians of all genders. According to the ISU hand book, the following is the standard all skaters must abide by:
At ISU Championships, the Olympic Winter Games and International Competitions, the clothing of the Competitors must be modest, dignified and appropriate for athletic competition — not garish or theatrical in design.
Clothing may, however, reflect the character of the music chosen.
The clothing must not give the effect of excessive nudity inappropriate for the discipline. Men must wear full length trousers and must not wear tights. In addition, in Ice Dance ladies must wear a skirt. Accessories and props are not permitted. Clothing that does not adhere to these guidelines will be penalized by a deduction.
The decorations on costumes must be non-detachable. Part of the costume or decoration falling on the ice will be penalized by a deduction.
You may have guessed it, but the modesty requirement seems to be where those weird flesh colored panels seem to come from. Well, that and the no-seeming-nude part.
It's important to note that modesty here doesn't seem to have any sort of sexist connotations. Things such as school dress codes punish women's bodies simply for being unfortunate subjects to the male gaze, and that makes them inherently sexist. The ISU rules, however, apply to both male and female skaters, and it's while you'll see the panels on all genders on the ice.
You'll see both sheer mesh and nude panels on practically every skater. While the modesty rule for dress would most likely impact costume choices, it's important to point out their practicality as well.
Figure skaters are athletes and their choreography on the ice is no joke. There's always the possibility that those panels you may think are bizarre are also used to make sure there's no accidental slip that could make a performer feel exposed or distracted.
Plus, hello, they're in an ice skating rink. It's kind of chilly.
There have, however, been stricter rules implemented outside of the panels. One such is the "Katarina Rule." What is it? It was a rule created that female figure skaters must wear skirts that covered both their hips and butt. The dress code was created after skater Katarina Witt competed in a leotard with only feathers that barely covered her behind in 1988.
Now, the seemingly sexist Katarina Rule was in 2003, and rules regarding dress seem more relaxed. While the semblance of nudity is discouraged, modesty appears to be relatively subjective. Many skaters wear backless or low cut costumes with no issue, and that's because of those little panels. So if you've ever wondered what's up with all that mesh, you've got your answer.