The 'Westworld' Season 2 Trailer Is Here & It'll Leave You Totally Shook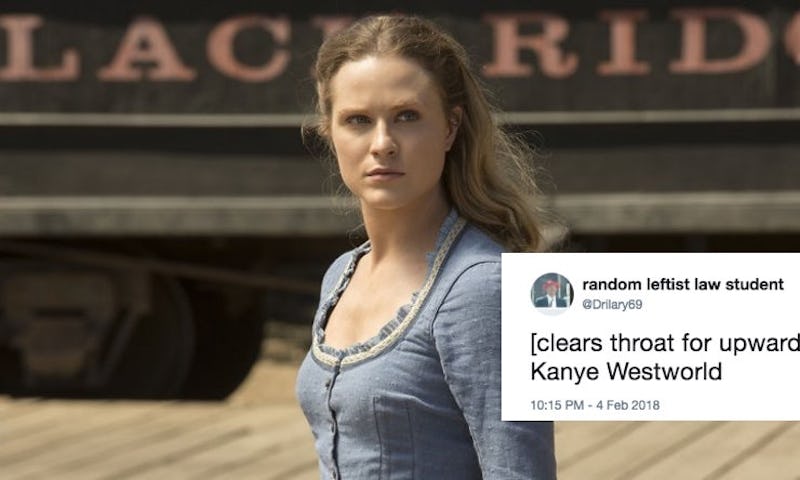 HBO; Drilary69/Twitter
If you're one of the millions of people who tune into the Super Bowl every year primarily for the commercials, you're in luck; this year's game brought plenty of great, memorable ads. But in addition to the regular commercials, there were also a handful of trailers for upcoming movies and TV shows — including a trailer for Season 2 of Westworld that, despite being a fairly short teaser, has fans on Twitter totally shook.
It seems like forever since Westworld Season 1 aired on HBO, because, well, it basically has been. Those amazing episodes aired way back in fall 2016, with the 10 installments debuting between October and December of that year. So it's safe to say that fans are super excited and very ready for the new season to begin, especially because of how climatic and mysterious the ending of the first year's finale was. There's a lot to explore when the show returns on April 22, and while the first trailer doesn't exactly go heavy on the clues or spoilers, it does at least provide a tantalizing glimpse at what's to come.
"Look at this world. This beautiful world. We built this world together. A world where dreams come true. A world where you can be free," says Evan Rachel Wood's Dolores, the series' main character, in the teaser trailer. "But this world is alive. This world deserves to die. Because this is your world. We've lived by your rules long enough. We can save this world. We can burn it to the ground. From the ashes, build a new world. Our world."
Creepy, right? All this is said while scenes of the upcoming season play out. There's a woman riding a horse in a picturesque landscape, a bull charging into the park's programming facility, and characters such as Jeffrey Wright's Bernard, Thandie Newton's Maeve, Angela Sarafyan's Clementine, and Ed Harris' Main in Black shown for brief moments. When Westworld Season 2 airs in April, it'll have a lot to unpack, and this trailer is a great preview of all the heart-pounding chaos fans know is bound to be in those episodes.
Fans, naturally, are totally pumped to get a hint at the new season after so much time without any clues at what to expect. Some are just thrilled that the show is returning and to see a trailer for the new episodes.
Others are super into the trailer itself and all its intense action and creepy moments.
Some fans are bummed they have to wait until April for the show to come back, which is totally fair.
And others are just super into the haunting Kanye West song used during the trailer, "Runaway."
I mean, seriously, you gotta love the idea of "Kanye Westworld."
Westworld seriously can't come back soon enough. And it's not just fans who think so; the series' stars seem super excited about the show's upcoming return, too. Wood tweeted the below right when the trailer dropped, and proceeded to retweet several fans sharing their anticipation for the new episodes.
Wright, meanwhile, tweeted this — simple and to the point.
April 22 might seem far away for all of us who've waited over a year for Westworld to return, but it's really just two and a half months — that's no time at all. Before we know it, we'll be glued to HBO every week again, eager to see what Dolores, Maeve, and all the rest are up to during each new installment. TV's been missing its great, mystery-filled Western drama, and it'll be such a huge relief when the series returns to the air.