The White House Halted Audio Tours For Blind Visitors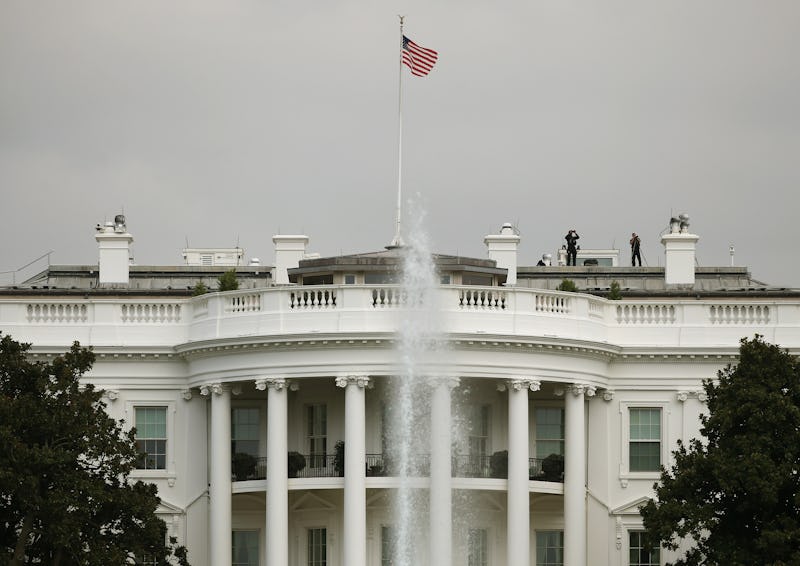 Mark Wilson/Getty Images News/Getty Images
Since 2013, audio descriptions have been made available to blind and low-vision visitors touring the White House. But that changed after Donald Trump took office: BuzzFeed reported Friday that White House isn't offering audio tours for the blind anymore, and there's no word on when it will resume doing so.
Part of the problem reportedly involves a dispute over the recording process itself. During Barack Obama's presidency, the introduction to the audio tour was recorded by Michelle Obama, so naturally, First Lady Melania Trump would record the new version once her husband took office. According to BuzzFeed, she did just that, but the White House "did not like how [she] sounded in it," leading to delays in completing the project.
A White House source told BuzzFeed that the recording is "in process," and that in the meantime, "anyone who is visually impaired will be given a human-led tour."
The executive director of the American Council of the Blind assumed partial responsibility for the lapse, telling BuzzFeed that the organization hasn't made any official overtures to the White House since Trump took office.
"We have not formally reached out to them," Eric Bridges said. "We would welcome the opportunity to sit down with them."
This isn't the first time during Trump's presidency that the White House Visitor's Office has been at the center of a minor controversy. Although it's standard for White House tours to pause during presidential transitions, it had not yet resumed tours by early February. This resulted in over 20 members of Congress signing a letter to president demanding that he appoint a director to the Visitor's Office, which was then vacant, so that guided tours could resume.
"This time-honored tradition of allowing visitors into the White House was started by Thomas Jefferson in 1805, and previous administrations have been quick to reopen the White House doors to the public, even doing so the day after the Inauguration," the letter read. "Presidents Clinton, Bush, and Obama all appointed a White House Visitors Office Director before being sworn in, and had reopened the White House to the public at this point."
It makes sense that members of Congress grew impatient: Around three million people toured the white house during Obama's presidency, and every single one of them had to be approved by their congressional representative. The White House was finally re-opened to tours on March 7th, and a group of fifth graders was among the first group of visitors.