Sean Spicer Comments On The United Airlines Incident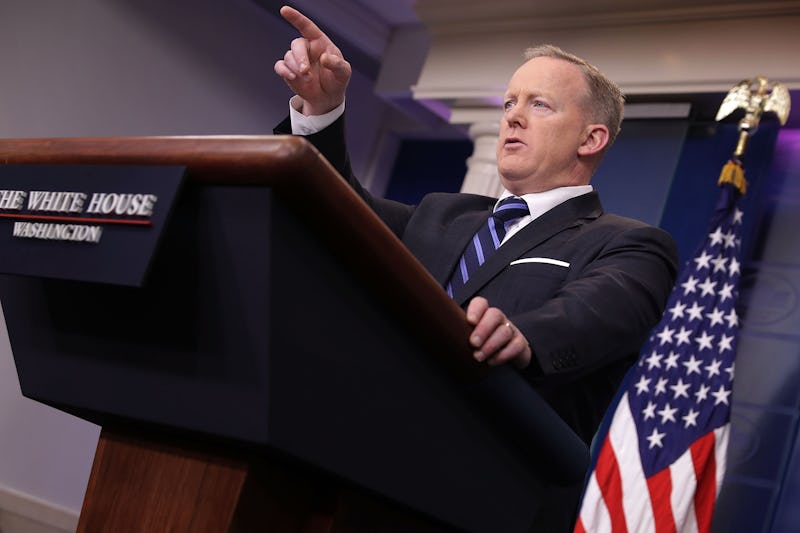 Chip Somodevilla/Getty Images News/Getty Images
United Airlines' violent and thoroughly involuntary removal of a passenger this week made it all the way to the White House in Tuesday's press briefing. While veiled and uncertain, Sean Spicer's comments on the United Airlines incident leave open the possibility of government action against the company in the future, which is just the latest blow since the debacle went viral on social media Monday.
Spicer told reporters at the daily White House press briefing that he was "sure" that Donald Trump has seen the video of United passenger Dr. David Dao being forcibly removed from his flight. According to Ali Vitali, one of NBC's White House correspondents, Spicer called the video "troubling," but didn't mention what may happen for a governmental review now. The Department of Transportation announced Monday that it would be launching an investigation into the incident, which could result in any number of penalties for United, including a fine or mandatory change in policy.
United has already suffered significant financial repercussions from the incident — the company's stock price dropped by over 3 percent, cutting United's market valuation by over $700 million.
It's too soon to tell how much the company's revenue stream will be impacted, but it could be severely depressed in coming months as well. Millions around the world, and especially in China, took to social media to call for boycotts against United. According to Reuters, more than 14 percent of the company's revenue comes from flying Pacific routes, so Chinese consumers could significantly impact their bottom line.
United was still recovering from the public backlash over the infamous incident two weeks ago in which the company denied two teenage girls entry onto a flight because of their attire. The company defended its decision, saying that passengers who fly as "pass travelers" (dependents of United employees), must dress to represent the company.
"It's not that we want our standby travelers to come in wearing a suit and tie or that sort of thing," United spokesperson Jonathan Guerin told The New York Times last month. "We want people to be comfortable when they travel as long as it's neat and in good taste for that environment." Those words ring a little less true now that the world has seen how United treats its paying customers.
Ultimately, the White House may not have much involvement in this issue, but public pressure could force the Trump administration to change federal policy regarding how airlines can treat their customers. That would be an uphill battle against an openly pro-business president, but the American people have shown over the last three months that they won't take his policies lying down either.