The 'Widows' Cast Is As Obsessed With Viola Davis As You Are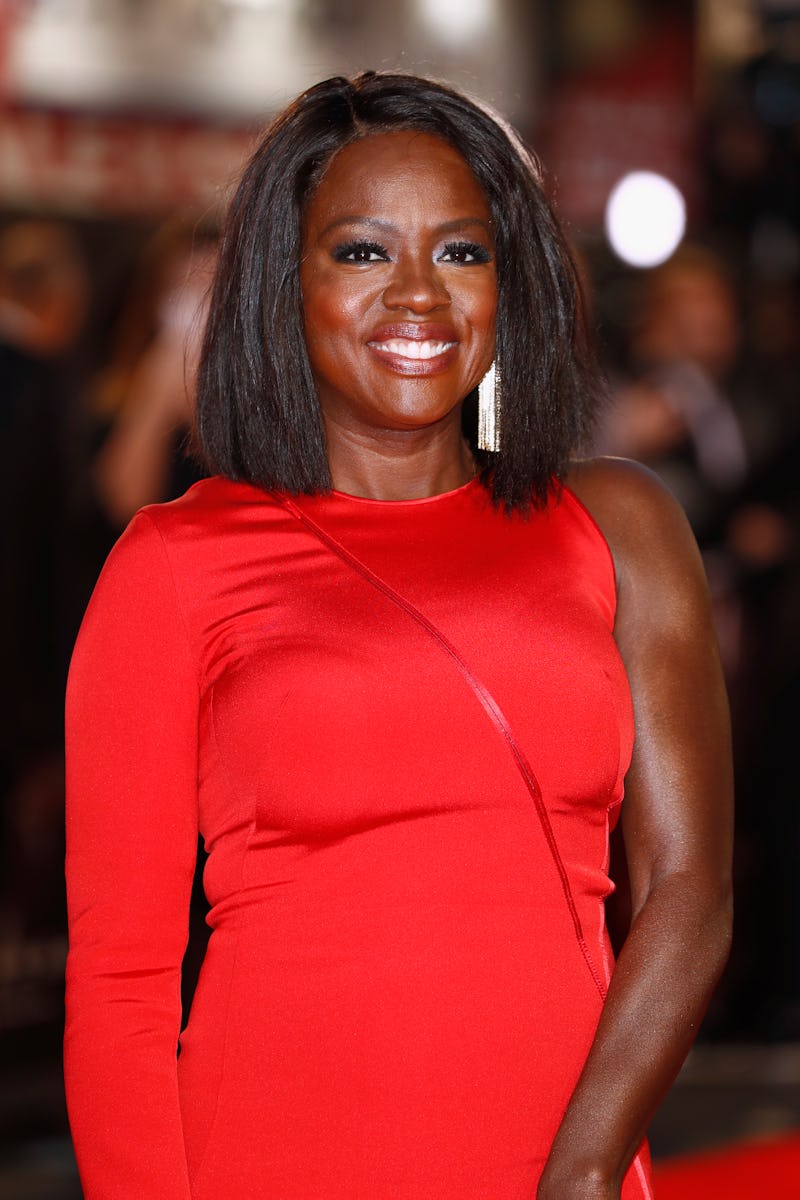 John Phillips/Getty Images Entertainment/Getty Images
We live in a very divisive world these days, but one thing nearly all of us can agree on is that Viola Davis is a national treasure. The Oscar-winning star is widely considered not only one of the most talented actors working today, but also one of the most eloquent, inspiring, graceful, and admired — in other words, she's basically an icon. And it's not just the movie and TV-watching public who loves her so much; at the Chicago junket for their new movie Widows, Davis' co-stars and director happily gush over their film's leading lady.
"It's awe-inspiring," says Cynthia Erivo, when asked about watching Davis film her scenes for the heist thriller, out Nov. 16. "She just knows what she's doing — she's made for this."
Adds Atlanta star Brian Tyree Henry, "It was a living breathing masterclass, honestly. Because as up-and-comers ourselves, we have watched her, we have studied her, we have thrown our accolades at the TV screen. I've stood up in my home and screamed at Viola for something, you know what I mean? That's something that's so amazing with this woman, with this Black woman, out here in this industry doing what she does."
In Widows, Davis is Veronica Rawlins, who, in the wake of her wealthy husband's (Liam Neeson) sudden death, teams up with three other recently widowed women to repay the debts their deceased partners left behind. It's a stacked cast — Erivo, Michelle Rodriguez, and Elizabeth Debicki play the other widows, while Henry, Neeson, Colin Farrell, Daniel Kaluuya and more have supporting roles — but Davis is unequivocally the star. And according to director Steve McQueen, there's no one he'd rather have had lead the movie's cast.
"To have this actress who is like an iceberg, who has this sort of heft and weight but at the same time is so sensitive, so brittle, so emotionally capable, was a tremendous honor," the filmmaker explains at the junket. "You've got someone who has a capability of going further than her arms reach. Incredible."
That's not to say the other women in the Widows cast don't also deserve praise, of course. The actors are across the board fantastic in the new film, including Erivo, who plays Belle, a single mom determined to earn money and support her family however possible. According to Henry, watching Erivo and Davis work together on-screen was a truly special experience.
"There's something to be said about someone who owns themselves and owns the presence that they have in a room," he says of Erivo. "And when you put these two on a screen together? It was just like, 'What's about to go down? What's about to happen?'"
And for Erivo, filming with Davis was indeed memorable. "There's this wonderful stillness that she has when she is on-screen — she doesn't really have to do very much," she explains. "There's a scene that we get to do where we don't say any words, it's just the two of us in a car in this silence, and it is really wonderful to know that someone like her can communicate with nothing."
There are plenty of reasons to see Widows, from the rave reviews to the thrilling heist plotline to the rarity of an on-screen female ensemble. But the must-see performances of Davis and her talented castmates should most certainly be at the top of the list.