Rejoice: The 'Will & Grace' Revival Is Happening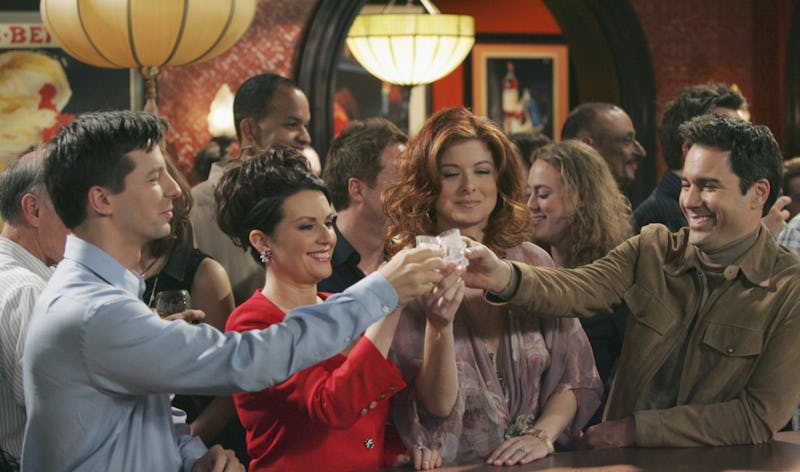 NBC
The rumors were true: NBC confirmed today at the Television Critics Association's press tour that a Will & Grace revival is happening. NBC stated that they had ordered a 10 episode limited revival that will reunite the protagonists of the original show. That's right, stars Debra Messing (Grace), Eric McCormack (Will), Sean Hayes (Jack), and Megan Mullally (Karen) will be reunited, which bodes well for the reboot since the joy of Will & Grace was never so much in its stories (though these were great, too) as in the incredible comic chemistry between its actors.
And, if you're as big a fan of the original series as I am, I imagine you'll be just as excited to learn that original series creators Max Mutchnick and David Kohan will be back as showrunners and executive producers while director James Burrows, who, according to Entertainment Weekly, "directed every episode of the show during its initial eight-year run" will be back as well. What does that mean in practice? Since we've got all the original talent from both sides of the camera involved, I'm calling it: the likelihood that this reboot is going to be weak is slim to none.
NBC Entertainment Chairman Robert Greenblatt sounded as psyched as you're probably feeling about the reboot:
We're thrilled that one of the smartest, funniest, and most defining comedies in NBC history is coming back. This groundbreaking series for everything from gay rights to social and political commentary — all disguised as a high-speed train of witty pop culture — is coming back where it belongs.
This news hasn't come out of nowhere, though. Last September, the cast reunited for a short in which the foursome discussed the 2016 presidential election, and Karen confessed her affection for Trump. According to President of NBC Entertainment Jennifer Salke, this triggered discussions about all-new episodes:
We started talking with Mutchnick and Kohan about producing new episodes right after they shot the secret reunion show back in September and the fact that all four of the original stars were excited about getting back into production is a testament to the joyful experience they had doing nearly 200 episodes for eight seasons. Few things cut through the clutter these days, especially in comedy, and Will and Grace is one of the best.
Then, in October last year, Entertainment Weekly confirmed that NBC was in talks for a relaunch of the show. However, given that Messing tweeted earlier this month that, when it came to the reboot, there was "Nothing beyond talks" happening, this is still a happy surprise. And it sounds like the actor is every bit as ecstatic as you are:
From the sounds of things, the content of the show should be very contemporary, with Mutchnick telling Entertainment Weekly that "Dave and I are absolutely thrilled about the opportunity to write what Will, Grace, Jack and Karen are thinking about in 2017." And I'm absolutely thrilled about the opportunity to view it. Here's hoping the fab NYC four are every bit as funny as ever.