The Witcher Saga Is Coming To TV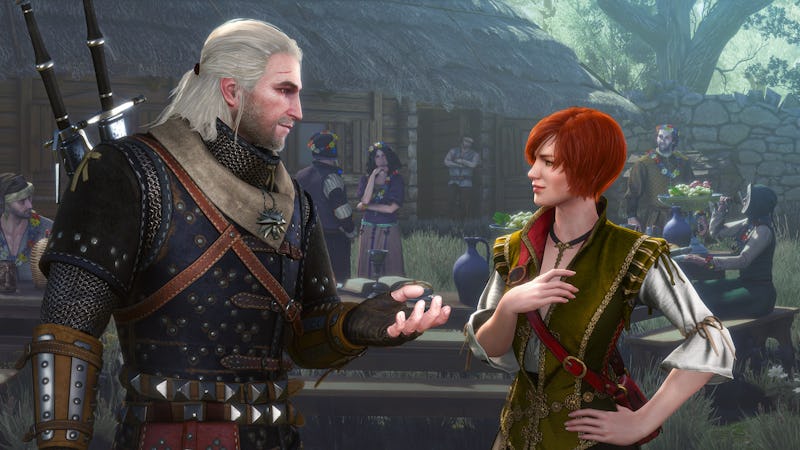 CD Projekt RED
Readers and gamers, take note! The Witcher saga TV series adaptation is coming to Netflix, which means you get to spend the next few months arguing with your friends over which actor would make the best Geralt.
The Witcher saga began in the early 1990s as a series of short-story collections and novels by Polish author Andrzej Sapkowski. English translations of Sapkowski's books first arrived in the U.S. in 2007, and the latest installment, Lady of the Lake, hit store shelves in March 2017.
Sapkowski's books spawned a video game trilogy of the same name. Polish game developer CD Projekt RED released three titles — The Witcher, The Witcher 2: Assassins of Kings, and The Witcher 3: Wild Hunt — between 2007 and 2016. Although The Witcher 3: Wild Hunt ended the conceived trilogy, CD Projekt RED executives say it might not be their last foray into Sapkowski's created world.
Both Sapkwoski's books and the successful video game adaptation focus on Geralt of Rivia, who hunts monsters for pay as a witcher. Like most witchers, Geralt wields two swords — one steel, one silver — and is capable of mixing a variety of potions to improve his health and performance, crafted from ingredients that would be lethal to normal humans.
The Witcher saga TV series adaptation is coming to Netflix, but this won't be the first time Geralt and crew have appeared on screen. In 2001, Polish actor Michał Żebrowski starred as the titular witcher in The Hexer, a film based on Sapkowski's books. The following year, an expanded version of the film aired as a miniseries. The film has since been released on DVD with English subtitles.
Sean Daniel and Jason Brown (The Mummy) of the Sean Daniel Company are attached to executive produce Netflix's The Witcher series, alongside Tomek Baginski and Jarek Sawko (Fallen Art) of Platige Image. No casting decisions or air dates have been announced at this time.