The WNBA Created A Much-Needed Space For Women Athletes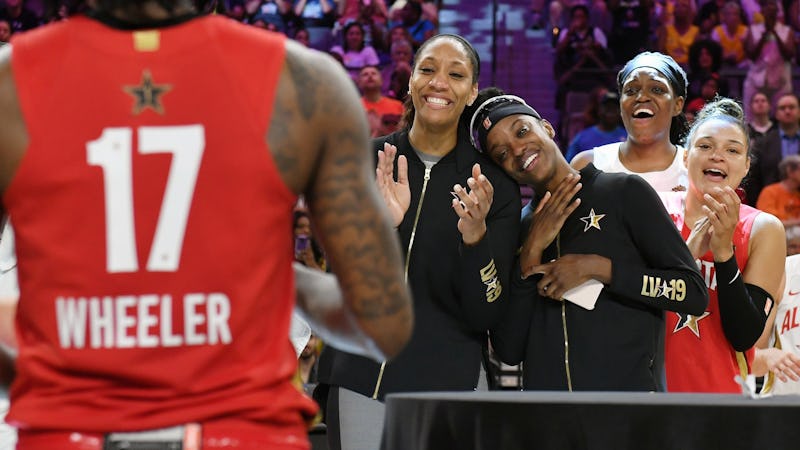 Courtesy of the WNBA
Diversity, inclusion, and gender parity are hot topics for plenty of corporations and organizations in 2019, but few have prized these ideas for as long as the WNBA. The league's 1996 launch signaled a sea of change for professional sports — one that celebrated not just women, but women of various intersecting identities and backgrounds who also happen to be exceptional athletes.
In 2019, the WNBA launched a new brand identity, which — in addition to its long history of breaking boundaries and defying the status quo — solidified its reputation as a Rule Breaker. The new WNBA strives to be even more forthright about uplifting the diversity and strength of the league and its players. It builds on its innovative reputation, and serves as an inspiration for other professional sports leagues — who have since borrowed a few of the WNBA's ideas for their own. Players past and present, including former player Ashley Battle, say this new identity has been palpable from the inside out.
"We've always been pioneers, whether it's inclusion or technology," Battle says. "We've always been at the forefront of innovation."
In its 23 seasons, the WNBA has given professional women athletes a much-needed platform. From its earliest household names, such as Sheryl Swoopes and Lisa Leslie, to its new generation of stars, including Elena Delle Donne and Brittney Griner, the WNBA offers a platform for the best women ballers in the world. And the WNBA doesn't stop there: Since its inception, the league has consistently supported its players as they've stood at the forefront of pivotal cultural movements.
In 2014, the WNBA was the first pro sports league to host Pride Nights to celebrate LGBTQ fans and their allies, and the league has supported and empowered players during times when society grappled with a broad range of cultural issues. In 2016, players were vocal and outspoken during Black Lives Matter protests after several teams wore T-shirts to practices and games and staged media blackouts. And in 2017, when #MeToo emerged as a force against sexual assault and harassment, WNBA players added their own names, faces, and stories to the conversation in fearless support of the movement — an effort that still hasn't been matched outside of female-majority professional sports leagues.
Even when it comes to their youngest fans, the WNBA strives to create safe, empowering environments for women. For example, the league's Her Time To Play initiative inspires girls ages 7 to 14 not only to play basketball, but to also build life skills like teamwork, leadership, and self-confidence. Through its efforts, the WNBA hopes to change statistics on how many girls drop out of sports by age 14, largely due to societal barriers that young women face as opposed to their male counterparts.
"I played almost 11 years professionally, so it's just awesome that the organization you've given so much, an organization you're inspired to be a part of, is about equality and inclusion," former WNBA star Chamique Holdsclaw tells Bustle. "[The WNBA] is not just talking about it — it's showing up and giving back to those communities."
The W is also filled with individual style icons, and the media has taken notice, shouting out fashion-forward players like Courtney Williams, who posts her game day looks on Instagram. She's playful but precise in a camo throwback jersey, a tie-dye jacket with matching sneakers, or neon green leopard print shorts. She has an inspired way of pairing prints and pops of color, plaids, stripes and checkers, most of which would be traditionally considered "menswear."
"I would have never thought [I'd be considered a style icon]," Williams says. "But it definitely dope, though, because I got swag on me."
When the players get the opportunity to show themselves outside of uniforms, such as the All-Star Weekend orange carpet, fans get a glimpse at their off-court flair. For some like Williams, that's showing off a stylish, tailored masculine-of-center androgyny. Others like Las Vegas Aces star Liz Cambage defy ideas of what tall women "should" wear, choosing high heels and an even higher ponytail, a cropped long-sleeve white top with matching body-con skirt and a black bucket bag.
The WNBA's rule-breaking has been in its willingness to do the unexpected. Players' individuality is not just respected, but exalted, which keeps fans connected and invested in the kinds of women who are often left out of broader cultural conversations based on their ethnicity, sexual orientation, or gender. Instead of recoiling from the stereotypical sexist, homophobic assumption that all of its players are lesbians, the league rallied to support players, coaches, and fans who identify as part of the LGBTQ community. And where other women's pro sports leagues skew heavily white, most of the WNBA's players are women of color. Fans respond to the league's inclusive environment by showing up for their favorite teams and players not just during the regular season, but on social media and at special events such as the annual All-Star game.
"I think we have some of the best fan bases in the WNBA," current Washington Mystics player Natasha Cloud tells Bustle. "The league is full of powerful and strong women that made it extremely easy for me to follow in their footsteps and live my truth."
"People always have things to say negatively," added Chicago Sky center Stefanie Dolson. "But I think for us, we just keep doing what we love and we do it well and we ignore all those negative comments people have and just keep going in a positive direction." A direction, it's worth noting, that deserves celebration not only during a regulation 48-minute game, but all day, every day.
This post is sponsored by the WNBA.