The 2nd Step Of The Women's March Actions Is Here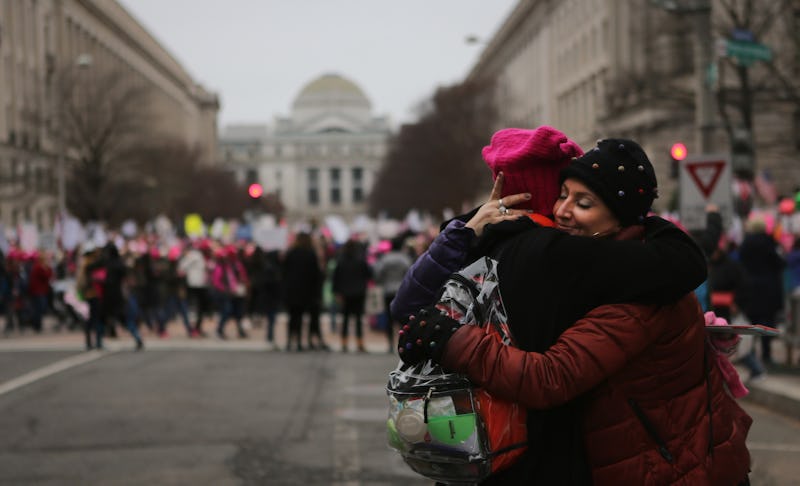 Mario Tama/Getty Images News/Getty Images
The next 10 days of the Trump presidency are here, and the Women's March 10 Actions campaign released its second step. I know, I know, you never doubted them, but even so, this action gives you so much to get excited about.
They're directing everyone to "huddle." It's simple, yet empowering. The word huddle brings to mind football (maybe it's not accidental that this is coming out around the Super Bowl), strategy, and above all, victory. What the Women's March Huddles are about is leveraging community to achieve victory — and everyone can be a part of it.
First, you either find a Huddle or sign up to host one yourself. These are meant to be fairly small, in the range of 10 to 15 people, so that no one gets lost in the crowd. If you want to do something bigger, though, don't feel limited. These Huddles, the organizers make clear, are what the people make of them, and they intentionally leave that as open as possible, while also providing some helpful suggestions. So get some friends together, or find a group in the area and make some new ones.
Once you're at the Huddle, the group will go through the agenda laid out on the website. There are six steps in total, but they all revolve around three basic goals. The first is just to get to know each other and form a community, because resistance is best when people don't go at it alone. The second is to envision your victory on the particular issue that you choose, and work backward to figure out what steps you'll need to take to achieve it. The third, of course, is to make a concrete plan of actions that you and the group will take.
Really, though, all of the goals sort of blend together. Introducing yourselves and talking about your concerns will let the group see where those individual concerns overlap. Envisioning a victory and looking at the steps it would take to get there obviously paves the way toward making the actual plans. Making those plans even takes the introductions into account, because the Huddle's host will guide people toward volunteering to use their own particular strengths.
There are just so many wonderful aspects of this second action that it creates a deep sense of optimism about the fight ahead. Building community is always rewarding, but now it's even more so because it'll be so necessary over the next couple of years. It also puts the "two minds are better than one" axiom to work, and it multiplies it — who knows what genius ideas, and what genius leaders, might come out of these huddles. Finally, it's entirely action-oriented — which is exactly what the marchers need, and exactly what this country needs.
When it happened on that fateful day after the inauguration, the Women's March wowed the entire world with its numbers and its determination. Now, the Women's March 10 Actions campaign is harnessing those numbers and that determination. Starting with this second step, Trump and his administration had better watch out.