The Women's March Founders Were At NYFW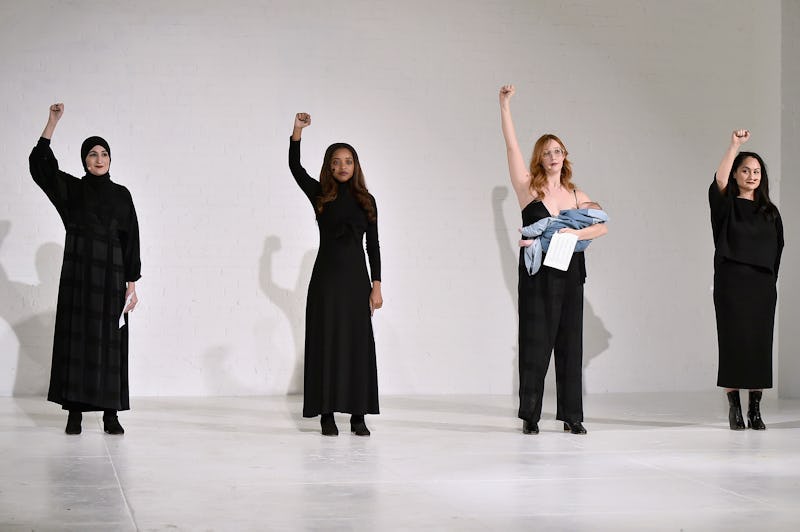 Theo Wargo/Getty Images Entertainment/Getty Images
In what had to be one of the most powerful runway shows this season, designer Mara Hoffman invited the founders of the Women's March on Washington to walk in her show — and the results were incredible.
The stunning presentation, which went down during New York Fashion Week on Feb. 13, was a continuation of the positive vibes the designer felt while attending the march earlier this year. "The turnout was unbelievable to me," Hoffman told reporter Robin Givhan for the Washington Post. "There was this kind of 'holy cow' moment; these women just pulled off something I've never seen before. In response to seeing that incredible thing happening, how do you continue that?" Clearly, you have them in your show.
Before the other models came out, the four co-chairs of the march stood in solidarity while wearing all black against a stark white background. They each had a chance to speak, and touched on the topics of unity, resistance, and solidarity.
"In addition to letting the women speak, Hoffman had her models dance around her runway as Maya Angelou's poem 'Phenomenal Woman' was being read aloud," said senior style writer Rachel Lubtiz on Mic.com. It was all just the tiniest bit amazing. And so were the photos. Take a look at some of them below.
Linda Sarsour, Tamika Mallory, Bob Bland (with baby), and Carmen Perez stood together at the beginning of Mara Hoffman's show.
Each woman had a chance to speak. "We must create a society in which all women are free," Sarsour said, according to Mic.com.
They shared thoughts on unity, strength, and women's rights.
It was a powerful moment, to say the least.
The women (and other models) were then invited to dance as a Maya Angelou poem was read aloud.
There was no runway necessary for these ladies.
Instead, the open space was all about movement and interpretive dance.
Major props to the designer (center) for keeping the positivity of the Women's March moving forward.