The Women's March's Sit-In To Protest Trump Is Today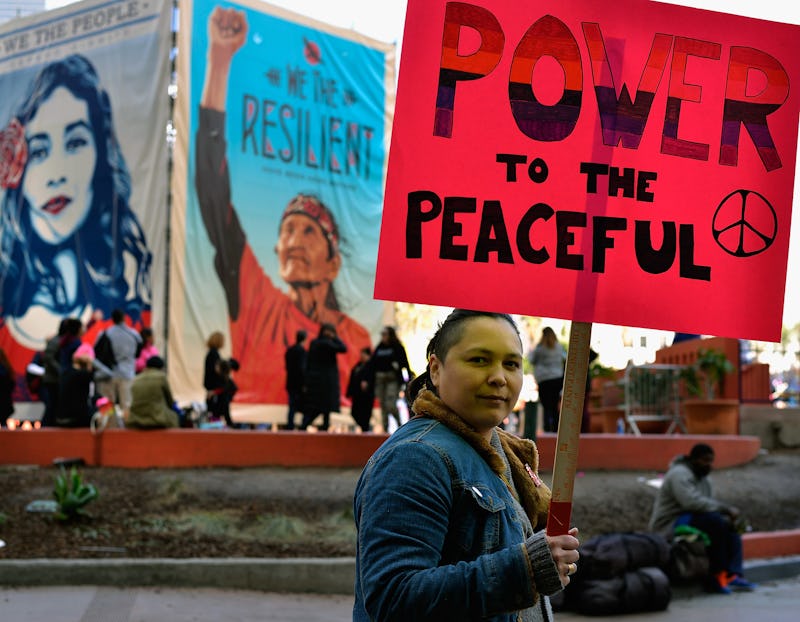 Chelsea Guglielmino/Getty Images News/Getty Images
May 8 marked the official six-month point since Donald Trump's presidential victory. Over the past 180 days, millions of Americans have taken to the streets to protest on behalf of marginalized groups, science, workers' rights, and a long list of other causes. On Monday, another protest was added to the roster. Organizers of the Women's March on Washington held a national sit-in with the help of the American Civil Liberties Union's grassroots organization People's Power, United We Dream, Hollaback!, National Lawyers Guild, the NAACP, and more than 60 other groups. The Women's March website describes the demonstration's purpose as such:
For 100 days, this administration and leaders of Congress have used tactics to try and overwhelm us, by enacting harmful and destructive Executive Orders and legislation in rapid, overlapping bursts. They mean to divide us into groups with conflicting priorities. We will not let it happen. Our resistance movements are more focused than ever, we know these issues are interrelated. The attacks on queer and trans people, on disabled people, on Black, brown and Indigenous people, on immigrants, on poor people, on Muslim and Jewish people, the attacks on health care and the environment, the rendering of violence against women as a pre-existing condition—these are all one assault on our fundamental rights to live with dignity, autonomy and liberty.
On Monday, May 8, legislators returning to their home offices need to hear what we think about the House voting to legalize discrimination and make us all "pre-existing" conditions.
The national sit-in is the last item on the Women's March "10 Actions in 100 Days" list. Organizers provided three steps for those interested in in participating in today's protest. First, sign the "Pledge of Liberation" petition. Second, download their toolkit describing different types of civil disobedience demonstrators can partake in. Finally, carry out a protest by either picketing outside of or sitting in your congressperson's office, where protesters are encouraged to read the Pledge of Liberation as a collective.
Want to join the cause? You can find or register a protest near you here. To find out who your representative is, you can do so by typing in your zip code here. If you can't make it to a demonstration, signing the petition officially associated with the national sit-in and sharing it on social media is a great (and easy) way to show your support.