Here's A Preview Of How Women Plan To Cast Their Votes This Fall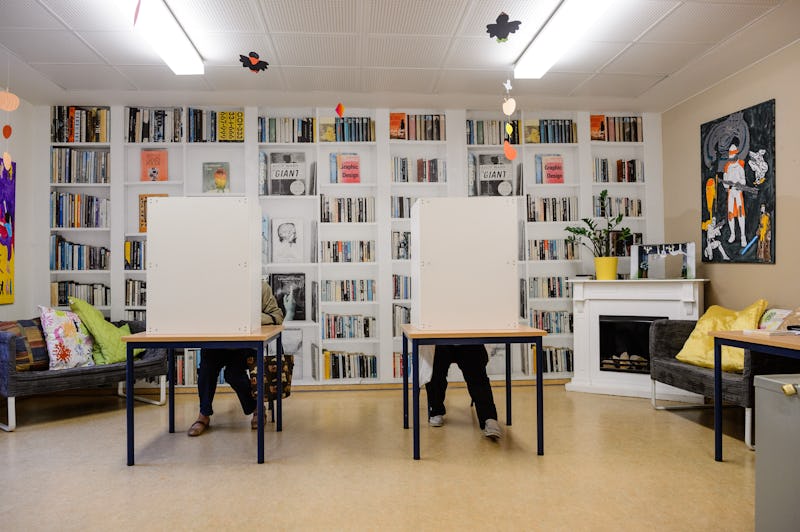 Jens Schlueter/Getty Images News/Getty Images
Democrats are battling it out in key states to try to take the House and Senate back from the GOP during the midterm elections this fall, and women may help them do it. Multiple polls this summer — from the Pew Research Center, CNN, and Quinnipiac University — have indicated that more women are likely to vote for Democrats this year than in past midterms, prompting pollsters to predict a "blue wave."
According to CNN, the percentage of women who said they would vote for a Democratic candidate in the 2018 midterm elections has increased by 8 points since around this same time in 2014. Per CNN polling, at least, that means that the generic Democratic candidate is trending higher now than they have been been at a similar time in the past four midterm cycles.
Vox reported back in June that the Pew Research Center made similar findings in its midterm polling. Pew specifically found that young women between the ages of 18 and 34 preferred Democratic congressional candidates in their districts to Republicans, reaffirming the greater likeliness Pew has observed in young women to turn to the left. And while women overall are trending more toward Democrats this year, women in this particular age range reported preferring Democrats significantly more than women of other ages.
A July poll from Quinnipiac University, meanwhile, found that only 32 percent of women polled said they would support a Republican candidate in the midterm elections, while 57 percent said they were planning to support a Democrat. This data reveals a massive gender gap, because only 44 percent of men said they were in support of a Democratic candidate, while 46 percent supported Republicans.
According to Newsweek, this trend of more women voting for Democrats could be at least partially attributed to the record-breaking number of women who are running for office this year. As of March, Politico reported that at least 575 women had announced their intent to run for House, Senate, or governor seats.
The election of Donald Trump also prompted the rapid shift of women – specifically young women — to the left, as Vox pointed out. In the year and a half since Trump assumed the presidency, women across the country have mobilized to challenge him and his administration, as well as to defend their rights. The now-annual Women's March became a global effort across hundreds of cities, while the #MeToo movement has raised significant awareness about sexual violence. Democrats have been seizing on this momentum, with former President Barack Obama naming 48 women in the list of 81 Democratic endorsements he made on Wednesday.
The Quinnipiac poll also supported the idea that increased support for Democrats by female voters could be characterized as resistance against the Trump administration. In fact, 43 percent of women polled by Quinnipiac said they saw their vote in their midterms as a way to oppose Trump, while only 25 percent of men said the same thing.
According to USA Today, Democrats currently need to flip a net 23 seats in the House and at least three in the Senate to take the majority away from the GOP. But if pollsters are correct in predicting that women will have a strong impact on the outcome of this year's midterm elections, then a blue wave may be a viable possibility.