Here's What To Know About A Petition To Essentially Ban LGBTQ+ Books At An Iowa Library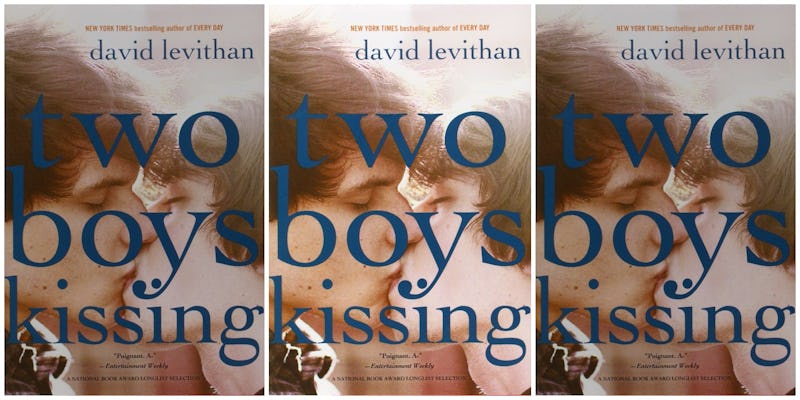 A small city in Iowa has drawn national attention as its public library faces an attempt to label and separate LGBTQ+ books from the rest of the collection. According to the Des Moines Register, "more than 300 people have signed a petition to either ban or label... materials related to homosexual and transgender content in the Orange City Public Library." The group has also asked the library to refrain from acquiring more queer literature without first discussing such purchases with the Orange City community.
The petition, which "gathered more than 340 signatures in nine days," began with Terry Chi, an assistant professor of psychology at Orange City's Northwestern College, who once served on the board for the Orange City Public Library. Chi declined Bustle's request for an interview, but he tells the Sioux City Journal that he and his petition's supporters are "not asking for banning because I know that would just sink our ship." Chi's petition tells a different story however:
"We urge the staff, board members, and council members to: (1) approve the labeling and separate shelving of materials that deal primarily with LGBTQ issues so patrons and parents can be fully informed and exercise discretion when selecting library materials to check out for themselves or their family, (2) provide on each computer terminal and online interface book rating services . . . so each patron can make a conscious and informed decision about the materials to be checked out, and (3) halt new acquisition of any additional materials that primarily deal with LGBTQ materials before a public discussion can be held about the acquisition so valuable feedback can be given by important stakeholders such as parents, teachers, and faith communities."
Chi's petition was picked up and circulated by the Sioux County Conservatives, which the Des Moines Register describes as "a Sioux Center-based political group formed 18 months ago to mobilize conservatives." The group reportedly distributed the petition on the reverse side of a flyer that was filled with homophobic and transphobic rhetoric, suggested that a local church was partly to blame for the LGBTQ+ materials' inclusion in the collection, and directed readers to a website — which I will not link to here — that compares queerness with "alcoholism, adultery, lying, pedophilia, stealing, child pornography, murder, orgies, and beastiality."
The Sioux County Conservatives' flyer also contained cherry-picked facts about the incidence of depression and suicide among LGBTQ+ individuals, without noting that exactly this kind of behavior — targeted harassment and the erasure of queer identities from the public space — contributes to those statistics. According to the Centers for Disease Control, "[queer] students had fewer suicidal thoughts and attempts when schools had gay-straight alliances and policies prohibiting expression of homophobia in place for 3 or more years." After the Sioux County Conservatives circulated the flyer, Chi closed his online petition, citing the group's "rogue behavior" and "inflammatory rhetoric."
As of Dec. 2017, the Orange City Public Library's collection reportedly contained 168 materials related to LGBTQ+ issues in its 63,000-item collection. For those of you keeping score at home, that means that LGBTQ+ books and films make up less than 0.003 percent of the library's total materials. In particular, Chi and the Sioux County Conservatives took issue with the 2013 YA novel Two Boys Kissing by David Levithan and the 2014 picture book Morris Micklewhite and the Tangerine Dress by Christine Baldacchino and Isabelle Malenfant.
Gender non-conforming children deserve to see themselves in literature. At the Orange City Public Library board meeting, citizen Mike Goll reminded the assembly that "there are gay kids [and] trans kids in this town, and seeing their faces and seeing their lives mirrored in some of the books here means everything." Lambda Legal Senior Attorney and Students' Rights Strategist Paul Castillo echoes Goll's point:
"Book bans and challenges targeting LGBT-themed content also serve to stigmatize gay and transgender people. It is critically important for LGBT young people, in particular, to see representations of themselves in books, film, television, and government. With harassment and bulling continuing to plague LGBT youth at schools, it could be lifesaving."
Chi's petition insists that the materials "were requested by a few individuals around the same time as the [Orange City] Pride Event... without proper OCPL Board oversight or community feedback," but Orange County Public Library Director Amanda Vazquez says that timeline is not accurate. She tells the Sioux City Journal, "We did not just start acquiring them in the past few months. There are materials we've had for years in our collection." More importantly, Castillo says that "there is no community veto of the First Amendment, even when members of the community assert the books are contrary to their own beliefs," so even if the majority of Orange City wanted the books removed from the library's collection, to do so would still be in violation of the First Amendment.
The Iowa Library Association (ILA) and American Library Association (ALA) issued a joint statement in response to the attempted LGBTQ+ book ban. Addressed "to the members of the Orange City Public Library Board of Trustees," the letter says that "the library has a responsibility to represent a broad range of materials in its collection and to meet the needs of everyone in the community it serves — not just the most vocal, the most powerful, or even the majority."
Vazquez tells Bustle that "the library board has adopted as part of its Collection Development policy the American Library Association's Library Bill of Rights, Freedom to Read statement, and Freedom to View statement." Those documents state, in part, that "materials should not be proscribed or removed because of partisan or doctrinal disapproval," that "it is not in the public interest to force a reader to accept the prejudgment of a label characterizing any expression or its author as subversive or dangerous," and that the library should "provide a diversity of viewpoints without the constraint of labeling or prejudging... materials on the basis... of controversial content." Similarly, ILA Vice-President and President-Elect Dan Chibnall tells Bustle that the association "believe[s] in building bridges to information and not in erecting barriers around information."
UPDATE: In a statement to Bustle, author David Levithan said the following: "Libraries are one of the bedrocks of our democracy, defending every person's right to thoughtful representation and the freedom to read. As an author who has heard firsthand how LGBTQ+ literature can save lives and encourage equality, I am grateful to anyone who defends LGBTQ+ books and, by extension, LGBTQ+ youth from any person who attacks them as needing 'special treatment' or being anything less than equal."