Get Your Dance On At Ivanka Trump's House This Weekend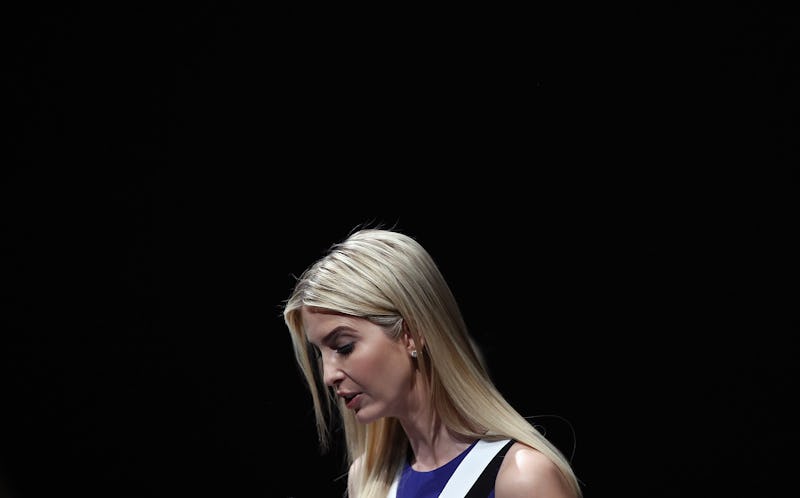 Win McNamee/Getty Images News/Getty Images
If you're in Washington, D.C. this weekend and feel like partying for a cause, break out your rainbow attire and head to Dupont Circle on Saturday for an LGBTQ+ dance party outside Ivanka Trump's house. The Queer Dance Party for Climate Justice, happening Saturday, isn't an April Fools' prank — it's part of a real, coordinated effort on behalf of the LGBTQ+ community to push the Trump administration into supporting progressive causes.
Trump is the perfect target for this type of protest because she has purported to be a feminist who will champion issues like affordable child care and women's health care. So far, however, Trump has been silent, which particularly incited criticism last week during the Congressional battle over the American Health Care Act. With her newly expanded role in the White House, Trump is even more susceptible to these protests, because her response to them could definitively make or break her reputation as a feminist.
"We can't let Ivanka trick our communities into supporting and legitimizing her. We will show up to her home because the bad decisions of the Trump administration hit us in our daily lives, in our homes, and the nature we surround ourselves with," Carla Aronsohn, co-organizer of the event, told the Huffington Post. "If Ivanka Trump isn't gaslighting us, then she should come into the streets and werk it!"
Several LGBTQ+ organizations, including WERK For Peace, Trans Women of Color Collective, 350 DC, and Queer Resistance, planned the event, the third of its kind. Previously, the groups danced outside Mike Pence's house and the Trump Hotel in D.C. The protest party is an innovative and exciting way to get people involved in the cause — not only does it play on stereotypes about LGBTQ+ people and reclaim them in a way that empowers the community, it's the type of protest that sounds both rewarding and extremely enjoyable.
The purpose of the event, supporting climate justice, may seem a little disconnected, but the LGBTQ+ community has been at the forefront of many major social movements throughout the last half century. Second- and third-wave feminism were incited and pushed along by queer communities seeking protection and equal rights, and more recently the LGBTQ+ community has tackled gun control following the Pulse Nightclub shooting last summer. The event also comes just one day after the annual Trans Day of Visibility, celebrating the transgender community's triumphs and challenges, so it couldn't be more perfectly timed. If you want to participate, just meet up with the group at Dupont Circle on Saturday at 6:00 p.m. ET, and don't forget your dancing shoes.