There's A Reason That These Are ASOS' Bestselling Jeans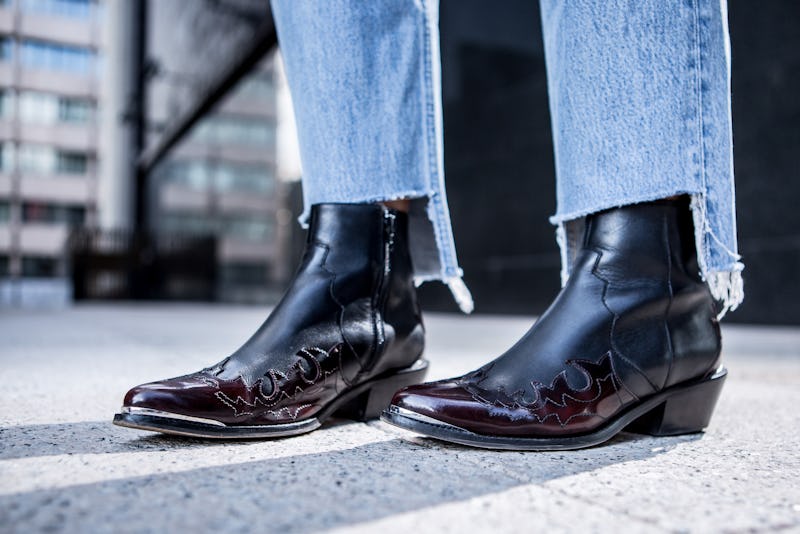 Pablo Cuadra/Getty Images Entertainment/Getty Images
Finding the perfect pair of jeans is like Cinderella slipping on the glass slipper. It's a magical moment, and it turns out that ASOS might have just found the unicorn of all pant purchases. According to Who What Wear, the most popular denim style on the ASOS website is the Ridley High-Waist Skinny Jean, and I can pretty much guarantee you'll fall in love with it. If you're wondering what makes the pants so special, the answer is clear at first glance.
It's no secret that ASOS is a go-to shopping destination for clothing, but it's got way more than just pretty shirts and dresses. The store actually sold 2.7 million pairs of jeans in 2016, according to Who What Wear. The publication found that the Ridley High-Waist Skinny Jean is the most popular style on the ASOS site. In fact, Who What Wear reports that ASOS sold a whopping 32,000 pairs of this pant in 2016. Once you see them, that won't surprise you.
It's obvious why so many people love the Ridley jean — it comes in tons of different styles. From multiple different colors, like black, white, and grey, to distressed, there's something for almost every fashionista out there. Another likely reason why the jeans are bestsellers is that they also come in curve, petite, and tall versions. According to the website, there are 86 different Ridley jean options that range from sizes 0 to 24.
ASOS Curve Ridley High Waist Jeans, $45, ASOS
The price ranges from $40 to $51, depending on if you want solid denim or distressed. That's pretty darn affordable for a pair of jeans. Not to mention that you'll also get 16 percent off when you buy the two pack. Bottom line: you can't go wrong with these pants.
Ridley High Waist Jeans, $45, ASOS
On top of having regular sizing, petite, tall, and curvy styles, there's also a maternity cut of the Ridley High Waist Jeans. If that doesn't make this the ultimate denim go-to, I don't know what does. With 86 different options, odds are that you'll find something you like.
Ridley High Waist Jeans, $40, ASOS
Although the jeans are super popular, as of Apr. 28, all of them are currently in stock and available on the ASOS website. If the incredible selling statistic don't get you excited to shop, then maybe these gushing customer will.
You can wear the jeans through multiple stages of life.
The reviews are in, people.
Boom.
I love when everyone shares recommendations.
It's decided. These jeans will go down in history.
You can even do yoga in them.
If I had a dollar for every time people said "perfect" or "favorite" about these jeans, I could buy them all.
The reviews are in, my friends. The jeans are just as great as they appear.