The Reason Theresa May Always Wears Leopard Print Shoes Is Actually SO Interesting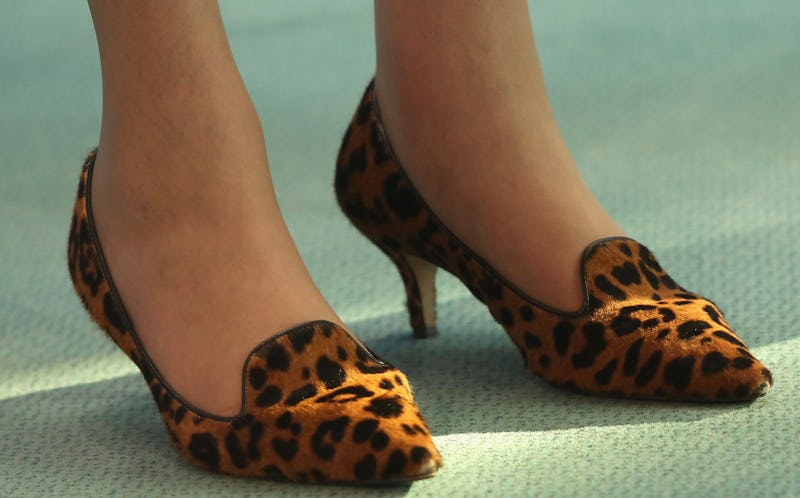 Adam Berry/Getty Images News/Getty Images
Being Prime Minister is tough. I know that. You know that. But being a female Prime Minister with a love of fashion is even tougher. Our current leader is a prime example. Despite all the important and often controversial words coming out of her mouth, people can't stop staring at Theresa May's leopard print shoes (or any of her other shoes for that matter).
First donning the loud style at a Conservative party conference back in 2002, May has kept up her love of leopard print ever since, recently wearing the style to church and to greet Thailand's Prime Minister. Wearing them for big TV moments as well as casual days out, the pattern has become her go-to look. She most recently wore them to the Tenth Annual Armed Forces Day 2018 in Llandudno on June 30, on the brink of one of the most important weeks of her leadership as Prime Minister.
It's clear that May is heavily into her shoes. In an interview with a local magazine, the 61-year-old described footwear as being the "greatest love" of her life. While she sticks to block-coloured or neutral skirt suits, shoes are the one accessory that jazz up her public-facing outfits, and it does seem that the Prime Minister leans on them especially for big moments.
So much so that May's footwear choices — which come from stores like Russell & Bromley and L.K. Bennett — have created many a headline over the past few years. They've become her signature, with The Times' political cartoonist Peter Brookes regularly using the style as shorthand for the PM. And it's not just the newspapers at it. In October 2017, the BBC was criticised for focusing on the Prime Minister's heels during a Brexit report. One viewer who complained said that the shot "sends all the wrong messages, deflects from what she was saying, shows no respect for her position, and reinforces gender stereotypes."
There's definitely a time and place for analysing style choices — and a Brexit report is not the place — but ignoring fashion altogether has an equally damaging message that women's fashion is itself inherently frivolous and unimportant.
You may think that people don't look to politicians for style advice but May has been credited with causing a 60% rise in Debenhams' leopard print shoe sales in 2013.
So why is the nation so fascinated with May's penchant for leopard print? Is it because she's one of the only politicians to talk openly and positively about fashion? ("I like clothes and I like shoes," she told the crowd at the 2015 Women in the World summit. "One of the challenges for women in the workplace is to be ourselves, and I say you can be clever and like clothes. You can have a career and like clothes." Amen to that.) Or is it because leopard print is stereotypically reserved for confident women and May's choice to wear it makes those around her nervous?
Although leopard print is used as camouflage in the animal world, the human world is a very different story. The stand-out pattern reportedly originated in ancient Egypt when women — who couldn't afford real pelts — would trace the shapes onto linen.
Later on, its first links to power would be revealed. Burlesque performance expert Jo Weldon told The New York Times that leopard print's main message has always been: "I will be seen, and I am not prey." According to Mental Floss, leaders of indigenous tribes would wear leopard skins "as a signifier of patriarchal power." Napoleon clearly felt a similar way as his troops covered their helmets and horse saddles in the stuff.
Eventually, fashion cottoned onto the glamorous trend, translating it into a print that didn't require the killing of live animals. Now, you can Google almost any female celebrity and find at least one photo of them in a leopard print look. It's a pattern that exudes confidence and a sense of fun.
But back to May. The Prime Minister has previously opened up about why she chooses louder shoes. "I have no regrets [about being famous for my shoes]," she once told a journalist, as reported in the Financial Times. "The good thing is that they are often an icebreaker." She's completely right. In a job where you are required to meet new people almost everyday, wearing something that will start a conversation isn't a bad thing. Otherwise imagine how awkward life would be.
In 2016, May told the Financial Times one story that proves this point perfectly. She described how she once got into a lift in the House of Commons with a young woman. May complemented the young woman on her shoes, who returned the favour and then admitted that: "Your shoes got me into politics." May added:
"Something that can make people feel that they can approach a politician, or that politicians are like them, not some different species, I think is very important."
The fact that May wears leopard print for both her work and social life also suggests that she seeks comfort from the style. While the pattern is used to prop her up in front of the public (she most notably chose leopard print heels for her first day as Prime Minister), it also serves as her go-to style for days out with her husband. Just as most of us have a favourite dress or pair of jeans, May's leopard print items support her in celebratory times as well as on more difficult occasions.
While it would be wrong to place greater emphasis on May's outfits than her policies and speeches (especially when male politicians rarely suffer the same fate), as Madeleine Albright proved with Read My Pins, leaders can send messages with their fashion choices. And in any case, it's nice to see a woman in government opting to be unapologetic with her wardrobe choices.