15 Photos Of Melania & Donald Trump Together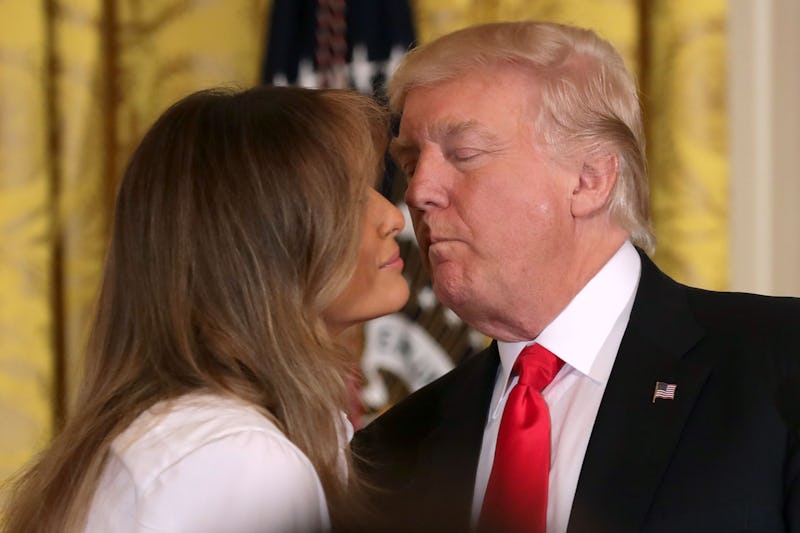 Chip Somodevilla/Getty Images News/Getty Images
The Trumps are a pretty unusual first family. The president is a former reality star. His wife is a former model. His children have an almost unprecedented role in his administration, despite having little to no former government experience. But one aspect of the family that people can't seem to stop talking about is the relationship between Trump and his wife, particularly because many photos of Trump and Melania have people talking.
Melania, a fashion model who gained U.S. citizenship after emigrating from Slovenia, married Trump in 2005, around the time he was best known for his real estate success and hit reality show. When Trump gained the presidency in 2016, she officially became only the second first lady to be born overseas (after London-born Louisa Catherine Adams, wife of sixth president John Quincy Adams).
Needless to say, this high profile role has led to increased scrutiny of her marriage, especially since she opted not to move to the White House right away with her husband, instead choosing to take care of the couple's young son, Barron, in New York City. What doesn't help the speculation is that cameras have caught Melania and Trump in what seem to be some pretty tense situations.
Keeping in mind that it's certainly impossible — and frankly unfair — to judge a person's marriage based on a few snapshots, here are some of the most notable Trump and Melania moments.