The '90s Are Back At The Kentucky Derby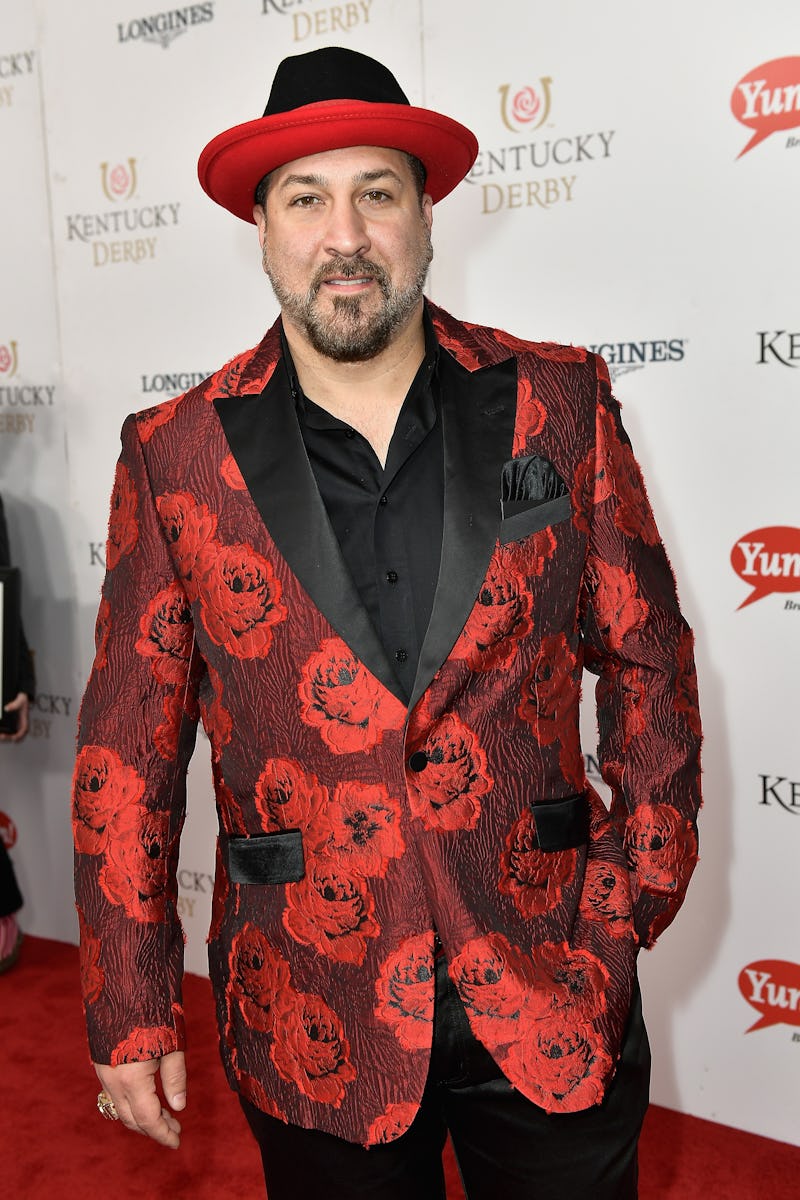 Gustavo Caballero/Getty Images Entertainment/Getty Images
Boy band members, Romy from Romy and Michelle's High School Reunion, and a R&B legend are just a few of the '90s stars at the 2017 Kentucky Derby. There's just something about the roughly two-minute-long race that seems to attract the most random stars. Not that I'm complaining, because I am fully aware of what a treat it is to see '90s supermodel Jill Goodacre wearing an incredible Derby hat instead of being trapped in a vestibule with Chandler Bing.
The assortment of stars from music, movies, and TV who journey to Kentucky for the race will give you nostalgia, but it will be confusing nostalgia. In the same way that going from humming Boyz II Men's "I'll Make Love To You" to belting out *NSYNC's "Bye, Bye, Bye" is a bit whiplash-inducing, the Derby is nothing if not the most eclectic celebrity event of the year. You never know who is going to show up, but you can bet most of the attendees will transport you back to your childhood the moment they walk down the red carpet.
Hold onto your mint juleps and stylish hats, because this assortment of '90s favorites is going to take you on a wild ride through those golden years of Pogs and actually listening to your favorite bands on the radio. Here are all of the '90s stars in attendance at the Kentucky Derby.
Joey Fatone
Fatone is basically a Derby regular at this point. He has been at the race for the last 17 years in a row, always sporting the best suits, might I add. Maybe one of these years he can convince his *NSYNC brothers to join him.
Boyz II Men
Your favorite '90s R&B band almost never misses a Derby.
Mira Sorvino
It's Romy! Sorvino became a household name in the '90s, and she is now an actor who takes her Derby game seriously. (See her hat dilemma here.)
Brian McKnight
McKnight's smooth vocals were a '90s staple, and the musician is still an icon today.
Harry Connick, Jr. & Jill Goodacre
Between Goodacre's memorable guest appearance on Friends and Connick kicking off his acting career in the decade, these two are basically a '90s power couple. When they weren't acting, they were modeling and singing, respectively.
Jeff Bridges
The Big Lebowski star has been awesome in every decade, but if not for the '90s, he wouldn't be best known as "The Dude."
These stars may be an eclectic group, but the '90s, and a love for the Kentucky Derby, will always unite them.