Fans Are LOVING Amy Poehler's Amazingly Candid Answers To This Interview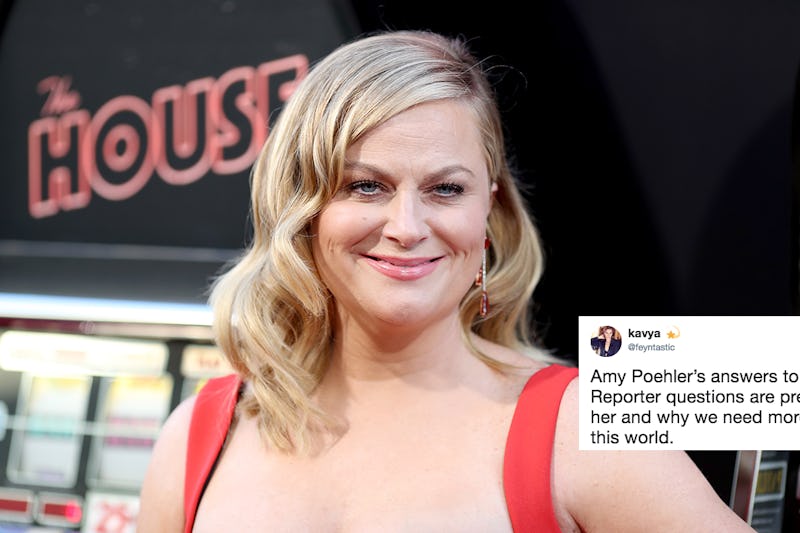 Neilson Barnard/Getty Images Entertainment/Getty Images
On June 13, The Hollywood Reporter published a list of "The 40(ish) Most Powerful People In Comedy." There was a short blurb written about each honoree, followed by a career-oriented Q&A. But, instead of filling in blanks about her guilty pleasure or favorite Simpsons character, Amy Poehler interview answers addressed serious issues, and fans on Twitter are li-ving for it.
In an introduction to the article that would unknowingly become kind of hilariously ironic, THR wrote that, "[maybe] it's the unfunny state of the world or the emergence of global star-making platforms like Netflix, but audiences are devouring comedy these days." The recent rise in comedy consumption is probably due to a little bit of both, but Poehler's interview answers were directly reflective of the former, and served to remind readers just how unfunny the world can be.
The questions given to Poehler and the other A-list on the roster were the usual fare. Most of the industry stars answered the questions in earnest, but Poehler decided to flip the script straight out of the gate. The first fill-in-the-blank that she responded to read, "My most memorable heckler ...," to which Poehler replied, "Who cares? The whole world is on fire." Is everyone paying attention now? Good, because it gets better.
THR's Question #2: "Dream product endorsement." Poehler's answer? "A giant whale just died in Thailand after eating 80 plastic bags." Record scratch. She did not come to play, mentioning the devastating news reported by several news outlets on June 4.
And then there was Question #3: "Guilty pleasure." If you guessed something along the lines of, "Drinking red wine and watching The Real Housewives," well, you'd be wrong. Instead, Poehler went with, "Let's not forget over 4,600 people have died in Puerto Rico." Serving up brutal truths about Hurricane Maria in May like Bloomin' Onions at Outback Steakhouse.
THR's Question #4: "I'm funny because..." Poehler said, "I don't even know anymore," but this interview is the real answer. THR's Question #5: Poehler finished the sentence "If I didn't work in comedy...," with "I would never leave my house," she said. Oh. That's dark, but also understandable.
Question #6: "College comedy audiences are…" Rowdy? Enthusiastic? Usually drunk? Nope. "Kids that are afraid they will be shot in their own schools. What has happened to us?" Damn. This interview is the realest, which is exactly why fans on Twitter have been 100 percent loving it.
Among the praise being doled out for Poehler's impassioned act of resistance, are titles like, "badass," and "queen," and "genius," or statements like, "we don't deserve Amy Poehler." Which, to be fair, no, we don't deserve Amy Poehler, we need Amy Poehler. An overwhelming number of fans on Twitter have proclaimed that the comedian is "a national treasure." They're not wrong.
One fan wrote, "Amy Poehler is the only kind of grown-up I want to be," and like, who among us is not screaming, "same" right now? "Amy Poehler is the only person that matters," another fan said, and "Amy Poehler is a legend and a gift," from one more. The love for Poehler on Twitter right now is absolutely endless.
Tons of fans have been particularly supportive of her answer to Question #7, which was "Sitcom you'd reboot?" The actor answered, "Mr. Rogers. I miss him. We need him." So pure. And agreed. Amy Poehler, won't you be my, won't you be my, won't you be my neighbor?
And for the grand finale, Question #8, and the conclusion of her stirring, guns-blazing interview, THR asked for Poehler's comment on, "the funniest thing about the Trump administration?" *Pause for dramatic effect* "Are you kidding me?" she said, and then everyone was left in silence to ponder (and tweet about) her greatness.