These 'Bachelor' Stars Are On Bumble, So Get Ready To Find Your Match, No Roses Required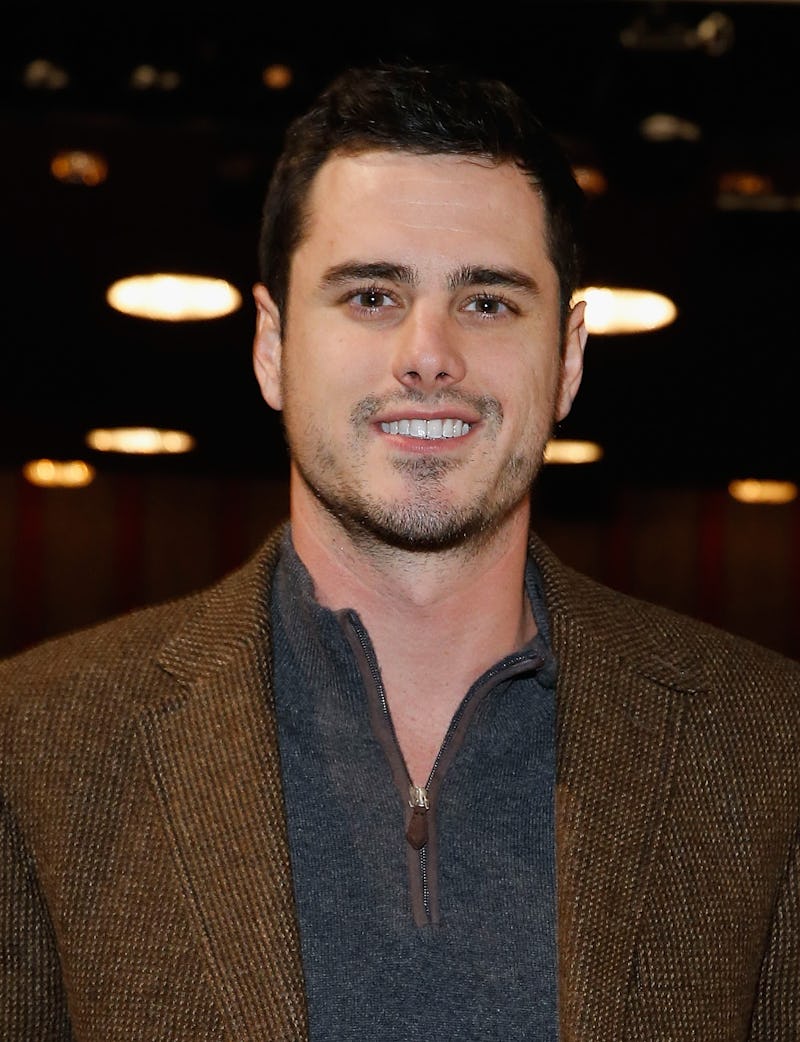 John Lamparski/Getty Images Entertainment/Getty Images
Some Bachelor alums are switching things up in the dating realm after their reality TV stints. Instead of looking for love on TV, some former Bachelor stars are on Bumble and searching for love the 21st century way. So, get ready to find your match with one of your favorite reality TV stars.
Four former Bachelorette stars are now swiping for love on the dating app and you'll definitely be familiar with the suitors. Diggy Moreland and Iggy Rodriguez, who both appeared on Rachel Lindsay's season of The Bachelorette and Season 4 of Bachelor in Paradise, are now on the app. Robert Graham, who appeared on Desiree Hartsock's season of The Bachelorette, is also taking his shot at love on Bumble.
Most notably, Bachelor Nation could find themselves swiping right on a former Bachelor lead himself. After a recent appearance on Bachelor Winter Games and his own stint as the lead during Season 20 of The Bachelor, Ben Higgins is looking for love on Bumble. Higgins previously broke up with his final pick, Lauren Bushnell, in May 2017, per People. Since the breakup, he's been open about how he's felt about the split and how he's ready to find love once again.
He told People in October 2017 that while he's not used to dating (especially after being out of the regular ol' dating game for a while), he was ready to find someone again. "I really want to find somebody, and I hope in the near future there will be someone to show off," he said.
Now, it seems like Higgins, along with Moreland, Rodriguez, and Graham, are more than ready to trade in their roses for swipes on Bumble. Their profiles have been released and they're ready to catch the attention of anyone clicking through the app.
Robert Graham
Based on Graham's profile, it seems like he's been around the old Bumble block before. His bio reads, "Heading back onto @bumble. Ladies, if you see me on there don't be shy and make the 1st move!!"
His bio also says that he's the co-founder of Vampped, which, according to its website, is a creative agency based in Los Angeles. So, it also seems like he's got some business-based success going for him.
Iggy Rodriguez
Rodriguez's Bumble bio contains a surefire way to get some fun responses from some respective suitors. He started off by saying that one of the hardest decisions he's made was choosing only four photos for his profile. He then said, "I need help, please let me know which one should be the main pic in the comments...1, 2, 3 or 4?!"
The former Bachelorette star also said that he's hoping that the pics are good enough. "I'm hoping they're good enough to catch someone's attention, because the ladies have the power and make the first move, which is something I'm used to." Based on the cute snap he chose here, it will definitely be enough to grab a lot of attention.
Diggy Moreland
Moreland, who's going by his real name Kenneth on the app, said that Bumble will be there for him when The Bachelorette wasn't, especially after "getting rejected in front of 10 million people," as he joked.
But, he's all-in on this Bumble journey now. "This finger right here? My swiping finger! Thumbs are overrated. Ladies I'm already swiping, so the [basketball emoji] is in your court!" Hear that, ladies? Get to swiping!
Ben Higgins
The Bachelor lead is going by the formal Benjamin for his Bumble profile. And he's totally ready to see which ladies take a chance on him, as he's looking forward to the company. "This week drinking alone... Next week I will be drinking with my @bumble date," his bio read. Based on his bio, it seems like Higgins is super excited to see where this Bumble journey takes him: "Ladies, I am ready for your first moves. Hit me with your best shot"
So, if you were ever eager to look for love with one of the Bachelor franchise men, but didn't want to go into the wild world of reality TV to do it, it might be time for you to find you Bachelor from the comfort of your own phone.