9 'Bachelor' Nation Stars Weigh In On What They Think 'The Right Reasons' Actually Means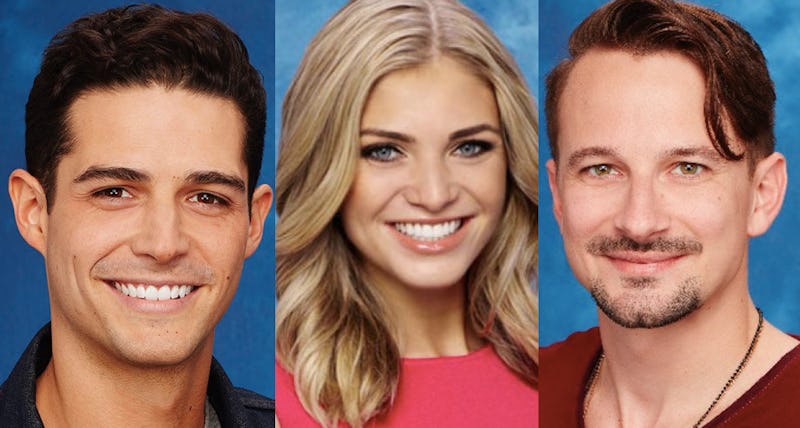 ABC
If you were to make a Bachelor word cloud, there's one phrase would pop up nearly as much as "journey" and "rose" — the "right reasons." Every season someone is accused of not being there for said reasons, and others proudly proclaim that they are. During Season 9 of The Bachelorette, Desiree Hartsock even partnered with Soulja Boy for a date in which her men rapped about the "Right Reasons." ("Right reasons, right reasons. We're here for you, girl, for all four seasons.") But given that this term is thrown around so much, it's worth asking: What actually are the right reasons for going on The Bachelor, and can they even be qualified? Bustle asked nine Bachelor Nation members for their take on why someone should go on the show — and why they did in the first place, too. And it turns out, it wasn't all for love.
After all, the dynamics of reality TV have changed. These days, contestants can leave the show with a whole new career thanks to Instagram sponsorship deals. Suddenly these dental hygienists, personal trainers, and hair stylists can make bank just by posting a photo of themselves wearing Diff Eyewear glasses or eating SugarBearHair vitamins.
Who can blame them, really? Wouldn't we all jump at the opportunity to make a lot of money with relatively little effort? But what the show can give its stars besides #truelove has complicated the series and made way for people who may also be going on the show to self-promote. Is that a wrong reason? Well, not according to everybody.
The way the stars use this phrase on the show seems to indicate that going on in hopes of finding love is the only correct reason there is. For Caila Quinn, who appeared on Ben Higgins' season of The Bachelor, that was exactly why she signed up. "I truly went on because I had a crush on a guy and didn't see why falling in love on a show was any different then bumping into a stranger on the street," she says. "I honestly love the purity of the show being for dating and finding a match, when in real life there can be so many distractions. I wish everyone really went for love."
Wells Adams, who was 31 when he applied for JoJo Fletcher's season of The Bachelorette, says he went on to find love as well. "I was lonely," he says. "I was ready to find someone and if it worked out I was totally ready to get engaged." He echoes Quinn's sentiment that it's a unique way to date, but that it could lead to something. "I was tired of the constantly failing at love," he says. "I thought, 'Well, if the conventional forms of dating haven't worked, why not try this?'"
Evan Bass, who didn't find love with Fletcher, but did with Carly Waddell on Season 3 of Bachelor in Paradise, also says he went on with pure intentions. "[I applied] for the potential of having an amazing love story. Mission accomplished."
Olivia Caridi disagrees with the pure love intention, though. When competing for Higgins' heart, she says, "I went on the show with an optimistic outlook that there was a great chance I'd find love, but also reasonable expectations that the odds weren't necessarily in my favor." She adds, "There was obviously a chance I wouldn't be the last person standing. In that respect, the whole experience for me was a once-in-a-lifetime thing that could lead to love, but that could also, regardless of being picked in the end, led to positive female friendships, traveling experiences, memories to stay with me forever. I think that attitude is 'the right reasons.'"
Many other contestants agree that love is certainly not the only reason why people sign up — and that's not necessarily a bad thing.
Bass is quick to point out that "the odds are really quite poor that you actually find love." After all, there's one lead and 30+ contestants. Bass notes that's around a three percent chance of success. So, if you go on the show for other reasons in addition to the hope of finding love, that's just being realistic. At the end of the day, the show is an "adventure," as Adams put it; one that less than 1,000 people have had the chance to do. How do you pass that up?
You don't, if you're Jaimi King, who dated Nick Viall on his season of The Bachelor and also appeared on Season 4 of Bachelor in Paradise. "I decided to go on the show because I was given an experience of a lifetime, who would turn that down?" she says. "Free vacation and travel, with free food and booze? Um, yes." She adds, "[There are] so many reasons to go on the show and the chance of finding my person at the end of it all was definitely the cherry on top."
Kupah James, who vied for Kaitlyn Bristowe's heart on The Bachelorette, is also up front about why he went on the show — exposure. "I went on the show for the overall experience, but I would be lying if I [said I] thought I was going to fall in love," he says. "Nowadays, I can't believe individuals are signing up to find love."
Daniel Maguire, who also appeared on Fletcher's season of The Bachelorette, agrees. He says he went on the show (and subsequently chose to appear on two seasons of Bachelor in Paradise) because, "I love making people laugh and I like being in front of the camera and of course I like the attention," he says. "Most of the people do, but they won't admit it. I hate the people that are like, 'I'm going on for love,' and it's like... you're liars."
"Let's be honest. You're there for an experience, DM slides, and a business plan to sell crap on Instagram."
Adams, who was one of the older contestants on his season, thinks that age plays into whether someone is there for those quintessential "right reasons." "If you're good looking and in your mid-20s, you're not really ready for engagement," he says. "Let's be honest. You're there for an experience, DM slides, and a business plan to sell crap on Instagram."
The post-show Instagram business has become such a mainstay for pretty much everyone, though, that it may not even register to fans as a wrong reason to go on the show for social media fame. It's simply what (almost) everyone is doing.
After all, Maguire acknowledges that, while the show's formula does work for some people — and some couples actually do get married and have children — he says, "For 90 percent of the people, that doesn't happen." So, that's when contestants have to start making lemonade out of lemons.
For her part, King is impressed by the self-starters who leverage their (usually broken hearts) to build lives for themselves. "I think the right reasons to go on the show are to be able to meet new friends and get a free vacation out of it. You have to be realistic, especially with how the show has transformed into this mega market," she says. "I admire the girls who come out of the show creating new careers for themselves and taking advantage of what the show can do for you."
Caridi says that she didn't realize how many followers came with going on the show, but she doesn't blame anyone who takes advantage of that. "I definitely didn't go on the show for exposure or sponsorships," she says. "But I don't think there's a point to shaming people who do go on the show in hopes of pushing their career along. It's television, [ABC is] making money off of us and [the show has] high ratings, so obviously there's no reason for people not to capitalize on the positives that come from the show — and if you do fall in love and have the experience of a lifetime, then it's a fabulous plus."
She makes a good point — as Maguire notes, while the lead is paid to star on the show, The Bachelor and Bachelorette contestants are not paid — but they are giving up their lives and jobs for weeks and putting their reputations in the hands of producers and editors. Why shouldn't they come out on the other side with a business plan?
That being said, some of these contestants feel that there are still wrong reasons for going on the show. For Quinn, if love isn't a factor at all, that's a problem. "If you don't really see the potential of a relationship then you aren't going on for the 'right reasons,'" she says.
Bass thinks the only wrong reason is going on the show "solely for self promotion," but he also feels like very few people fall into that category. Meanwhile, Adams thinks the wrong reasons come into play when contestants aren't true to themselves or act differently than they actually are to get the lead to like them or the cameras to pay attention. "[You] can sniff out inauthenticity from a mile away... people who are there for the wrong reasons are just being the wrong version of themselves," he says.
Ben Zorn from Bristowe's season of The Bachelorette has a more straightforward marker of the wrong reasons. "We don't want people going on the show for the wrong reasons such as fame or having a significant other back home," he says.
The having a boyfriend or girlfriend back home thing has happened several times on the show — even before it was a follower-boosting franchise. And, who could forget Bentley, who didn't even like Bachelorette Ashley Hebert, but stuck around just to make her cry? Few reasons are more wrong than that.
Everyone goes on the show for different reasons — but it wouldn't be fair to ask them all to go on for love and love alone. Because, at the end of the day, only one person is walking home a "winner" and even those relationships don't always last. If everyone went on with love on the brain and then 97 percent of them didn't get it, it would be such a waste of their time. It's natural to want more out of giving your life over to TV.
But that doesn't necessarily mean that everyone who goes on the show is there for fame either. Breanne Rice from Higgins' season of The Bachelor says it's most important just that contestants go into the experience "with an open heart and an open mind." Zorn echoes this, saying, "In my opinion the 'right reasons' are that you are single you are looking to meet someone special, you are open to adventure, and that you're ready to have fun."
And, if anyone needs to be there for these "right reasons," it's the Bachelor or Bachelorette. Because, as Maguire points out, that person is the one who has been handed the opportunity to choose love from a group of people hand-picked just for them.
So perhaps instead of questioning each other's motivations, contestants should ask themselves if the lead is truly ready for love. Let everyone else have their IG sponsorships, and make sure the Bachelor or Bachelorette is leading with authenticity — because their search for love is what the #journey is actually about.