The Black Women Elected Judges In This Mississippi Circuit Court Are Making History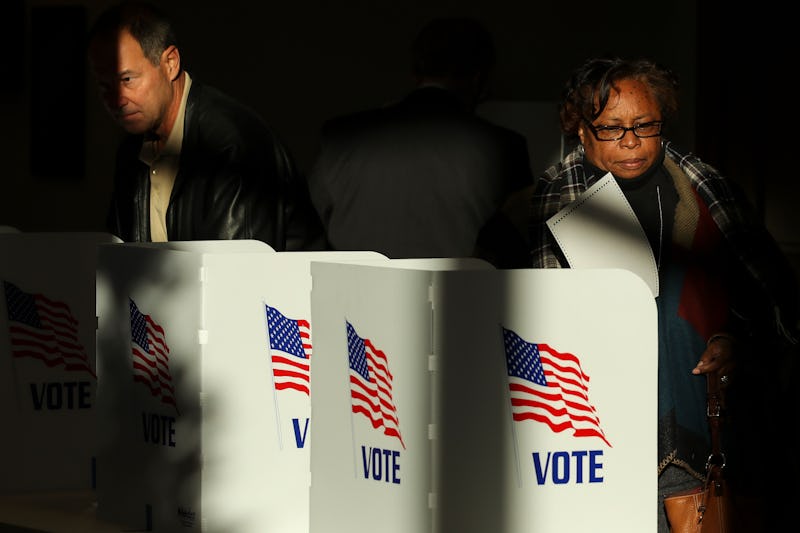 Drew Angerer/Getty Images News/Getty Images
In another victory for women candidates of color in this year's midterm elections, two black women judges swept Mississippi's Circuit Court run-off election on Tuesday. The seventh circuit court, located in Hinds County, Mississippi, will have an all-black panel of four judges — three of whom are women — for the first time in history.
One of the women judges, Judge Tomie Green, ran for reelection and won earlier in the month, but the other two, Hinds County's former District Attorney Faye Peterson and State Representative Adrienne Wooten, will be new additions to the bench. The fourth member, Judge Winston Kidd, ran unopposed for reelection to his seat.
The election of four judges of color was a contrast to Mississippi's Senate seat run-off the same night. Republican Cindy Hyde-Smith, the state's junior senator incumbent, won out against Democrat Mark Espy, who was vying to become Mississippi's first black senator. The final weeks of Hyde-Smith's campaign were marked with controversy, after a video surfaced in which she blithely commented that she would be in the "front row" if a supporter were to invite her to a "public hanging." Given the state's history of public lynchings of African-Americans and its sizable black population, Hyde-Smith received appalled criticism from the left, though she has said she was being hyperbolic, and called the negative connotations of her phrase "ridiculous."
"It hasn't sunk in yet," Peterson told the Clarion Ledger on Tuesday. "I can't believe it."
Speaking to the Clarion Ledger ahead of the election, Wooten expressed support for comprehensive criminal justice reform, an issue that could significantly impact the lives of African-Americans living in Hinds County. Mississippi has a staggering incarceration rate of more than 1,000 people imprisoned per 100,000 in the population, according to the Prison Policy Initiative. On top of that, like in many other parts of the country, black people are incarcerated at disproportionately higher rates than other races, making up 37 percent of the state, but accounting for 57 percent of prison populations.
"I believe there is a dire necessity to understand that many of the people who are jailed have mental illnesses, are extremely poor, and are battling drug and/or alcohol dependencies," Wooten told the Clarion Ledger. "Judges can be a bridge to the transition of any person who is before the bench if judges had more resources available to them such as mental health courts."
The women soon to assume the bench in Mississippi's seventh circuit court are also mirrored by those in Texas' Harris County, where 17 Democratic black female judges were elected to office earlier this month. In a midterm election where a record number of women ran and won, judge elections like in Hinds and Harris Counties are among the historic firsts. The female judge-elects in Harris, too, were shocked and excited by the opportunity for better representation in the court system.
"I think that having an African-American judge or having a female judge, those are the kinds of things we bring to the bench," judge-elect Latosha Lewis Payne told CNN after the sweeping win, "and we bring an understanding of a person who may come from that similar background."