These Charts Show Just How Different Rachel's 'Bach' Season Is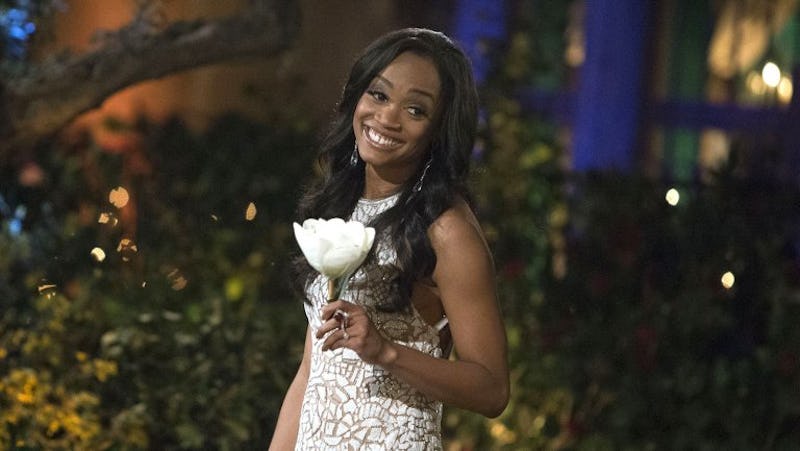 We're two episodes into Rachel Lindsay's season of The Bachelorette, and it still strikes me as shocking that she's the first black person to take the lead in any of the franchise's shows. It's 2017, right? What's the deal? And now, some new statistics on my favorite reality shows have come out and they're just more proof that this whole diversity effort should have been made long, long ago. On Friday, Casino.org released new Bachelor statistics called The Luckiest in Love, offering data on the appearances of the men and women who have won that finale rose, and even though some of the findings are obvious, others are far more surprising.
The statistics cover everything from the winners' eye and hair colors to their age and skin color. A separate section of the stats also points out the percentages of race and ethnicities found in the contestant pool over the last 10 seasons of both shows. It probably won't shock you at all that the vast majority of Bachelor winners have been blonde (75 percent, to be exact) — and according to the data, nearly every winner of both shows has been white. Casino.org's data accounts for one non-caucasian winner of The Bachelorette, but does not account for Catherine Giudici, the winner of Sean Lowe's Bachelor season who is half Filipino.
As a lifelong brunette, I can't see why blondes get all the attention (we're fun, too), but what's really disappointing is the racial distribution here. On The Bachelor, the final remaining contestants are 100 percent white (again, this study does not account for Giudici), with 94 percent on The Bachelorette. And even when the seasons first begin, the trend is 93 percent white for both shows.
Rachel as our Bachelorette is an awesome move in the right direction, but it can't be the only move. It's boring and unrealistic to see a sea of blonde 25-year-old white women on The Bachelorette year after year, and nothing about the contestant pool on either show has been accurately representing our population as a whole.
I adore Rachel, and I love the trail her season is blazing. The diversity we're seeing in her season needs to become the norm for the show going forward. It will be way more interesting to watch, and it's the right thing to do.