This Desi Perkins x Quay Aviator Collab Will Help You Up Your Fall Shades Game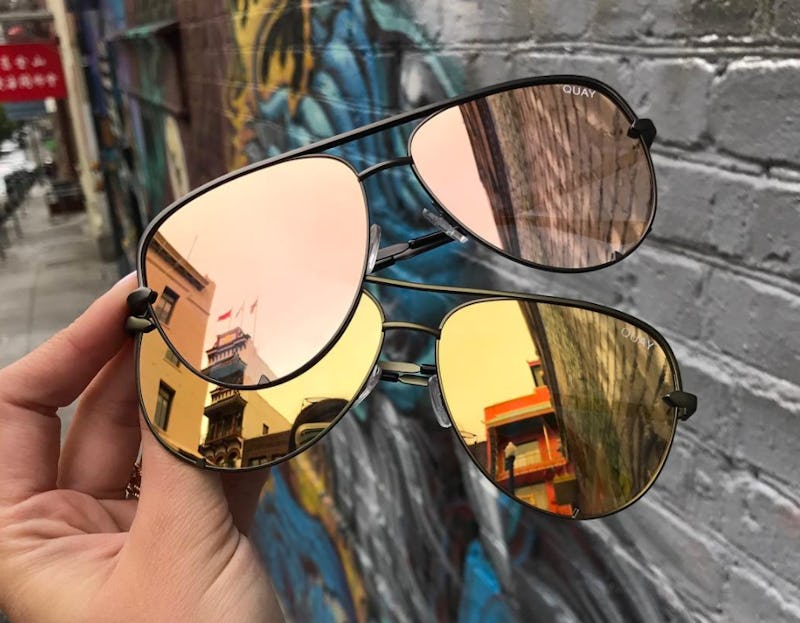 The Kylie Jenner x Quay sunglasses collab was king when it came to Summer 2017 kollabs. Now, Insta influencer Desi Perkins and Quay have collaborated on High Key sunglasses for multiple seasons. And these mirrored aviators never, ever disappoint.
The latest Desi Perkins x Quay High Key Aviators are offered in two styles: gunmetal and rose gold or army green and luxury gold. Their latest version of the sexy-for-any-season High Keys arrive on Wednesday, Sept. 6 at 11 a.m. ET/8 a.m. PT.
Desi Perkins x Quay High Key Aviators, $65, Quay
If you want to update your fall sunnies wardrobe with a pair of aviators, these are ripe for the gig.
Last fall, Perkins and the Aussie shades brand teamed up for a version of High Key with a silver frame and blue lenses. This spring, they offered up orange fade, olive, and yellow lens aviators in the Sahara frame, which is slightly different than High Key as the lenses are not mirrored.
Both of the latest High Key hues designed by Desi are pretty sweet, with the rose gold edition being extremely on trend.
The lenses can totally double as makeshift mirrors when you need to touch up makeup without an actual mirror.
The army green pair totally goes with an army jacket tossed over leggings and a tee. Perhaps add a scarf, have a PSL in hand, and you'll be totally fall-ready.
Perkins rocked the army green pair IRL. And by "IRL," I mean "Instagram Real Life."
These oversized aviators add a legit dose of glam to any fall ensemble.