Everyone Loves These "I Call My Own Shots" Memes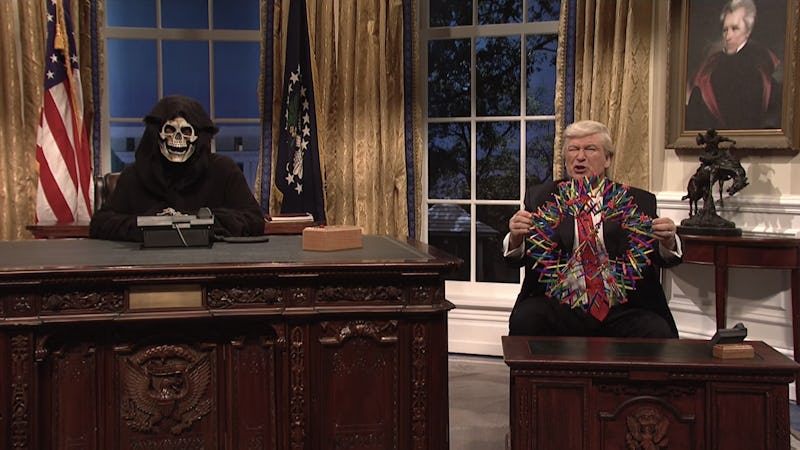 In the latest installment of The Media Gets on Donald Trump's Nerves, Trump insisted that he, not Steve Bannon, is in charge. Bannon, Trump's chief of staff and closest advisor, has been speculated to be the force behind the controversial executive order banning travel to and from seven Muslim-majority countries. "I call my own shots, largely based on an accumulation of data, and everyone knows it," Trump wrote on Twitter on Monday. "Some FAKE NEWS media, in order to marginalize, lies!"
The tweet came in response to a New York Times report, alleging that he signed an executive order granting Bannon a place in National Security Council meetings without being "fully briefed" beforehand. "The failing @nytimes writes total fiction concerning me," the president wrote in a following tweet. "They have gotten it wrong for two years, and now are making up stories & sources!"
On Saturday, one day prior to the article's publication, Saturday Night Live fanned the continuing speculation of the magnitude of Bannon's control on the president in a skit portraying Trump as a puppet being manipulated by his advisor. SNL Trump sat at a tiny desk next to an evil-looking Bannon, who sat at the real president's desk.
Seeing his latest tweets as a sign that the "President Bannon" jokes were getting under his skin, Twitter couldn't help but jump at the chance to laugh at Trump's claims that he really does call the shots "based on an accumulation of data."
1. Shoutout To The Hamilton Fans
Trump would repackage a revolutionary song to suit his needs.
2. Co-Signed
A lot of people probably call these same shots.
3. Wow
Could Trump call this shot?
4. Good Call
Too real.
5. Nooooo
So close!
6. Oops
Happens to everyone.
7. This Will Probably Happen
If it's legitimate enough for the president, it should be for everyone else.
8. Everyone's Doing It
The dog was probably doing it before Trump was, though.
9. Look At This Accumulated Data
These are a lot of people calling their own shots.
10. Similar To Those Executive Orders
Except Trump would be punching his approval ratings and the number would be going down.
11. Self-Empowerment Role Mode
It's actually a good thing in this scenario.
12. This Person Shouldn't Be Calling Anything
This person needs their own Bannon.
13. Take Notes
Doing this from now on.
If nothing else, at least the new administration has delivered enough material to keep the jokes coming for years.