These Sci-Fi Movies Coming Out This Fall Look So Spooky & You're Gonna Want To See Them All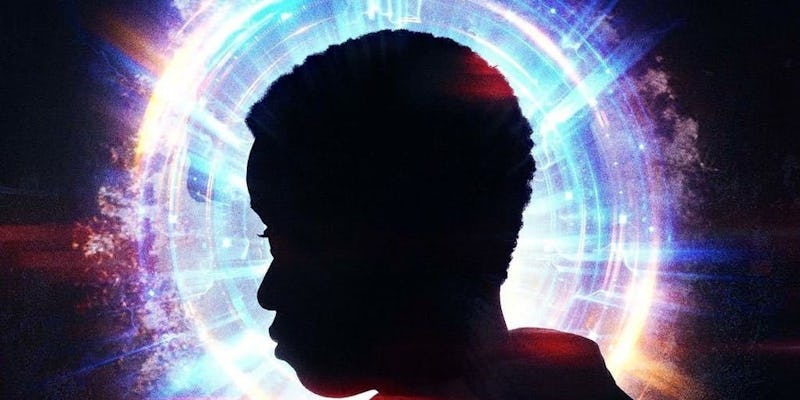 Summit Entertainment
2018 has been one of the most impressive years to date for science-fiction movies. With hits like the female-led Annihilation, Steven Spielberg's fun Ready Player One, and the loads of comic book-inspired hits, movies that embrace the future, its technology, aliens, and space travel are some of the best out there right now. And that trend is far from over; there are plenty of great sci-fi movies out fall 2018 definitely worth checking out.
Clearly, we've had some great sci-fi come out this summer. If you've been too busy at the theater to catch movies like Solo: A Star Wars Story or Jurassic World: Fallen Kingdom, be sure to check out streaming sites like Netflix where you can see sci-fi movies like the action-heavy Extinction, featuring Michael Peña and Lizzy Caplan, and Anon, which stars Clive Owen and Amanda Seyfried in a cautionary tale of tech privacy. Or head over to Amazon for the sci-fi romance Zoe, starring Ewan McGregor and Léa Seydoux.
Now, though, everyone's about to head back to school, back to work, and won't have those summer Fridays to marathon something in the AC. But you won't miss out on some good nerding, as here are some of the fall's upcoming sci-fi movies to keep an eye out for.
Replicas (Aug 24)
August is technically still the summer, but this Keanu Reeves movie slides right in at the end of the month and looks way too cool not to include. Reeves stars as a man who creates replicated versions of his wife and children when they die in a car accident. Whether these replicants use uploaded consciousness or copied personalities isn't clear, but Keanu looks spooked.
Kin (Aug 31)
Here's another one to catch right on the edge of summer and fall. From the production team behind Stranger Things and Arrival comes Kin, a story that follows a young boy's discovery of alien-like technology. The movie stars relative newcomer Miles Truitt, as well as Zoe Kravitz, Carrie Coon, and Dennis Quaid.
The Predator (Sept 14)
Sterling K. Brown and Olivia Munn star in this sequel to Arnold Schwarzenegger's 1987 alien monster flick. In this iteration, Jacob Tremblay accidentally triggers the return of the predators to Earth. Yup, these things are still terrifying.
I Think We're Alone Now (Sept 21)
Game of Thrones favorite Peter Dinklage stars in this post-apocalyptic story of a man who is literally alone in the world. The movie premiered back at Sundance and also stars Elle Fanning as his lone companion. Reed Morano, the Emmy-Winning helmer behind a number of episodes of The Handmaid's Tale, directs.
The House With A Clock In Its Walls (Sept 21)
Though a bit more fantasy than sci-fi, The House with a Clock in Its Walls does have a certain steampunk flare to it. Based on the series of gothic horror novels by John Bellairs, the movie stars Jack Black as Jonathan Barnavelt, a mysterious wizard who takes in his nephew Lewis. Cate Blanchett plays the badass Florence Zimmerman, a super powerful witch.
Venom (Oct 5)
The new origin movie for this Spider-Man baddy looks much darker than the recent Spider-Man: Homecoming. But Tom Hardy is know for his super-brood, and they might as well put it to good use.
First Man (Oct 12)
OK, so this one is technically a true story and science biopic, but anyone who loves sci-fi aught to love the history of space exploration. Ryan Gosling stars as the first man on the moon himself, Neil Armstrong, in what will no doubt be a performance noted around the awards circuit.
Ralph Breaks The Internet: Wreck-It Ralph 2 (Nov 21)
This is certainly a long title for an animated movie, but this Wreck-It Ralph sequel does look like a lot of fun. Ralph and Vanellope head into the Internet where they encounter Internet cats, spam messages, and click-bait worthy headlines. "What is all of this?!?" Ralph asks. We still don't know, buddy.
Also, though it doesn't have a release date yet, High Life, the English-language debut of French director Claire Denis, is a movie to keep a lookout for; it stars Robert Pattinson as a young father taking care of his daughter alone in deep space. Then, looking ahead to the winter and awards season, there's Lord of the Rings master Peter Jackson's steampunk action flick Mortal Engines coming up, as well as the Susana Bier-directed, post-Apocalyptic movie Bird Box, starring Sandra Bullock and Sarah Paulson.
2018 is shaping up to be an exciting year for sci-fi, that's for sure.