You Can Shop For A Cause On Giving Tuesday With These Fashion & Beauty Deals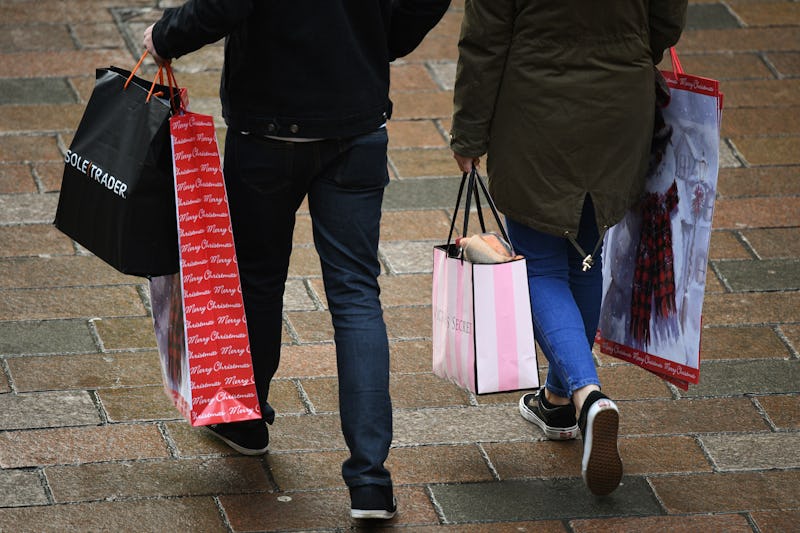 Jeff J Mitchell/Getty Images News/Getty Images
The weekend after Thanksgiving is a major shopping holiday, where people zip up their coats and grab their car keys the moment that the last turkey slice is eaten to go browse stores. But just because Black Friday and Cyber Monday are almost over doesn't mean that the shopping needs to end — there are plenty of brands with 2018 Giving Tuesday deals, letting you stock up on your favorite fashion trends and makeup products while also giving back to the community.
While almost everyone knows what Black Friday is — major price slashes! — and anyone with a laptop has probably participated in Cyber Monday — even more price cuts for online shopping! — Giving Tuesday is a newer concept.
Giving Tuesday is a global day of giving that encourages you to donate your time, money, or voice, and it begins the charitable season of the year. In support of it, some stores have hopped onto the bandwagon and are dedicating a percentage of their sales on Tuesday to a charity of their choice. If you want to use your dollars to give back this week, below are some of the brands participating in 2018's Giving Tuesday.
Lively
Lively will be donating one bra on behalf of every woman in their ambassador community, which equates to 55,000 bras being directly donated to the organization Support the Girls, which collects and hands out donations of new and gently used bras, as well as sealed tampons and maxi pads to women and girls worldwide. In addition to that, for every bra purchased on their website or bought at their Mulberry Street, New York store on Giving Tuesday, the brand will donate a bra to Support the Girls. The brand's reasoning is that buying a bra is something many of us do without thinking, but many people don't have the luxury of owning a quality bra that fits.
Lush
Every time you buy Lush's Charity Pot program products, 100 percent of the sale price minus the tax is given to charity. Since the program's inception, the brand has donated over $33 million to more than 2445 grassroots organizations around the globe supporting environmental justice, animal protection, and human rights. But Lush is stepping it up on Giving Tuesday, where the brand is matching Charity Pot sales and is donating the doubled funds to three charities in particular: International Rescue Committee (an organization that responds to the world's worst humanitarian crises;) National Coalition for the Homeless (a group that is working to end homelessness and is helping those who are experiencing homelessness keep their civil rights intact;) and Community Food Centres Canada (which helps provide food to low-income communities.)
All you need to do is buy one (or more!) of the following products: Charity Pot Body Lotion, Charity Pot Naked Body Lotion (limited edition,) Meet me Under The Mistletoe Gift (limited edition, $9.95 will be donated,) You're a Star Gift ($7.95 will be donated,) Lush Life Gift ($7.95 will be donated,) and WOW Gift (limited edition, $9.95 will be donated.)
J.Crew
To celebrate Giving Tuesday, J.Crew has created co-branded collaborations with Girls Inc., HRC, and charity : water. From Nov. 27 to Nov. 29, 100 percent of the sales from these collabs will go to J.Crew's charitable partners. There will be 18 styles across three capsule collections which will feature men's, women's and kids' styles, and the sizes for women will run from XXS-XXL.
Madewell
Madewell also created co-branded collaborations with Girls Inc., HRC, and charity : water, which launched on Giving Tuesday, Nov. 27. From Nov. 27 to Nov. 29, 100 percent of the sales from these limited-edition collections will go to each of the respective charities, and afterwards 50 percent of the proceeds from these collaboration purchases will go to the charities indefinitely. (Sizes include XXS-3X.)
Draper James
Draper James will donate 100 percent of all proceeds from its Sisterhood Collection that is purchased on Giving Tuesday. The proceeds will go to Girls, Inc., which is an organization that partners with schools to advocate for girls to be strong, smart, and bold. Using research-based programming, they focus on the development of the whole girl, while mentoring and guiding them in a girl-only environment, helping to foster their strengths.
Lilly Pulitzer
On Nov. 27, if you buy Lilly Pulitzer's limited-edition "Product with Purpose" graphic tee, 50 percent of the net proceeds of the shirt will be donated to Girls on The Run, an organization that works to encourage pre-teen girls to foster self-respect and healthy lifestyles through lessons and running games. Pulitzer hopes to inspire confidence in women and girls with this particular line, so it makes sense to donate some of the proceeds to a female-focused organization. The Colie tee is $60 and is available XS – XL on LillyPulitzer.com and Lilly Pulitzer retail stores.
Lord & Taylor
In honor of Giving Tuesday, Lord & Taylor is donating 10 percent of its sales both in-store and online to the National Alliance on Mental Illness (NAMI), up to $200,000. NAMI not only educates the country on mental health awareness, but is also an advocacy group, where the organization helps to shape public policy that revolves around mental health issues.
Carve Designs
A beach lifestyle brand, Carve Designs carries everything from swimsuits, to sleepwear, to adorable knits, and they're giving back in a big way during Giving Tuesday. The brand is based in the San Francisco Bay Area and has partnered with factories in Los Angeles and San Francisco for over 15 years, so they are giving back to those affected by the California fires. In order to contribute to the relief effort, they're donating 25 percent of all purchases on www.carvedesigns.com from Friday, Nov. 23 through Tuesday Nov. 27 to the California Community Foundation's Wildfire Relief Fund.
MoonBox
MoonBox, a beauty subscription box that tailors your beauty routine to the moon cycle, is also participating in Giving Tuesday this year, where the brand will be giving back 10 percent of its sales on Nov. 27 to Camp Fire of Caring Choices Volunteer Center. The organization is spear heading a lot of the relief efforts out of Chico, where it is directly helping those that were affected by the deadliest fire in California's history.
Love By Luna
Love By Luna is a lifestyle brand that blends fashion, beauty, and astrology together, helping you express your inner moonchild. The brand will be giving back 10 percent of its sales on Giving Tuesday to the Treatment Advocacy Center, which is an organization that researches issues around the lack of access to mental healthcare, and then focuses on taking those barriers down.
Old Navy
On Giving Tuesday, Old Navy will be donating to Boys & Girls Clubs of America, which provides after-school programs for young people. Old Navy will be triple matching any donations made to the organization on Nov. 27, up to $100,000. In order to help them reach their goal, you can donate directly on www.bgca.org, and Old Navy will triple-match it.
BÉIS
Shay Mitchell's lifestyle brand is full of stylish traveling totes, duffel bags, cosmetic cases, and luggage tags, basically offering everything a stylish traveler would ever want. And for Giving Tuesday, if you shop BÉIS on Facebook Marketplace, you will not only get 20 percent off, but BÉIS will give 20 percent to Girl Up, a United Nations Foundation that creates programs that support the health, safety, education, and leadership of girls in developing countries. This Giving Tuesday promotion will be running from 12 a.m. PST on Nov. 27 to 11:59 p.m. PST on Dec. 2.
James Perse
James Perse is donating 100 percent of the profits from the sale of its California Relief Tees to non-profit organizations helping families directly affected by the recent Woolsey fires and Borderline shooting, including California Fire Foundation and Direct Relief.
The Woolsey Fire Relief Tee and Thousand Oaks Relief Tee are available at JamesPerse.com for pre-order, and those that want to help the relief efforts will have the option of buying one of the tees for $125, $250, $500, or $1,000.
If you want to shop with a cause this holiday season, check these brands out!