Fans Have Amusing 'Drake & Josh' Feud Theories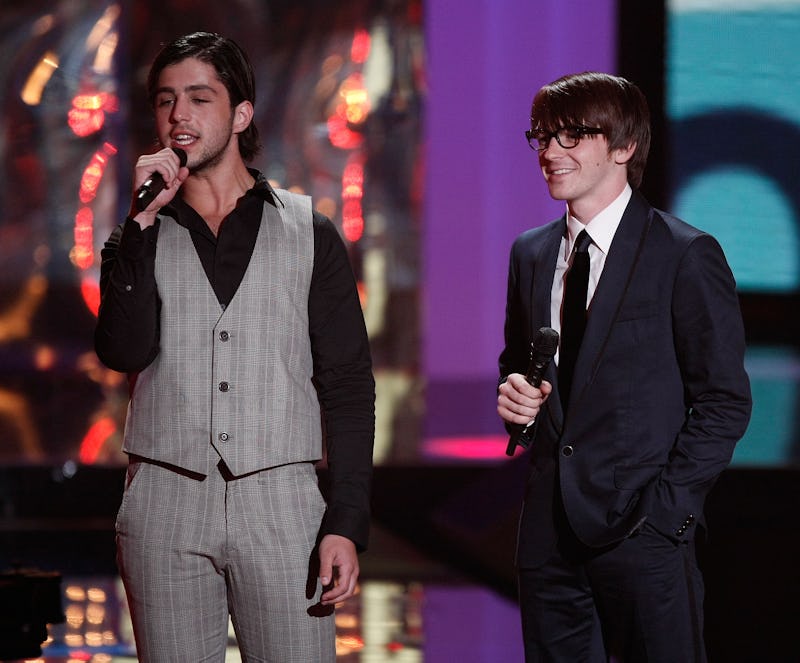 Kevin Winter/Getty Images Entertainment/Getty Images
Plenty of Nickelodeon fans are on edge after news spread that Drake Bell and Josh Peck ended their bromance. But luckily, it's 2017 and there's social media to help lift your nostalgic spirits. And as upsetting as the situation may seem, these hilarious Drake & Josh feud theories will make this rumor a little more bearable, at least for fans of the show.
As a refresher, apparently the straw that broke the camel's back was Peck reportedly snubbing Bell with an invitation to arguably one of the most important moments of his life — his wedding. I mean, who wouldn't want their best bud standing next to them as they're about to say "I do" to the love of their life, right? Well, according to alleged tweets deleted from Bell's Twitter account, he wasn't even asked to be in the audience. Sounds like trouble in paradise to me. (Bustle reached out to the actors' reps for comment, but did not receive an immediate response.)
While some Drake & Josh fans are stuck mourning the end of the star's friendship, others can't help but piece together exactly where the beef started. After taking a look at their recent tweets, it's safe to assume the TV brothers' spat may have began sometime between the 2016 Christmas holiday and this summer. At the tail end of December, Peck dug through the Drake & Josh archives and posted a pic of the two donning matching denim suits — à la Britney & Justin early 2000s. And Bell showed his former costars some love by dubbing them the "The Holy Trinity of Nickelodeon" in a tweet on May 20.
While speaking to the hosts of the podcast Allegedly with Theo Von & Matthew Cole Weiss, Peck dropped a few hints that he and Bell aren't as close these days. He said,
"When people see Drake and I together, and it rarely happens just cause he's working and I'm working, they're like, 'What, what are you doing here?'"
And when he's spotted out and about without his former costar, fans often inquire why he's missing in action — to which, Peck said he replies, "I wish I had a better answer but probably at home. Whole Foods? I don't know."
This may just be a case of old pals growing apart, or it could be an all-out passive aggressive brawl . Whatever it is, fans are refusing to sit back and wait for either party to give their full side of the story. And instead, they're sharing what they think happened all over Twitter.