Fans Are Worried Drake & Josh May Not Be Friends Anymore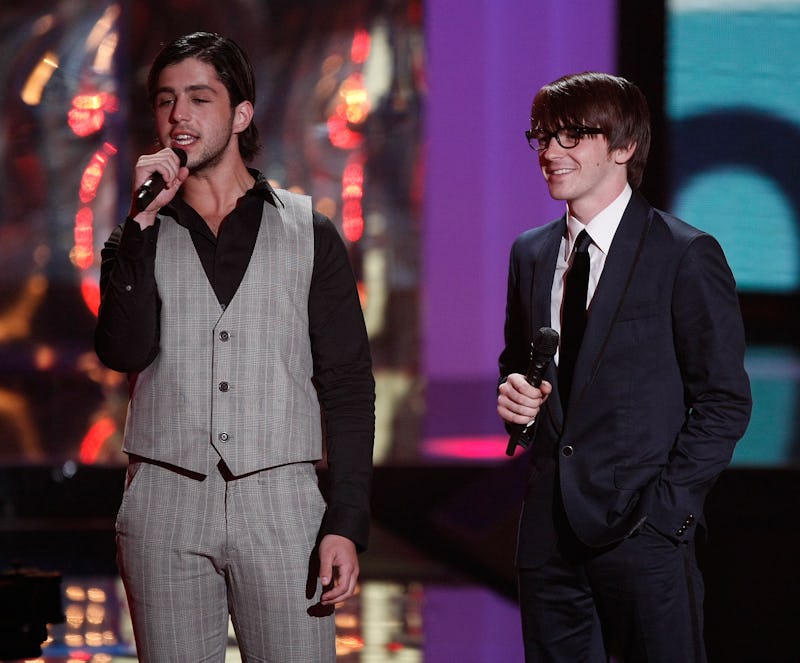 Kevin Winter/Getty Images Entertainment/Getty Images
Well, this development is about as messy as a wheelbarrow full of Nickelodeon green slime. But first, some happy news: On Saturday, Drake & Josh's Josh Peck married girlfriend Paige O'Brien in Malibu. OK, ready to be bummed out? It appears as though Drake & Josh's Drake Bell was not at Peck's wedding. And judging from some tweets that've since been deleted, it looks like all is not well between the two former TV stepbrothers. According to E! News, Bell tweeted some not-so-subtle things about a wedding he wasn't part of on Saturday. He doesn't name names, but I think we can jump to a certain conclusion without fear of falling on our faces. Bustle has reached out to Bell and Peck's reps for comment, but has yet to hear back.
Per E! News, Bell posted, "When you're not invited to the wedding the message is clear...." He also reportedly tweeted, "Loyalty is key. ALWAYS remember where you came from." BuzzFeed shared a screenshot of another now-deleted tweet in which Bell wrote, "True colors have come out today. Message is loud and clear. Ties are officially cut. I'll miss you brotha." Oof. Sounds like we probably shouldn't count on that reunion after all. Noooo.
Man, this is unfortunate. Many of us can relate to the hurt that comes with realizing you weren't invited to be part of a longtime friend's big day (yes, we all understand that weddings are expensive and guest lists are a headache, but it's tough to not take it somewhat personally), but can you imagine experiencing that hurt in the public square that is the internet? Poor dude.
I know social media doesn't always paint a full picture, but Peck and Bell's friendship totally seemed hunky-dory on Twitter. In just the last few months, both have tweeted several photos of one another, occasionally getting all sorts of sentimental. While sharing an old picture doesn't necessarily mean "BFF," it did suggest they were on good terms. Alas, I suppose their relationship isn't what it once was.
Alas, I guess…
…things aren't as peachy keen…
…as the tweets…
…would lead fans…
…to believe.
Ugh, heartbreaking. I don't know what happened between these two, but I hope they hug me brotha it out sooner rather than later.