These Katy Perry & Taylor Swift Memes Point Out All The VMA Drama You Missed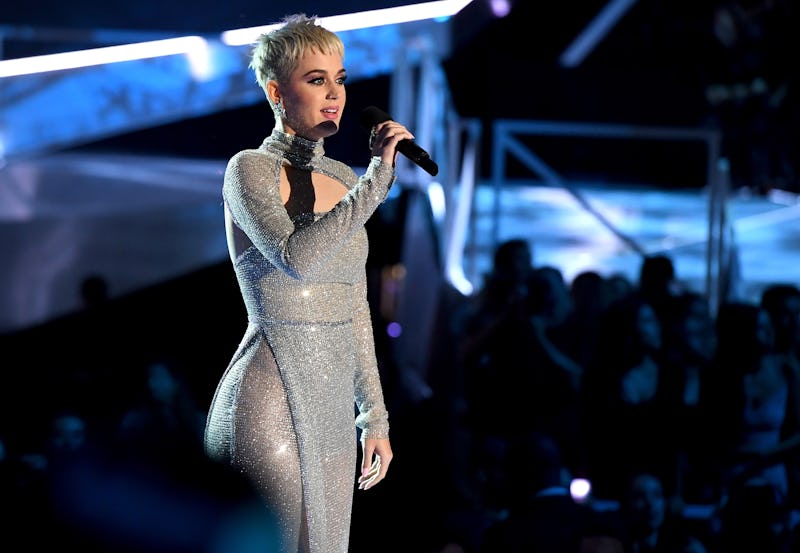 Kevin Winter/Getty Images Entertainment/Getty Images
The Hatfields and the McCoys. Joan Crawford and Bette Davis. Jennifer Lopez and Mariah Carey. These feuds are nothing when compared to the biggest feud in music today — Katy Perry in one corner, and Taylor Swift in the other. It all started when Perry allegedly stole some of Swift's dancers off her tour, and it culminated in a few possibly pointed songs ("Swish, Swish" for Perry and "Bad Blood" for Swift) and plenty of talk in the press. This feud even made it to the 2017 MTV VMAs, where the Katy Perry/Taylor Swift jokes were plentiful and the memes took over the Internet.
I personally think that this feud is silly and possibly manufactured, but hey, that's just one music fan's opinion. These two talented women would be better off building each other up and working together rather than feuding and taking each other down, especially in the public court of opinion. We don't need that stuff. But I guess controversy is good for album sales and social media engagement (you'll see why in a minute), so fight on in the press, I guess? And fight on at the 2017 VMAs, because Swift debuted the video for her new single, "Look What You Made Me Do," and Perry did not introduce it. Here are what some people on the internet thought about that (and more).
That video introduction didn't go unnoticed...
And Swift's video maybe made references to Perry.
And a few fans thought that Swift wasn't brave enough.
Some thought that Swift was the winner here.
And many noticed that Perry ignored Swift's video.
But there was mass agreement Perry wasn't a great host.
C'mon everyone, can't we all just get along?