Twitter Is Retaliating With "Let Liz Speak"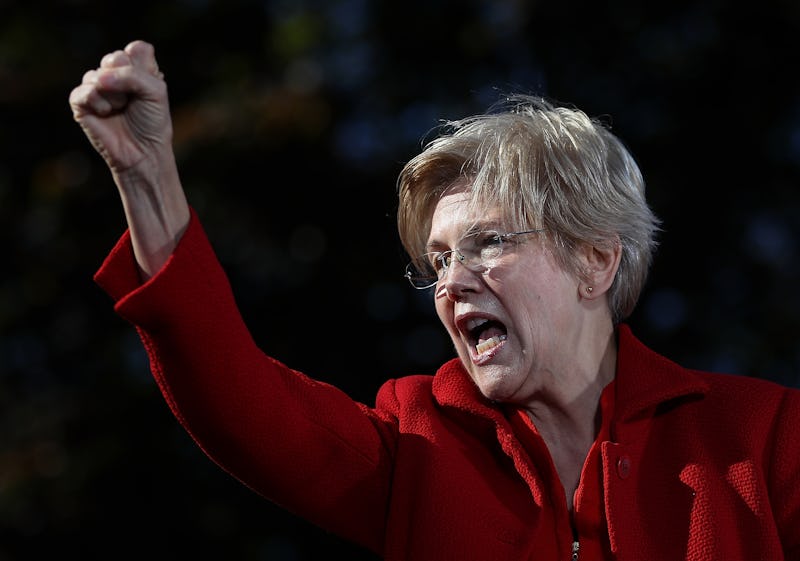 Justin Sullivan/Getty Images News/Getty Images
On Tuesday evening, during a Senate debate over Jeff Session's attorney general nomination, something rather unprecedented — or at least incredibly rare — happened on the Senate floor. Senate Majority Leader Mitch McConnell cut off Elizabeth Warren and asked to take a seat as she was reading a letter by the late Coretta Scott King opposing Sessions' nomination as a federal judge in 1986. Just moments later, it became clear Twitter was having none of it. Thousands of "Let Liz Speak" tweets won't let Warren, or King's memory for that matter, be hushed.
Senate Republicans' vote to rebuke Warren means that she isn't allowed to speak on the Senate floor until the debate over Sessions' confirmation is finished. The final, much-anticipated vote is scheduled to take place on Wednesday. By barring Warren from vocally opposing Sessions on the floor, McConnell and Senate Republicans are silencing the voices of not only one woman, but two: Warren and King.
Though Sessions firmly denied the racism allegations that ultimately contributed to his losing a 1986 nomination as a federal judge, the fact remains that an American civil rights leader opposed him. 30 years may have passed since then, but it doesn't mean King's words, or Warren's commentary on her words, can justifiably be erased or silenced. And legislators and Warren fans alike are demanding that those women's words be heard.
The Letter They Didn't Want You To Hear
Following the floor debate, Warren read the letter aloud on Facebook Live.
RT If You Think The Senate Was Wrong
After McConnell accused Warren of breaking Senate Rule XIX for allegedly impugning the "motives and conduct" of Sessions, she simply said, "I am surprised that the words of Coretta Scott King are not suitable for debate in the United States Senate."
It's Disrespectful To Coretta Scott King
Completely silencing two voices shouldn't be the answer.
We Should All Read It
If you haven't seen Warren read it aloud on Facebook Live, you should. You can view it here.
Putting It Into Perspective
Coretta Scott King is an American icon. After all, she's often referred to as the "First Lady of the Civil Rights Movement."
A Powerful Point
McConnell's move ended up working against his wishes.
This Quote
Elie Wiesel, a Holocaust survivor, was a Nobel Laureate, celebrated author, and political activist.
I'm With Her
This Hillary Clinton presidential campaign slogan seems applicable to both Warren and Scott King.
This Photo
All great hashtags have their own custom photo.
This Meme
Again, McConnell silenced two powerful voices on Tuesday evening. Surely, the public's response will signal to Senate Republicans that there's a reason Rule XIX is so rarely invoked.